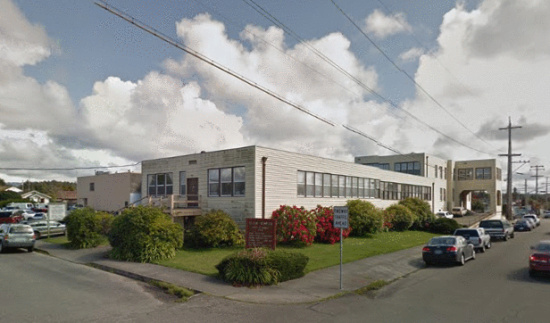 The building pictured above, known as the Clark Complex, is a real clusterf@*# of deteriorating infrastructure and delayed maintenance, and today something finally gave out. The phone system for the building, located on the block between H and I, Harris and Wood streets, is currently out of service.
Here's a press release from the county:
Phone service is currently down at the Clark Complex in Eureka. Departments located there, including Planning & Building, Coroner, the Office of Elections and Public Works divisions of Land Use and Natural Resources cannot make or receive outside calls until the issue is resolved. This is one of the county's last legacy phone systems, and while county staff is working with an outside vendor on the issue, there is currently no expected time for service to be restored.

If you are looking to get a hold of staff in any of the aforementioned offices, you can still get a hold of them via email. Visit the county's website for a staff directory with contact information.

The county is currently in the process of replacing many of its older phone systems. Work is being done to upgrade the phones in the Clark Complex and the county hopes to have a new phone system in place there in the coming months.