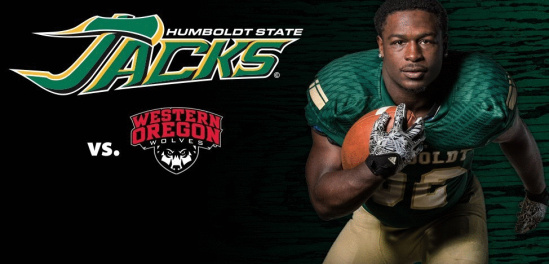 The Humboldt State football team will play in a nationally televised game for the second time in school history during the upcoming 2016 season.
HSU Assistant Athletic Director of Communications Andrew Goetz told the Outpost that the Jakcs last played in a nationally televised game in 2011 at Redwood Bowl.
The game against Western Oregon will be broadcast on the American Sports Network on October 22, from McArthur Field in Monmouth, Ore.
Two other HSU teams have played in a nationally broadcast games. The softball team's National Championship was broadcast in 2008, and CBS aired a basketball game from Lumberjack Arena during the 2009-2010 season.
Read more in the Humboldt State Press Release below: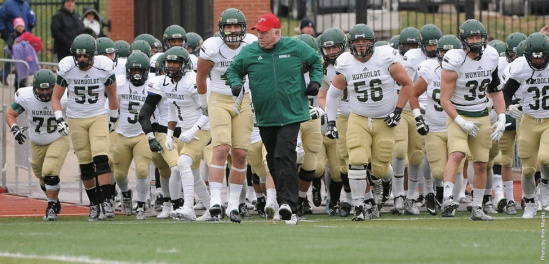 PORTLAND, Ore. – For the third year in a row, GNAC football will be featured on national television with a Saturday, Oct. 22 game between Humboldt State and Western Oregon selected as part of the 2016 NCAA Division II Football Showcase.

The game will kickoff at 12:30 p.m. PT at McArthur Field in Monmouth, Ore. The event will be aired by the American Sports Network as one of 22 Division II contests being aired as part of the showcase on ASN and ESPN3.

The Humboldt State/Western Oregon game will be streamed on NCAA.com and will be aired on ASN's affiliates nationwide. A complete list of stations will be released closer to the date of the game.

About American Sports Network: The American Sports Network is part of the Sinclair Broadcast Group, one of the largest and most diversified television broadcast companies in the country. Including pending transactions, the company owns, operates and/or provides services to 173 television stations in 81 markets, broadcasting 484 channels and having affiliations with all the major networks. Sinclair stations in GNAC Country include KATU-TV in Portland, KOMO-TV in Seattle, KIMA-TV and KEPR-TV in Yakima, Wash., KBOI-TV in Boise, Idaho and KLEW-TV in Spokane.
The American Sports Network, which launched in 2014, produced 2150 college events in nine sports in its first year and plans to air nearly 400 events when the 2015-16 academic year is over. In January, ASN launched a 24/7 channel in nine markets, expanding to 21 markets in June. The ASN also airs events over the Altitude Sports & Entertainment channel, which airs on cable channels in the Intermountain West, and on Comcast SportsNet Bay Area, which covers Northern California.