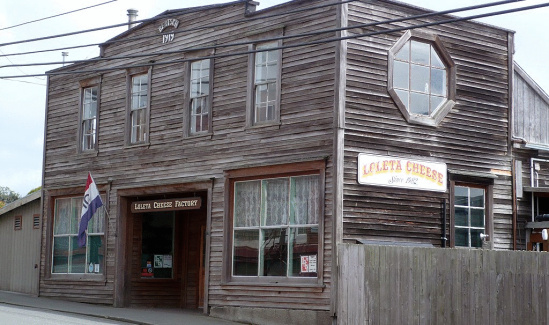 ###
PREVIOUSLY:
###
NOTE: The Outpost has discovered that the presumptive new owner of the beloved Eel River Valley institution is putting together a website that gives us an oblique peek at what he has planned — including some recipes that'll be employed in this new grilled cheese sandwich stand he's putting together. Nummy!
Press release from Loleta Cheese Factory:
Pending approval [from the bankruptcy court — Ed.], Chef Robert Stokes is investing in and taking ownership of Loleta Cheese Factory. The Laffranchi family, founders of the company, will continue to run and manage day to day operations.

Chef Stokes shares Loleta Cheese Factory's commitment to the best quality cheese and is excited to strengthen the Farm-to-Table connections with Humboldt County's locally produced food movement and the Bay Area.

"People want a connection with their food. They want to know where it comes from and how it's made," said Chef Stokes "I've always loved Loleta Cheese and I'm excited about becoming part of the Loleta Cheese Factory family. When I first visited Loleta Cheese I said, 'This cheese is so good I want to sleep here!' I'm excited to be part of making hand crafted artisanal cheese and further expanding its growing distribution throughout northern California."

Stokes also announced the upcoming opening of a grilled cheese sandwich bar at the company's headquarters in Loleta.