VIDEO via Right Side Press. LoCO's updates from the scene below.
###
UPDATE, 2:30 p.m.: … aaand that's all, folks! Redding is hot and crime-riddled and it has a terrible economy, according to the candidate, but it was made great again. Remember to vote on June 7. These people will.
"Look at my African-American over there. Look at him," the Republican presidential nominee said, pointing off-camera https://t.co/E1iERQV6Aw

— Emily Flitter (@FlitterOnFraud) June 3, 2016
###
UPDATE, 1:51 p.m.: Many words, the best words, being said right now.
###
UPDATE, 1:33 p.m.: TRUMP!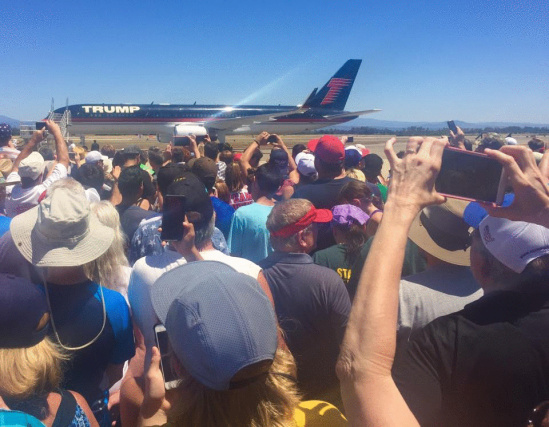 ###
UPDATE, 1:25 p.m.: Oh man, Trump's plane has a majestic soundtrack. Always the showman, the candidate head-faked Redding into thinking he was landing before zooming back toward the heavens to make another big circle. This is a great show!
###
UPDATE, 1:16 p.m.: No sign of the Trump jet yet. Trump is late. If this makes you angry, then you can direct your anger at the following picture…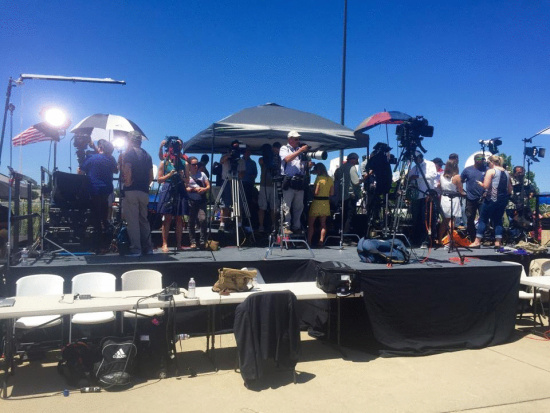 … of the media! Really terrible people.
###
UPDATE, 12:44 p.m.: Medics have been called to the front of the crowd. Someone has fainted from the heat.
###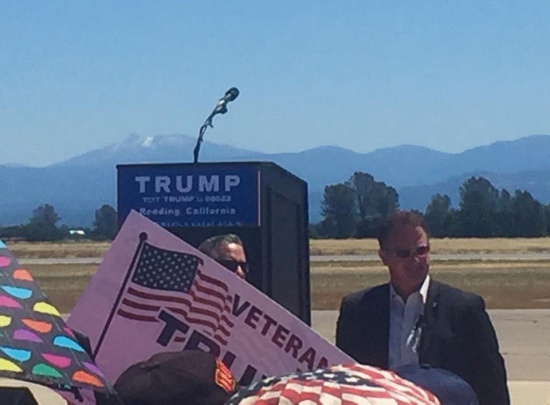 UPDATE, 12:30 p.m.: They let LoCO in! Secret Service and metal detectors line the entry to the rally but no one closely examined our ticket.
Once inside we were treated to a blaring loudspeaker rendition of Boston's "More Than a Feeling" and free water. The State of Jefferson has more than a few supporters in attendance. As far as Trumpobilia, "The Silent Majority Stands With Trump" signs, we're told, were handed out to the first couple hundred fans through the gate. Also popular are "Hillary for Prison" buttons we saw being sold outside.
What follows is our running tallies of a few things we've seen:
Bernie supporters: 1
White Power tattoos: 1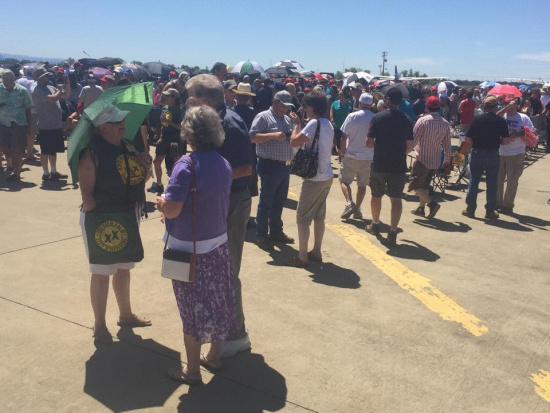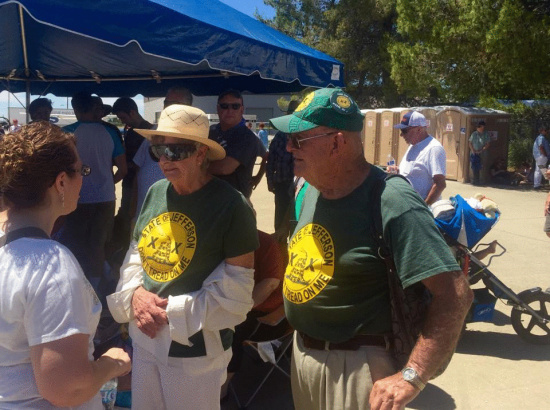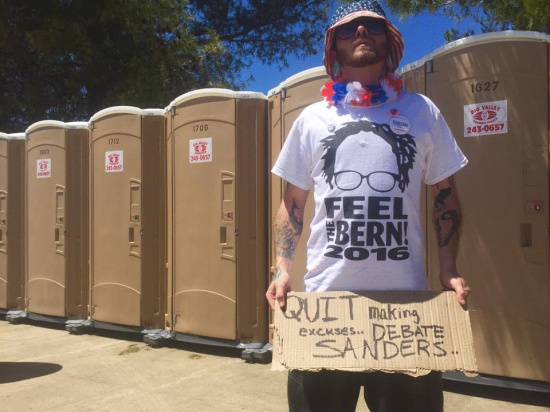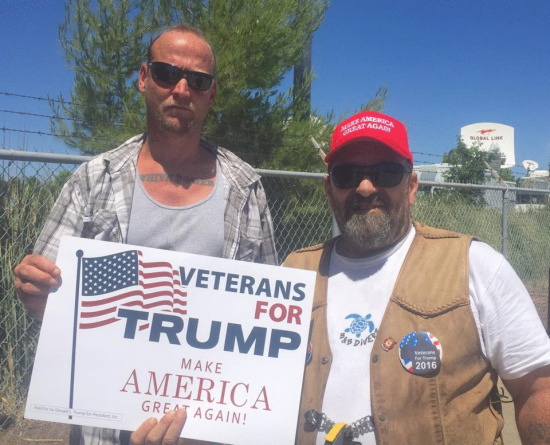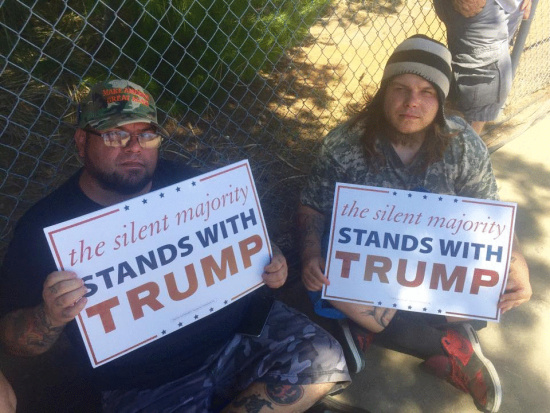 ###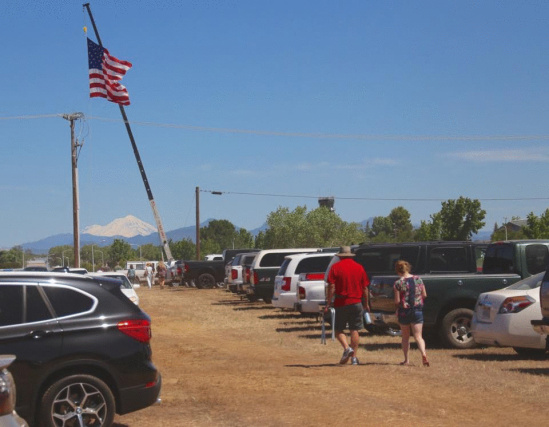 UPDATE, 11:50 a.m.: The Redding Municipal Airport has opened up a nearby field to support the day's unusual parking demands. The trek through the thousands of vehicles includes countless makeshift merchants looking to make a buck off red, white, blue and/or camo Trump gear — hats, shirts, buttons. Yes, they carry the now iconic red with white lettering "MAKE AMERICA GREAT AGAIN" hats. $20 was the price quoted. LoCO tried one on.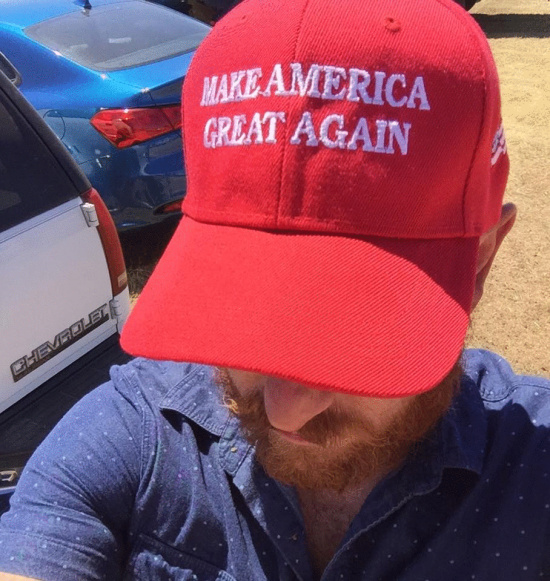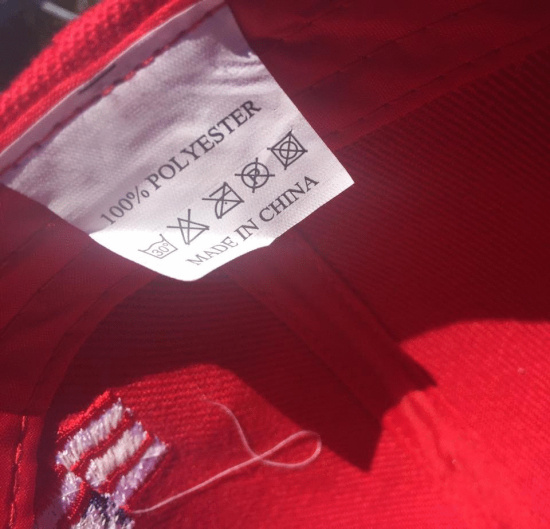 Hard to tell if these were official campaign hats.
###
Sure, why not? Last night Donald Trump tweeted, which is not shocking. But the content of this particular tweet was significantly more interesting to your Lost Coast Outpost than the presumptive Republican presidential nominee's usual e-reflection.
Join me in Redding, California- tomorrow at 1:00pm. #Trump2016
Tickets: https://t.co/tyllhxJHC7

— Donald J. Trump (@realDonaldTrump) June 3, 2016
Oh, really? Apparently this was not new news to Reddingites, but this was the first we'd heard that The Donald was going to be in our quarter of the state. Our finger reflexively stabbed at the link provided after the word "Tickets," and less than a minute later there was a confirmation email with printable tickets in our inbox.
Oof. Well, OK, we have to go to this, right?
Thus, LoCO is currently navigating Highway 299's curves en route to the Redding Municipal Airport in the hopes we will soon be basking in glow of 1) a shiny fuselage with "TRUMP" emblazoned across it; and 2) whooping, hollering democracy in action. We acquired no official media credentials to attend Trump's Redding rally — Trump's website states that "professional cameras with a detachable lens" are not permitted at the event. This journey is motivated more by a desire to observe this historic election and how it feels against the backdrop of an area close to home, first-hand. In short, we're going for the show.
With California's primary election just four days away, it's been a week of political relevance for the inland North State region. Yesterday, Bernie Sanders held a rally in Chico, while Bill Clinton stumped for Hillary at Shasta College. While California has been a reliable Democratic Party lock in recent memory, Trump has time and again made clear he plans to campaign hard here to flip the state red come November. Sure!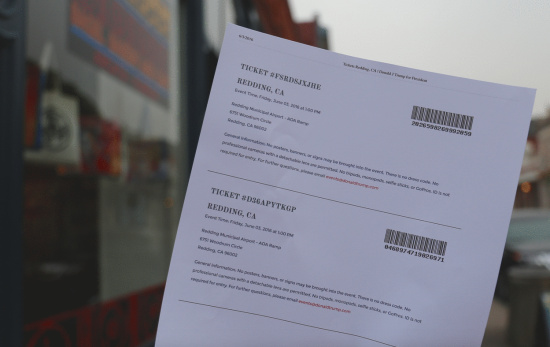 Will we actually get in to this thing? Historically, possessing tickets to a Trump event has not necessarily ensured that the holder will breathe the same air as the candidate. Earlier this year when the candidate held an event in a 1,400-seat venue in Burlington, Vermont, it was estimated that 20,000 tickets were issued. Uncertainty is part of the appeal, maybe. The Redding Record-Searchlight's advance rally write up gives us hope, though: they say the Trump campaign told the airport to expect between 3,000 to 4,000 people. The airport has held air shows attended by more than 40,000. Yay.
We'll be updating this post with little nuggets we find interesting as the day progresses. It's supposed to be near 100 degrees in Redding Friday. We forget what hot air feels like. Wish LoCO luck! If there's something you'd like us to yell at candidate Trump, please type it out in all caps in the comment section. Thunderdome represent!
# # #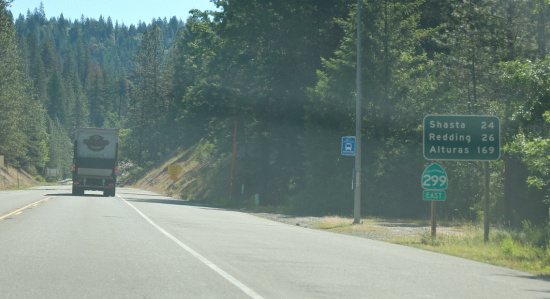 10:45 a.m.: LoCO needs to wash its windshield (see above). Seven (7!) frustrating Highway 299 construction delays stood between us and the political circus. Caltrans cares not if we get a closeup look at Trump's hair or not.
As predicted, it is stupid hot over here. How do people live here?