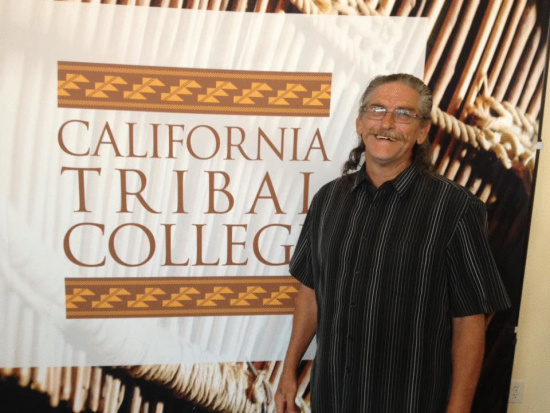 UPDATE 3:10 p.m.:
Just four months after being elected Yurok Tribal Chair, James Dunlap resigned from that position today amid a swirling social media outcry over Dunlap's past, an outcry that included images of news stories reporting that he stabbed and killed his own three-month-old daughter in 1988.
On September 13, 1988, the San Jose Mercury News reported that Dunlap had been arrested in San Mateo after police responded to the house where he was then staying to find him "lifting the girl over his head and yelling out that he had sacrificed her to God."
Police said the infant, Brittaney, had been stabbed with a buck knife while in her crib, the story reported. A San Mateo police sergeant said Dunlap was under the influence of methamphetamines at the time, according to the Mercury News.
Dunlap was charged with murder and pleaded not guilty by reason of insanity, according to subsequent news reports. The Outpost has so far been unable to discover how the case was resolved.
[Addendum: North Coast News reports that Dunlap was sentenced in April of 1993 to 15 years to life in prison.]
A person who asked to remain anonymous for fear of retribution sent the Outpost a screenshot of a Facebook chat in which Dunlap appears to acknowledge his dark past while saying tribal leadership was aware of it as well. The person messaged images of Mercury News stories and chatted, "This is all over Facebook - is this story about you?"
Dunlap responded, "Up until today the shame was my own. The Elders have known of this and felt my payment had been made. I am sad that someone thinks bringing this to the public will make the Tribe better."
Calls to the Yurok Tribe for more information have not yet been returned.
# # #
Below is a press release from the Yurok Tribe. This post will be updated with more information soon.
The Yurok Tribe's Chairman James Dunlap resigned today, following the discovery of information from his past.

"There is no doubt about it, this is sad and frustrating day for the Yurok people, but we have prevailed over bigger challenges in our past and we will overcome this, too," said David L. Gensaw Sr., the Yurok Tribe's Vice Chairperson.

"Every day, the Tribe's 300-plus employees work hard to improve the economic, social and cultural conditions on the Yurok Reservation and in the surrounding areas. Their good work should not be overshadowed by this situation."

The Yurok Tribal Council recently became aware of the information related to Dunlap's personal history and does not have any additional comments at this time, other than to say that all Tribal elected officials are put through a background investigation.

Under the Yurok Constitution, a vacancy that occurs during the first year of a Councilmember's term is filled by the Tribal Council appointing the person who received the next highest number of votes in the last election if that person received at least thirty percent of the total votes.
Note: This post has been changed from a previous version. A screen shot from a Facebook chat was deleted at the sender's request.