Video obtained by the Outpost revealing former Pelican Bay correctional officer Matthew Yates (left) counting the money in a meth wholesaler's wallet, and pocketing some of the cash after a fellow officer leaves the room.
###
Part one of a series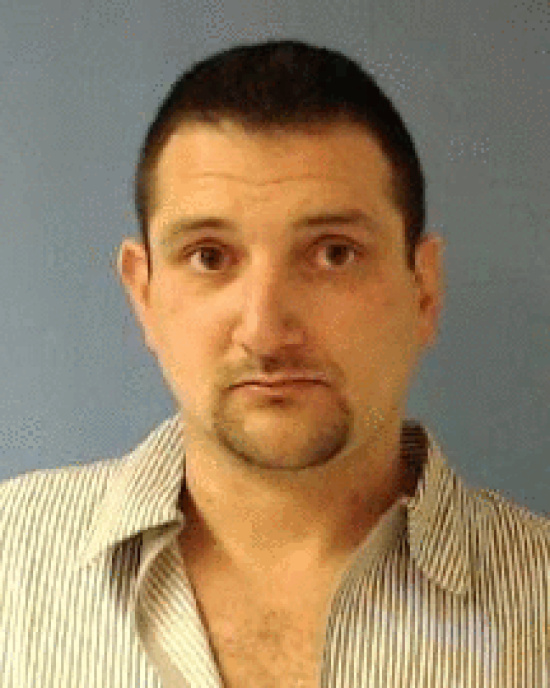 In March of 2015, the Del Norte Sheriff's Office executed a multi-agency raid on the Crescent City home of suspected drug dealer James Banuelos. The bust was renowned as one of the largest in Del Norte County history.
Inside Banuelos' home, officers discovered more than 1.5 pounds of crystal meth stashed beneath the floorboards, locked in a safe, and covered with a bedroom rug. Banuelos was charged with possession and intent to sell the drugs, as well as operating a known drug house.
The charges were all too familiar for the 38-year old, who was previously convicted of two drug-related felonies in 1999 and another in 2005. In addition to his criminal past, the pending felony charges would likely be enough to land him a six-year prison sentence.
Yet one year later, Del Norte District Attorney Dale Trigg struck a deal with Banuelos that likely cut his prison sentence in half. Why? Because of a botched investigation brought to light by hidden security cameras located inside Banuelos' bedroom. These cameras captured Pelican Bay State Prison officer and Crisis Response Team member Matthew Yates stealing money from the defendant's wallet.
The footage sparked a month-long FBI investigation that cost Yates his job and landed him a 30-day jail sentence.
"The bottom line is that I had a case that was unfortunately compromised to some extent by a single dirty cop," Trigg said in a press release. "That dirty cop was not involved in finding the dope. He had absolutely nothing to do with the fact that Banuelos, a convicted drug dealer who has already been sent to prison, was sitting on $60,000 worth of dope. Nonetheless, it was something that would have troubled the jury and might have improperly influenced their decision."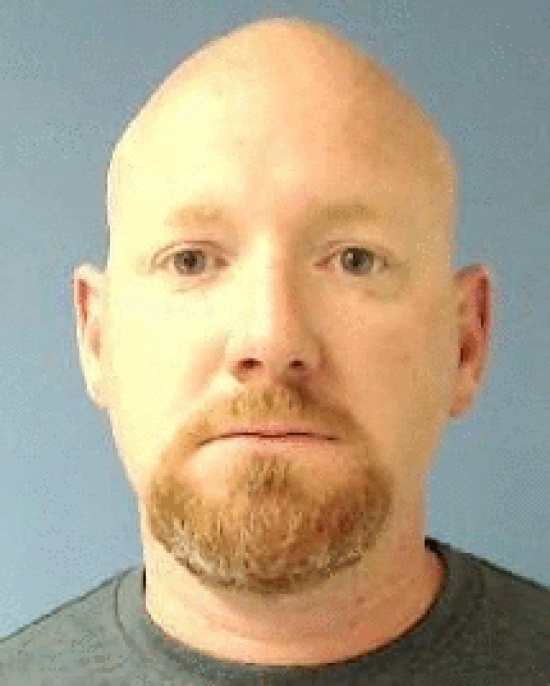 Yates was the only officer prosecuted following the investigation. However, if a trial had materialized, jurors may have also been troubled by pages of mishandled evidence and improper police work carried out by the Del Norte Sheriff's Office, all chronicled in a thick FBI report.
Documents obtained by the Lost Coast Outpost reveal tales of missing jewelry, stolen cash, suspicious evidence, perjury and an officer who hitched up a trailer found on the Banuelos' property and drove off. No paperwork, no hassle.
These incidents brought together a cast of local characters with intertwining stories.
James Banuelos: A convicted drug dealer with a troubled past and suspected ties to a drug cartel. Banuelos posted $100,000 bail one day after his arrest without even making a phone call.
Michael Riese: Banuelos' defense attorney. Riese previously fought to prosecute Banuelos for similar drug crimes when he was working as Del Norte's district attorney. Riese has also sued the county a number of times since his downfall as DA. Riese claimed former District Attorney Jon Alexander attempted to discredit and humiliate him over a DUI charge in 2013, which came 11 months after his arrest. The same year, Riese was also given a one-year deferred sentence for possession of a Fentanyl patch, a narcotic painkiller and sedative.
Richard Griffin: A Detective Sergeant with the DNSO Felony Investigations Unit. Griffin was a team leader during the raid on Banuelos' home. He also has history with attorney Michael Riese, who filed suit against Griffin after a search warrant was reportedly served on the attorney's home following the Fentanyl charges. Griffin is also caught on hidden camera claiming that officers can break the windows of Banuelos' vehicle if necessary, because the county will deny any damage claims.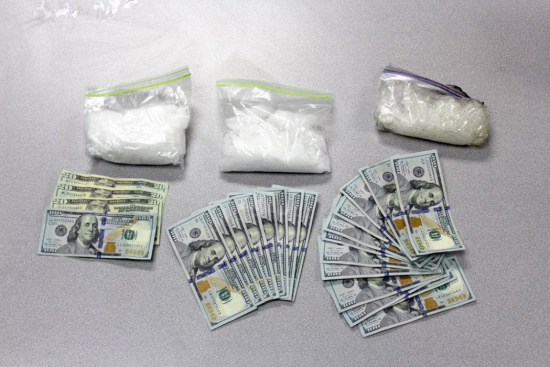 Enrique Ortega: Although Del Norte Sheriff's Deputy Enrique Ortega was not working the Banuelos raid, at some point Ortega was informed that a trailer found on the property was suspected to belong to him. Ortega had taken the trailer to a tow yard in junk condition several years before the investigation, but he had never reported the trailer stolen until the day of the raid. Ortega and Banuelos also knew each other — Ortega was a first responder when Banuelos was stabbed a few years ago.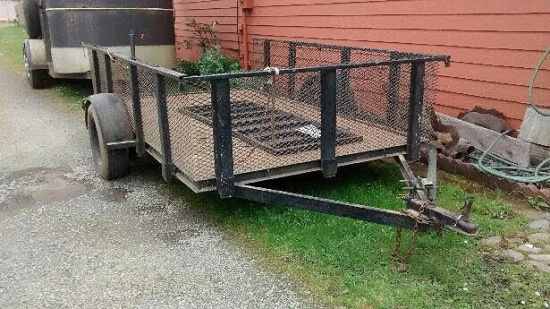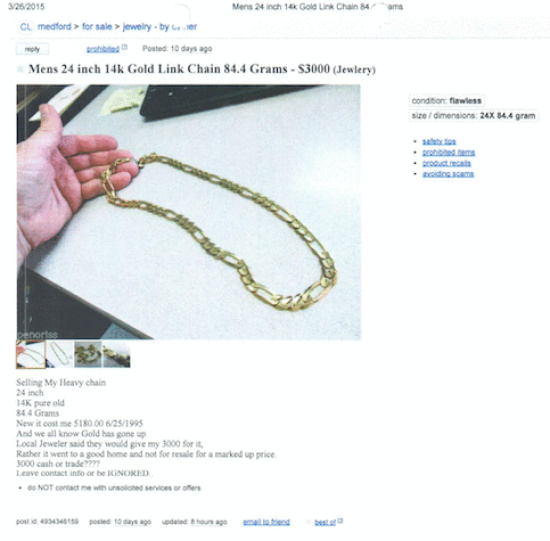 Matthew Yates: A former Pelican Bay correctional officer who was caught on camera stealing money from Banuelos' wallet. Yates and fellow correctional officer Alex Rosenburg were also reported to be left alone to guard valuable items seized during the investigation, including a 24K gold necklace. The jewelry was never documented in the evidence report, but miraculously appeared in evidence after an FBI investigation. A necklace of exact make and size was posted for sale on Craigslist soon after the bust, by a man Yates admits to knowing informally. The FBI conducted an investigation into the matter, but no legal action ever materialized. The necklace was mysteriously taken down from Craigslist following a news report on the missing evidence by the Del Norte Triplicate.
Kevin Stonebarger: A private investigator hired by attorney Riese. Stonebarger retired from a career in law enforcement after 17 years of service. Stonebarger worked for the Arcata Police Department, spent years as a member of the Humboldt County Drug Task Force and worked as an instructor at College of the Redwoods Police Academy for 11 years, where he trained many member of the DNSO, including officers Richard Griffin and Enrique Ortega. Stonebarger was also removed from the Drug Task Force by Arcata Police Chief Tom Chapman in 2013 for reportedly threatening to arrest a tow truck operator and parking lot owner for attempting to tow his vehicle while Drug Task Force Agents grabbed lunch at Eureka's Pho Thien Long.
In a small town, criminal justice can be even smaller. You can be a correctional officer one year and an inmate the next; a prosecutor can become a defendant; a criminal a victim. A multi-agency drug bust can be celebrated in March, and divide a law enforcement community by April. An investigation into "a single dirty cop" can expose a landslide of missing property, tampered evidence and unfiled paperwork.
In the coming days, the Outpost will lay out the details of this case and try to separate small-town gossip from big-time corruption … before it is stashed beneath the floorboards, locked in a safe, and covered with a bedroom rug.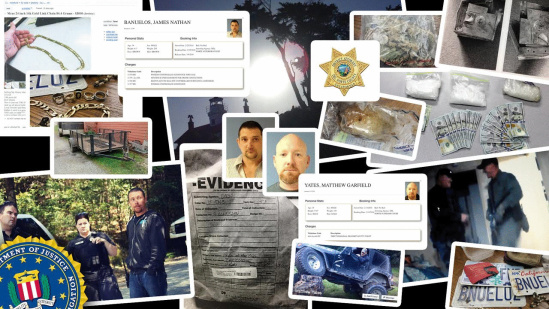 Photo collage compiled by Christian Testanier.
###