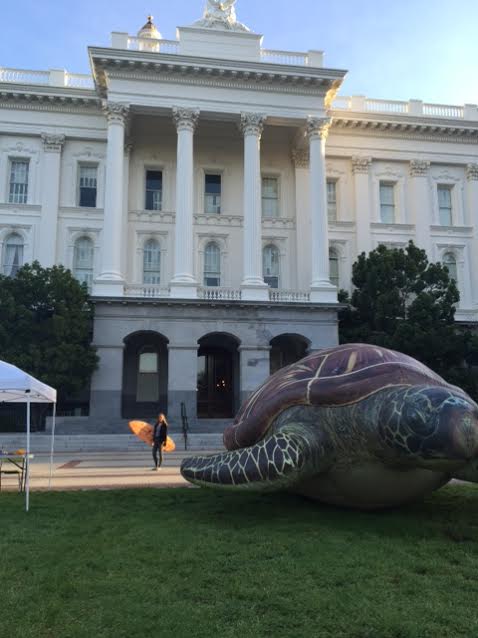 -Ocean Day 2016-
On what day does a giant sea turtle and several dozen coastal advocates take over the California State Capitol? Ocean Day, of course! Tuesday, March 15, was the 11th Annual Ocean Day at the California State Capitol in Sacramento. The purpose of this day is to convey a unified message from the ocean and coastal community in hopes of inspiring decisionmakers to work toward effective solutions aimed at protecting and restoring California's iconic ocean and coastline.
It was certainly a unified message, as participants represented a variety of backgrounds and organizations, including Azul, CalCoast, Ocean Conservancy, The Monterey Bay Aquarium, Californians Against Waste, California Sea Grant, Clean Water Action, CSU COAST, Environment California, Heal the Bay, Natural Resources Defense Council, Surfrider Foundation, Turtle Island Resort Network and Wildcoast. Participants formed teams of mixed expertise and spent the day meeting with just about all our State's Assemblymembers and Senators. The meetings almost in speed-dating fashion as groups had 15 minutes to discuss the most important issues and win over the interest and support of our leaders.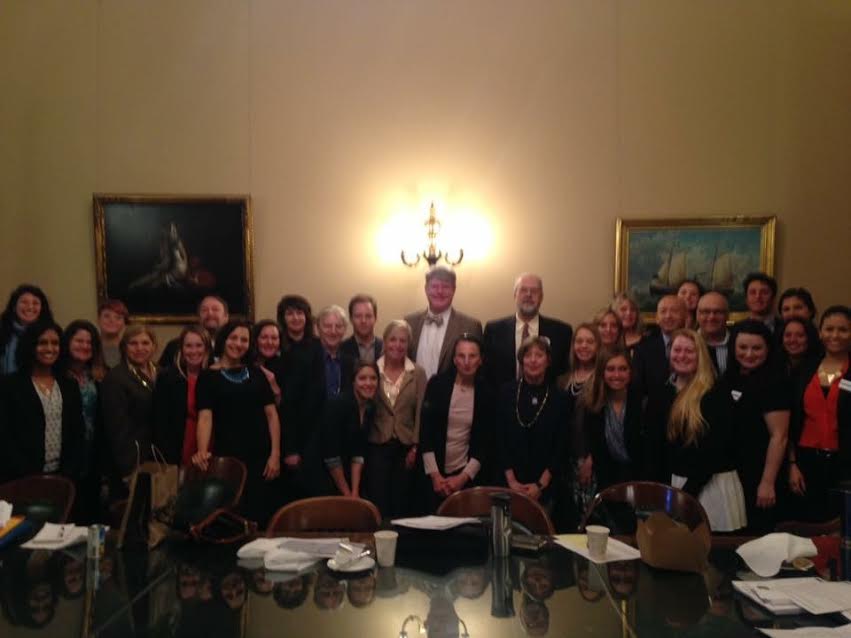 This years topics included the single use plastic bag ban referendum, the Coastal Commission crises, the success of California's Marine Life Protection Act, ocean desalination and climate change impacts to California's ocean and coast. "Some members were not super interested in what we had to say, but one highlight was meeting with the people in our own Jim Wood's office, they were very enthusiastic and receptive," stated Madison Peters, first-time attendee and Coastal Programs Coordinator for the Northcoast Environmental Center.
By the end of the day there were a grand total of 85 appointments, 119 office visits, 60-70 attendees, 10 volunteers and several dozen "selfies" taken with the sea turtle. "You don't get to meet with our decision-makers and tell them what we care about on a daily basis, so it was a great experience," Peters explained enthusiastically. "And in addition to the representatives, the people from all the different organizations we got to work with were spectacular themselves. I will definitely be back next year."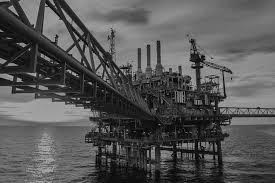 -Victory for the Atlantic Coast!-
Offshore oil drilling rigs will not be part of the scenery of the Atlantic coastline! On March 15th, the Bureau of Ocean Energy Management announced its cancellation of plans for new offshore oil drilling off the Atlantic Coast from 2017 to 2022. This comes as a huge win for Surfrider Foundation, many other environmental groups and more than 100 coastal cities that have fought over the past year to fight this proposal. The following statement was released by Surfrider Foundation in response to the news:
"The Surfrider Foundation applauds the federal government's leadership on this issue. Offshore drilling is a dirty and dangerous practice that threatens the health of our oceans and coastal communities. It requires seismic surveys, drilling operations, oil transport by tankers, and the installation of platforms, pipelines, and other infrastructure. Collectively these activities significantly damage both the environment and related economies, while exposing our coastlines to the risk of catastrophic oil spills. Our federal government has heard the voices of countless stakeholders who are strongly opposed to the expansion of offshore drilling in the Atlantic coast, including the Surfrider Foundation, which represents more than 250,000 members and supporters nationwide with 34 East Coast chapters from Maine to Florida."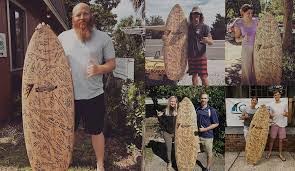 As part of Surfrider's campaign, a surfboard physically carried the message of opposition to oil drilling. Starting in Miami, Florida, the board collected signatures in seven states, finally ending up in Washington D.C. It is now covered in over 1,000 signatures from coastal restaurants, surf shops, art galleries, hotels, and other businesses, and was gifted to the White House as a symbol of the the importance of a clean and healthy coast.