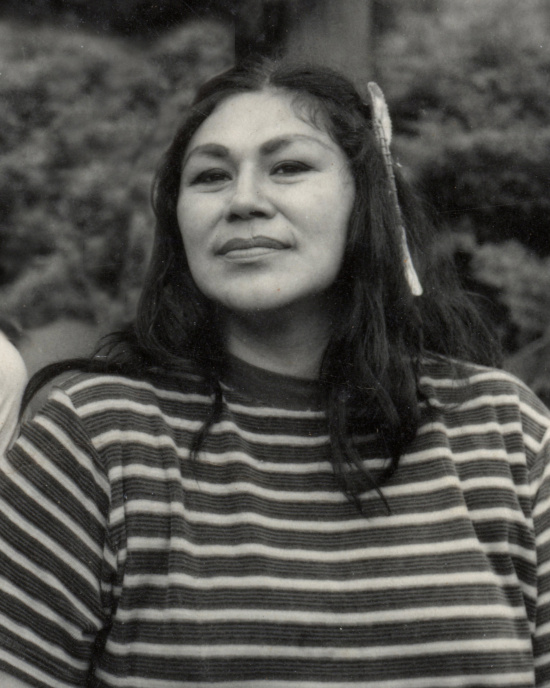 Margaret Helen Frye-Carlson was the third of five children born to Walter Frye (Blue Creek) and Effie Boskey (Weitchpec) on March 15, 1936 in Hoopa. She left this world suddenly on March 22, 2016 at St. Joseph's Hospital in Eureka due to natural causes.
Margaret was preceded in death by her parents and four siblings: Charlie Frye, Donna Martin, Patsy Hunsucker, and Sophie Frye; her beloved son Walter "Woodsie" Carlson; grandchildren Colt Carlson and Holly Marie Carlson; nephews Richard Martin and Gail "Jack" George; niece Penny Martin; and last but not least her lifetime partner, Nixon Hall. Margaret is survived by her children: Willard Carlson Jr., Anne Carlson-Hughes, Yvonne Mata, Bonnie Basey and Shontay Basey; grandsons Daniel Whitehurst, Niqwich Carlson, Pergish Carlson, Paul Van Mechelen Jr., Gilbert Myers, Will-Bear Carlson, Mike Carlson, Nin Myers, and Gabriel "Woodsie" Hunsucker; granddaughters Chai Brazil, Halona St. John, Nena Carlson, Christina Whitehurst-Casarez, Tamara Guzman, Lorraine Myers, Shaleen Carlson, Peggy Orcutt and Sharon Myers; and many more great-grandchildren, nieces, nephews, family and friends.
Margaret Carlson was a traditional healer and Indian Doctor, a fluent speaker of the Yurok Language, and a fearless activist who always enjoyed a good battle. A few of her endeavors included:
Alcatraz Island Takeover (1969)
Yurok Land Convention (1976)
Longest Walk Ending in Washington, DC (1978)
Fish Wars (1978)
Blake and Carlson V. Simpson Timber Company (1981)
Margaret believed in Absolute Sovereignty, utilizing Federal Indian Law to protect fishing rights and religious freedom for Yurok People. Her triumph in federal court caused indigenous people from afar to seek her legal counsel during their fight to retain their ancestral rights.
She was a strikingly beautiful woman who spent her life surrounded by the beauty of her beloved Blue Creek after she was called home during her dreams to steward the land. She was an extremely diligent worker: gathering, hunting, fishing, picking berries and canning in great abundance with great skill. She loved Blue Creek, and Blue Creek loved her back by providing in abundance for all her and her family's needs.
Funeral Services will be held at the Yurok Tribal Office in Klamath on Saturday, March 26, 2016 at 11:00AM. Please join the family for a Celebration of Life Potluck at the Tribal Office following burial in Blue Creek.
A wake will be held on Friday, March 25, 2016 for close family and friends. For more information contact Willard Carlson Jr: (707) 954-8833.
###
The obituary above was submitted by Margaret Frye-Carlson's family. The Lost Coast Outpost runs obituaries of Humboldt County residents at no charge. See guidelines here. Email news@lostcoastoutpost.com.