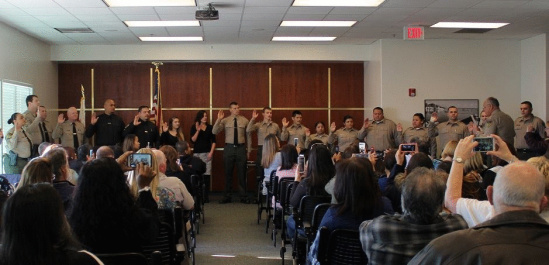 From the Humboldt County Sheriff's Office:
Sheriff Mike Downey is pleased to announce the swearing in of fourteen new Humboldt County Sheriff's Office employees and four promotions. Sheriff Downey expects these new employees to uphold the Sheriff's Office vision statement "to enhance our status as a quality public safety agency, valued by our community and respected by our peers."

The employees sworn in today are:

1. Anthony Silva – Correctional Deputy
2. Jessica Clardy – Correctional Deputy
3. Justen Roche – Correctional Deputy
4. Ana Hernandez-Baron – Correctional Deputy
5. Jesse Avila-Garcia – Correctional Deputy
6. Karla Avila-Perez – Correctional Deputy
7. Brenda Ayala – Correctional Deputy
8. Shar-lo Kelly – Correctional Deputy
9. Brad Anderson – Correctional Deputy
10. Jon Omey – Deputy Sheriff II
11. Rhiannon Potts – Emergency Communications Dispatcher
12. Brittany Miller – Animal Control Shelter Attendant
13. Karl Norton – Hoopa Tribal Officer
14. Seth Ruiz – Hoopa Tribal Officer

Promotions:
1. Mike Fridley – Lieutenant
2. Blake Massaro – Sheriff's Sergeant
3. Josh McCall – Sheriff's Sergeant
4. Nancy-Lynne Corral – Supervising Correctional Deputy

These new employees and promotions are direct results of Measure Z funding to increase the staffing levels for the Humboldt County Sheriff's Office. If you have any questions about current job openings please contact Human Resources at (707) 476-2349, or visit their website www.humboldtgov.org/317/Human-Resources.