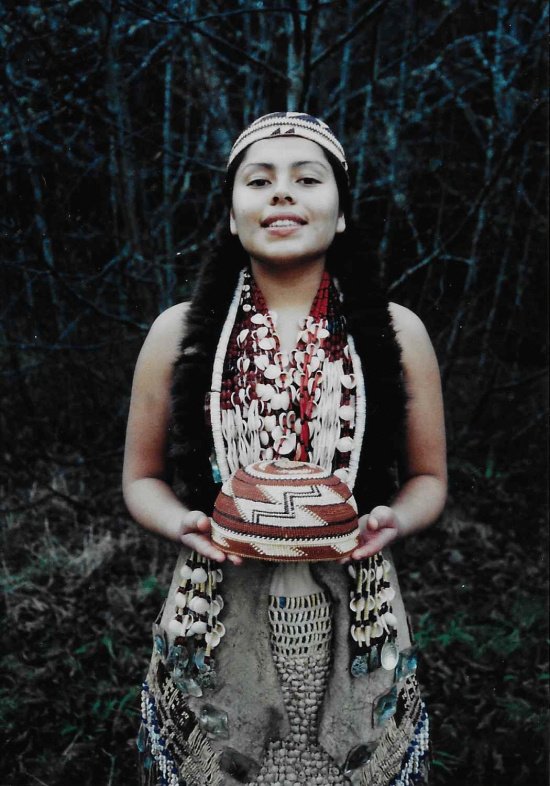 Stormy Joy was born to Sherry Thompson-O'Rourke and Frank Rojas on November 15, 1981 in Eureka, CA, and began her journey home on February 27, 2016. She grew up throughout the Humboldt and Del Norte county area and called many places home. She attended school at Peninsula Elementary, Arcata High, College of the Redwoods, and was nearing completion of her massage therapist certification through the Arcata School of Massage.
Stormy was a vibrant and loving person who always shared her positive energy and light with everyone. She greeted the world with her bright smile and warm hugs, and always filled any room that she entered (usually arriving late!) with joy and happiness. She never missed an opportunity to tell people that she loved them, and all of us who were loved by her, will never forget those moments. She was not only generous with her love, but this generosity carried over into the way she lived her life, as she spent countless hours fishing, gathering and canning traditional foods to share with her community. She lived her values and also gave her time, hard work and heart to all she did. Many have mentioned that her smile often came to them at unplanned and unexpected times, and she always seemed to know when people needed her love. She had a healing spirit and shared her medicine with the world.
We all know that Stormy loved to travel and roam from place to place, but home was where her family was and she always remembered that. She traveled in many circles – she had her canning and fishing crew, her crew who she loved to dance with at reggae shows, those who she loved to heal with through massage and essential oils, her snowboarding cousins and so many more … that was part of her beauty, she made everyone feel like her best friend.
Stormy was very close to 'ue-peech, her grandpa and best friend. She spent many hours by his side and he was her first road buddy. She always made sure to go and pick him up and take him with her wherever she went – to dances, games and family events. He was also her teacher, introducing her to the joys of Yurok culture—the adventures of fishing, the importance of language, and the value of family. He taught her how to treat people with kindness. It was these qualities that she brought with her into her most important role—as a mother to her two boys.
She wanted her boys to be kind, gentle and loving. She made the most of every moment in life and this carried over into how she raised her boys. She grew up picking blackberries, taking trips to the beach and attending family events with her mom and she loved to do those same things with Ishakom and Ma-kaych. She taught them by example and wanted them to experience and live life to its fullest.
Stormy also lived her life as a dance person. She first began dancing as a little girl, practicing during summer JOM when she was just 3 or 4 years old and once she started she never stopped. She loved to dance and later became a beautiful singer. She always danced with strength and had a deep love for her culture. She danced for so long that she had the opportunity to wear many dresses and caps in her life, and she understood that she was carrying the prayers and medicine of her people. This provided a strong foundation for how she chose to walk in life, and she carried that strength and light within her. She always returned to the dances to find her center and she made sure her boys were being raised within that circle.
She truly lived and exemplified one love. After losing her brothers she seemed to understand even more so that you need to take every opportunity to live the one love spirit. In the words of a good friend, our Stormy Joy was one of a kind and because of her there will always be appreciation in our words, patience in our prayers, love in our thoughts and joy in our hearts.
Stormy was preceded in death by her Grandparents Archie & Alta Thompson and Lorraine O'Rourke. She was also preceded in death by her Sister Charlene O'Rourke and Brothers Delmar Thompson-James, Redsky Rojas, and Thomas O'Rourke Jr. Her Aunt Valerie Thompson, Cousins Serena Kibby, Miranda Thompson and Lorenzo Thompson.
Stormy is survived by her two sons, Robert Ishakom McConnell and Ma-kaych Brian McConnell. Her Parents Frank Rojas, Sherry and Thomas O'Rourke. Her Siblings Madolin O'Rourke, Springwind and Jude Marshall, Gino O'Rourke, Sunny Rojas, and Phillip O'Rourke (Taylor). Her nephews and nieces Treigh Parr, Anthony Stewart-Rojas, Tesla O'Rourke, Hazel Marshall, Pau-kue-han Rojas, Harlee Peters, and Phillip O'Rourke Jr. Her Grandmother Myriam Ramona Lee, and numerous aunts, uncles, and cousins. She was also survived by her very close Auntie Alvaretta and Kenny plus many other close friends who she considered her family.
Pallbearers will be Jude Marshall, Gino O'Rourke, Sunny Rojas, Philly O'Rourke, Jai Kibby, Kody Kibby, Pete Thompson, Pyuwa Bommelyn, Guylish Bommelyn, Bob Jackson, Willbear Carlson and Toni Ray Peters.
Honorary Pallbearers are Willie, Timmy and Randy Thompson, Kalvin Kelley, Tiger O'Rourke, Roger Gibbons, Veron Lewis, Teddie, Sean and Ira Thompson, Willard Carlson, Sr., Willard Carlson, Jr, Pergish and Mike Carlson, Shawn Korb, Dick, Son-son, and Merk Robbins, Tswenaldin, Kikya and Kay-cam VanPelt, Isaiah and Issac Kibby, Brian Tripp, Julian Lang, Frank Tuttle, Jaytuk Steinruck, Eli Hensher-Aubrey, Joe Marshall, Johnny Jackson, Adam Roubidoux, Keoki Burbank, William Bowers, Kenji Okazaki, Kevin Patterson, Critter, Jaime and Hense Holt, Jon and Scotty Brooks, Gabe Montgomery, Santee Martin, Eagleboy Donahue, Seagull Jordan, Chris Peters, Zanny Morhman, Thomas Dunklin, Ed Mata and Richard Myers II
Visitation will be Thursday, March 3rd from 4pm-8pm at Sanders Funeral Home in Eureka. Funeral Services will be officiated by Loren Bommelyn and Alme Allen and are planned for Saturday, March 5th at 10am Klamath Yurok Tribal Office. Burial will immediately follow at the family cemetery at Tulley Creek and a reception will follow at the Weitchpec Tribal office.
###
The obituary above was submitted by Stormy Rojas-McConnell's family. The Lost Coast Outpost runs obituaries of Humboldt County residents at no charge. See guidelines here. Email news@lostcoastoutpost.com.