PREVIOUSLY:
###
It's budgeting time again!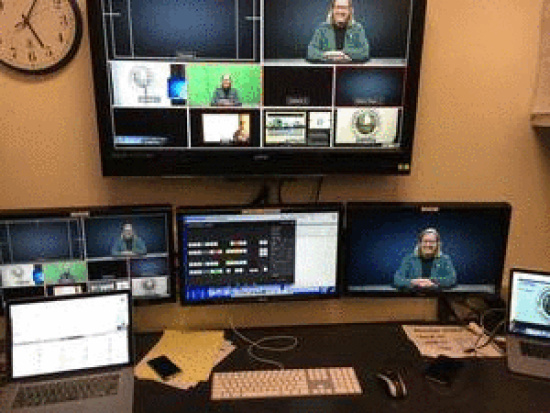 Tonight the Humboldt County Board of Supervisors will hold its fourth annual countywide interactive digital multimedia community outreach session to talk about the county's upcoming 2016-2017 budget. You have questions about how the county is spending its money? Critiques? Ideas? This is your chance to kick the whole around with lawmakers and your neighbors.
The county really goes all-out to make sure your voice can be heard in these things. Each supervisor stations him/herself at a location in their own district, and anyone can drop in. All the location will be live video-linked into each other. The whole thing is broadcast live on the web and on Access Humboldt.
Can't make it to one of the locations tonight? No problem. You can tweet your question or comment to everyone, or answer the budget-related polling questions posted over at Open Humboldt, the county's interactive forum. Details below.
The county budget is immensely complex. If you'd like to drill down on some numbers before commenting tonight — to check out where money comes from and where it goes on a line-item basis — don't forget about Open Budget, the web tool that presents all of this in a drilldownable fashion.
Let's budget!
Press release from the County of Humboldt:
The County of Humboldt will hold its fourth annual multi-site, interactive Community Budget Meeting on Thursday, March 3 beginning at 6 p.m. This innovative and award-winning meeting gives members of the public an opportunity to discuss current issues with their elected representatives and weigh in on the county's $300 million budget, no matter where they live in Humboldt County.

This meeting is one of several important steps in the budget development process.

Earlier this month, the County Administrative Office (CAO) presented its five-year financial forecast,which projects the county's finances under various scenarios. The Board also reviewed the Strategic Framework, a document that sets high-level goals to guide our decisions throughout the year. A week later the Board heard the mid-year budget report and began setting parameters for the coming fiscal year.

After the Community Budget Meeting, the county will turn inward to create a budget that matches citizens' priorities and then return in June for public hearings.

Some of the important issues to discuss at this year's meeting include:

• Rising costs and how that could affect service delivery
• Possible department reorganization to improve efficiency
• Measure Z at one year

"While we're creating the budget we hear from our departments, outside agencies, stakeholders and others, but the most important voice is that of the people of Humboldt County," said Chair of the Board and 3rd District Supervisor Mark Lovelace. "We need to know what is important to you, and this unique meeting is a great place to do it. It's also a great opportunity to provide you with a fun, educational evening."

The meeting, which has received awards from the California State Association of Counties and the Alliance for Innovation, will again use the Google Hangout platform and will be broadcast live from sites in each of the county's five districts. A member of the Board of Supervisor will be in attendance at each location and available 30 minutes prior to the meeting to talk with citizens.

If you cannot attend the meeting in person, you can still take part in the conversation by:

• Sending in your questions and comments via Twitter to @HumCoGov using #HumCoBudget
• Watching on Access Humboldt channel 10, or channel 7 if your service provider is Wave Cable
• Live-streaming the meeting on the county's website at humboldtgov.org, or
• Responding to questions posted on Open Humboldt, the county's on-line discussion forum.

The county is working with several community partners to pull off this event, including Access Humboldt, Humboldt County Office of Education, South Bay School, Fortuna City Council, Garfield Elementary School, and McKinleyville High School.

Attend the meeting at any of the following locations (map is at bottom:

District 1 - Supervisor Rex Bohn
South Bay School Library
6077 Loma Ave, Eureka

District 2 - Supervisor Estelle Fennell
Fortuna City Hall
City Council Chambers
621 11th Street, Fortuna

District 3 - Supervisor Mark Lovelace
Garfield Elementary School
2200 Freshwater Rd, Eureka

District 4 - Supervisor Virginia Bass
Eureka High School Campus
Access Humboldt Community Media Center
1915 J Street, Eureka

District 5 – Supervisor Ryan Sundberg
McKinleyville High School Library
1300 Murray Road, McKinleyville