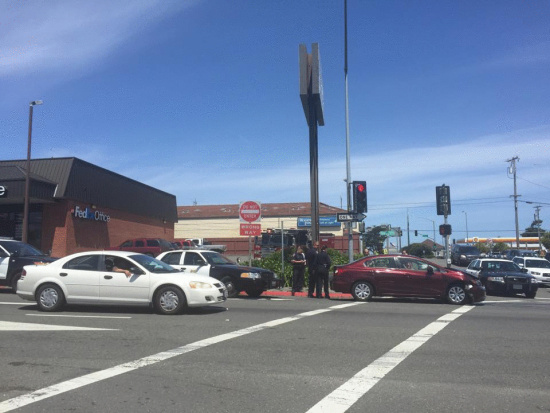 UPDATE, 1:05 p.m.: Sgt. Travis Braud of the Eureka Police Department tells the Outpost that based on the statements of witnesses, it appears that a Honda traveling eastbound on Fifth Street ran a red light, striking two separate vehicle that were traveling south on V.
There were three passengers in the Honda. One of them was taken to the hospital. Each of the struck vehicles were occupied only by their drivers; one of those drivers was also taken to the hospital. Both appeared to be minor injuries, Braud said.
###
The Eureka Police Department and ambulances are at the scene of a three-car crash near the intersection of Fifth and V streets that injured two people a few minutes ago.
The crash closed one lane of Fifth Street, which doubles as northbound 101 through the city of Eureka. Traffic is backed up.
A few moments ago, scanner traffic indicated that a woman suffered head and neck injuries and a man suffered injuries to his side or hip. The woman has been put into a neck brace and is being taken to the hospital. She's able to stand.
Avoid the intersection for the next little while.