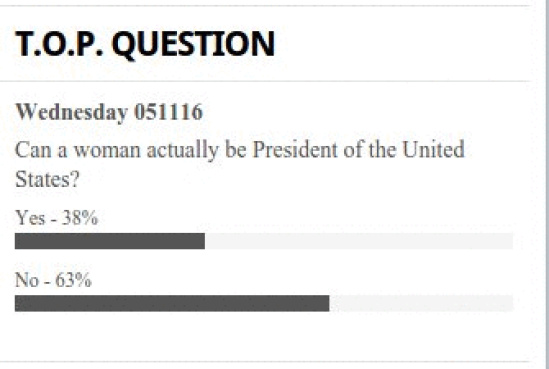 Can a woman actually be president of the United States?
Um: No. Not actually.
But if you have an informed legal opinion on this question, our friends at KINS Radio — home of Limbaugh, Levin and Golden State Warriors basketball — would like you to get yourself over to their webpage to make your voice heard!
Bad news for the gals: The proposition currently stands at two-thirds against. And that is because girl presidents are clearly unconstitutional, and no one wants one anyway.
But that doesn't stop crabby Cathies from getting all huffy about stuff!
No @KINSNews we can't, because our periods will attract bears. #nobearsintheOvalOffice #OvulationOffice pic.twitter.com/MdJ7SvG0bK

— Linda Stansberry (@LCStansberry) May 11, 2016
Nice try.
@LCStansberry You've been watching too much Stephen Colbert, Boysenberry. The reason is cooties.

— KINS NEWS (@KINSNews) May 11, 2016