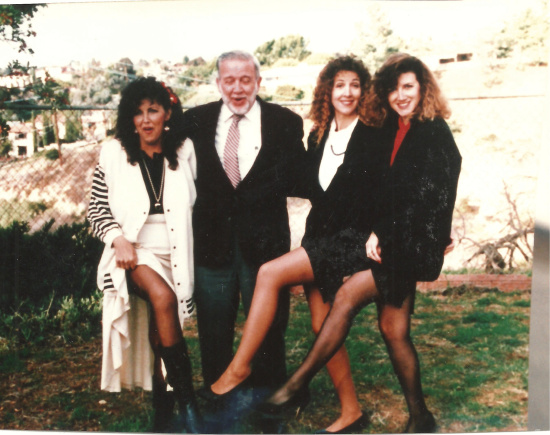 George O'Donnell died at his home in McKinleyville, California on May 12, 2016 at the age of 86. He left behind gallons of bourbon, vodka and gin that we have no idea what to do with as we are all sober. He was self-indulgent, kind and curious, fond of jokes and unexplainable phenomenon. He believed in UFOs and liked to contemplate the vastness of the universe. He was very proud of the dysfunctional family he left behind.

George grew up as an only child, well loved and spoiled by James and Louise Becker O'Donnell in Rochester, New York. Born on July 9, 1929, he had a thoroughly Irish Catholic upbringing, attending St Augustine grammar school and St Thomas Aquinas High School. His mother envisioned the priesthood for him, but George left Maryknoll Seminary when he discerned his true calling of loving the ladies. He learned drafting at St. John Fisher College. He was proud of his service in the Korean conflict, serving in the rank of first lieutenant.
George's employment history was unusual. Shocking his conservative parents, he moved his young wife Geri and infant daughter Kathleen all the way from New York to California in 1955 with no job prospects. The car broke down at the Grand Canyon, but they ran into helpful strangers who towed them to Los Angeles. His eternal optimism bore fruit as he talked his way into work as an engineer, working for Litton, RCA and Hughes Aircraft. He didn't much care for the work but loved the long boozy lunches with coworkers. Despite fairly steady employment through which he supported not only his family but enormous partying habits, he believed that a nine-to-five job was for the unimaginative and dreamt of becoming a professional gambler. He stayed married to Geri for a record thirteen years, long enough to have five girls to whom he imparted his "take the road less traveled" philosophy. His good looks, joy de vivre, dancing skills and love of beautiful women led him on many romantic adventures and two more tries at marriage until he realized he was better off single and friendly. Tiring of the limitations of regular work, he tried his hand at many different things including sales, gambling, used cars, gambling, and Amway. He strongly believed in the power of positive thinking and used it to successfully buy and sell real estate in San Diego for many years. He loved the horse races and was twice victorious in his life long quest to hit a Pick 6. He remained close to his Catholic roots and attended Mary Star of the Sea in La Jolla, and Saint Mary's in Arcata.

As proof of his continual luck, George was able to live for nearly 18 years at the fabulous League House in La Jolla, in a stunning studio apartment with a view of the ocean. There he found kindred spirits and a mutual love of shenanigans. He was known for his twice weekly showings of his favorite movies, repetition being his strong point.

Moving to McKinleyville to live with his daughter, he continued a consistent routine of washing down his morning vitamins with screwdrivers, starting on martinis at noon and finishing each evening with Manhattans. He called his friend Mickey almost daily to bet on a game. He loved football, the Padres, chocolate, Amy's toaster pops, Sidney Sheldon novels, tabloids, game shows, the Playboy channel, and Lifetime Movie Network. His fondness for John Wayne movies was surpassed only by his love of fried chicken and reruns of Johnny Carson. His favorite show, Deal or No Deal, combined his major life interests of beautiful women and gambling. George was enthusiastic about bridge and played for many years with the La Jolla Bridge Club and more recently with Sequoia Bridge Club in Eureka. Whenever possible he enjoyed playing blackjack in our local casinos. He passed on his skill as a keeper of treasures and horse race handicapper.

George is survived by his daughters Sheila Kircher (Rick) of McKinleyville, Maureen (Bill) Stapleton of New Lebanon, Ohio, Eileen (Greg) Gapko of Draper, Utah; his grandchildren Melinda Whitney, Sean Traverse, Amber Meyer, Aster Meyer, Shannon Lightner, Michael Swort, William Stapleton, Victoria Stapleton, Sarah Star, Amy Slimp, Stephanie Meese, Michon Lee; his great grandchildren Cody Heyen, Brandon Heyen, William Kirkland, Sean Kirkland, Elijah Swort, Hayden Faulkner, Jimmie Slimp, Seth Meese, Owen Meese, A'lias Morgan, and by many nieces and nephews and lifelong friends.
He was preceded in death by his parents, brother Will, and daughters Kathleen and Sharon.

A funeral mass is scheduled for May 26 at 10 am at St Mary's in Arcata. Cremation is underway and George's ashes will remain with family until we figure out what to do with them.

Tremendous heartfelt thanks go to the staff of Eureka VA clinic, Humboldt Caregivers, and Hospice of Humboldt. The care providers at these organizations deserve medals for dealing with the cantankerous with skill and grace.

It would be very fitting if people had a drink of their favorite beverage to celebrate George's passing.
###
The obituary above was submitted by George O'Donnell's family. The Lost Coast Outpost runs obituaries of Humboldt County residents at no charge. See guidelines here. Email news@lostcoastoutpost.com.