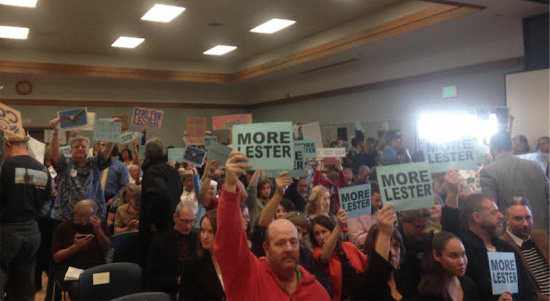 Following the California Coastal Commission is like trying to follow Game of Thrones. There are countless characters, plots, and languages, and if you miss one episode you are completely lost. The difference is, the Coastal Commission is not a fictional story but a real agency with the power to decide the future of the California Coast. Currently, that power lies in the hands of 12 Commissioners who have proven to not have the best interests of the coast and the public in mind. Here is quick recap of the past four Coastal Commission hearings, a look at some of the main characters, new happenings, and a call to action to #SaveOurCoast.
The saga began at the February 10th hearing in Morro Bay when when the commissioners voted 7-5 to fire popular environmental champion and Executive Director Charles Lester. Doing so in a private session and without explaining their votes, the commission successfully robbed themselves of all public trust and raised questions about their intensions for the future of the coast. The pressure was now on the commissioners to rebuild trust and show they were capable of doing their job of upholding the Coastal Act.
One month later, tension was still running high at the March hearing in Santa Monica. Social justice, environmental organizations, and the public stood together, calling for transparency of the commission and their formal inclusion in the hiring process of a new executive director. The commission did not hire a new Executive Director that day, but they did appoint longtime, well-respected Deputy Director Jack Ainsworth to the interim executive director role. Two commissioners also felt they also needed a chance in the spotlight that day. Commissioner Wendy Mitchell performed an out of hand monologue defending her vote to fire Dr. Lester, despite several attempts to stop her. Even more disturbingly, Commission Mark Vargas cussed out a member of the public when she asked him to clarify a comment he had made in Spanish. When called out for his childish behavior, Vargas publicly "apologized" … or something like that (watch below).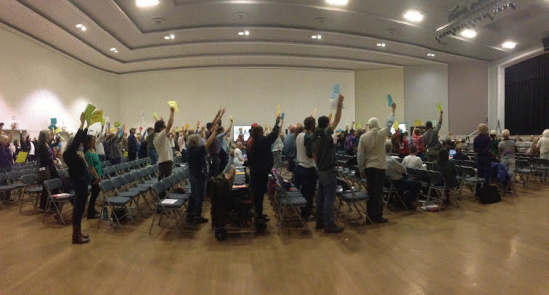 The commission had the chance to regain public trust at the April hearing in Santa Rosa, but unfortunately failed once again. The hot topic this time was the California State Parks proposal to charge new $8 parking fees for four Sonoma Coast beaches, in attempt to generate funds for themselves. As this proposal would limit beach access, especially to low-income residents, create traffic hazards along Highway 1, and probably wouldn't even generate funds anyway, a full house of concerned Sonoma citizens gathered at the meeting to protest. After hours of public testimony the commission finally voted to deny the current proposal but with the catch that they would keep working with State Parks to revise the proposal.
The most recent Coastal Commission meeting in Newport Beach on May 12th, was anticipated to be a showdown on the decision regarding new mega-development Newport Banning Ranch, but was suspiciously postponed last minute by the developer. The development would trade the largest privately owned coastal open-space parcel in Southern California for 895 residences, 45,100 square feet of retail space, a hotel, a 20-bed hostel, and two clusters of oil wells. The issue is likely to be pushed back to the September meeting, which interestingly enough is scheduled for Humboldt County. This idea of the meeting being held at the opposite end of the state generated a huge public outcry . As a result, Coastal Commission staff was directed to look into moving the meeting to a closer location.
Now that you have been caught up with the meetings, let's take a closer look at some of the main characters. Our North Coast representative and Governor appointee, Martha McClure, has been making quite the name for herself. According to the Coastal Commission Conservation Voting Chart of 2015 she has one of the highest number of anti-conservation votes of the commissioners, and a conservation vote score of just 32%. She even received her very own article by Steve Lopez in the LA Times dedicated to her fowl language. In his article, Lopez quotes McClure saying things to him such as, "you're farting out of your f-ass," and "did you take LSD today?"
Her outrageous comments were in response to Lopez asking about her oddly close relationships with several developers. One such relationship is with powerful development consultant and California lobbyist, Susan McCabe, who donated $500 to McClure's re-election campaign. McCabe also happens to be a former Coastal Commissioner herself, and the person that recommended close friend Wendy Mitchell to the commission.
The commissioner-lobbyist friendship theme doesn't end there. U2 guitarist David Evans, "The Edge," has been in a long battle with the the Coastal Commission to approve the development of his dream home in Malibu, and recently hired McCabe to lead his campaign. Last November, commissioner Vargas coincidentally happened to attend a U2 concert in Ireland and meet with Evans. Vargas and the entire commission have now voted 12-0 to approve Evan's development.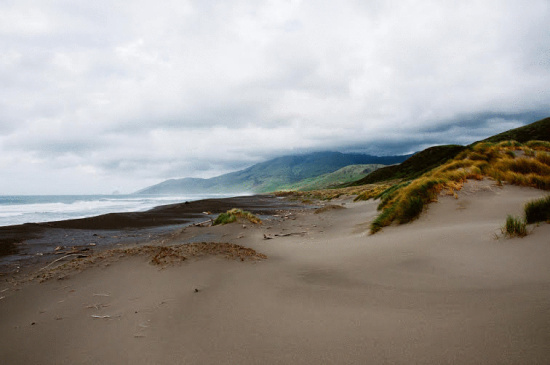 This is just a short list of examples of "ex-parte" communications, private sessions between commissioners and interested parties. These communications are currently completely legal as long as commissioners report them, but it is clear they are effective in swaying commissioners votes.
In an effort to eliminate these backroom deals and increase transparency, Sen. Hannah-Beth Jackson (D-Santa Barbara) has introduced SB 1190, a bill that would prohibit all commissioner ex-parte communications. Commissioners supported this bill with a 6-5 vote at the Newport meeting and it will likely reach the Senate floor for a vote later this month.
Finally, there is still one huge elephant in the room, or lack there of. Where has Governor Jerry Brown been with all this going on? Gov. Brown has failed to comment on any Coastal Commission related matter which seems particularly strange given his stature over the commission and that the Coastal Act took effect during his first term as governor. For more on this I highly recommend you read Steve Lopez's article and call to action in the LA Times; "Gov. Brown, notice anything fishy about your Coastal Commission?"
If you have made it to the end of this article I hope you are more informed and not more confused about the Coastal Commission fiasco. The take-home message here is that our coast is at risk and it is time to take matters into our own hands and out of the hands of the 12 people that currently have the power.
Surfrider Foundation has made #SaveOurCoast a priority campaign. Check out their websitefor more info and see below for how you can help.
Calling Governor Jerry Brown's office at (916) 445-2841 and say there's no place on the Coastal Commission for Commissioners willing to sell out California's coast! Ask him to appoint Commissioners who will actively support the public trust and Commission transparency.

Contacting

State Assembly Speaker Anthony Rendon

and

Senate President Pro Tem Kevin de León

, each of whom controls four Coastal Commissioner appointments. Tell them California's citizens demand better accountability, more transparency and Commissioners who are dedicated to the Coastal Act!
Following and using #SaveOurCoast to draw attention to our efforts and make our combined voices more easily heard.