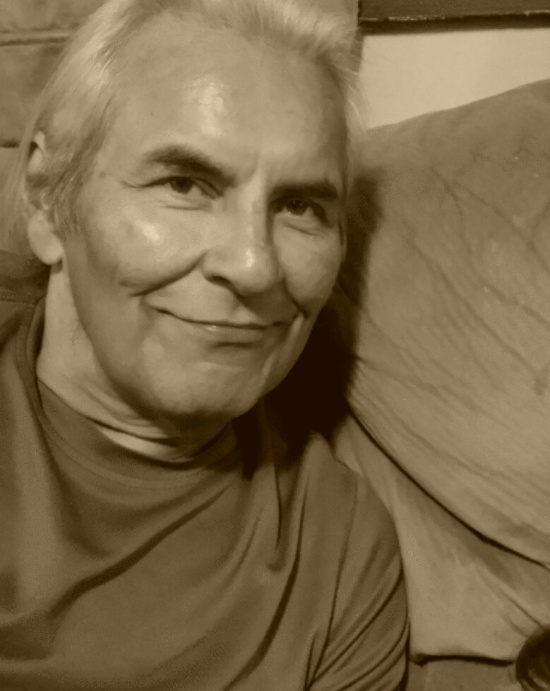 Barry Wayne McCovey, Sr. was born in Eureka on September 26th 1954 to Julia Ann and Stanley Floyd McCovey, Sr. He began his journey to the other side on May 20, 2016. Barry Wayne was one of the Beautiful People – upriver and downriver. Yurok, Karuk and Proud. He spent his life living in both places. While he had a Panaminik heart, he chose to raise his children downriver, across from Sa'a near Kepel, in a house above the Klamath River.
There is no way he could be captured by words. His heart was immense, filled with great love as well as life's pain. But Beautiful people are resilient, and he was. His resilience could only be outdone by his brilliance – his intellect, his knowledge, his humor, his sarcasm, his understanding. Whether you knew him closely or had a single conversation, he brought you into his world. He could see things in you that you couldn't, and because of this, he was friends with everyone. He loved to learn and surrounded himself with books and was known to read a good book two or three times. He was a spiritual man. When he was younger he studied the world's religions, but it was his Yurok and Karuk traditions that rooted him. He was a composer of Indian love songs, ballads, songs about his family. Music was one of his great loves. His guitar travelled with him and rarely did he turn down a request to jam, or sing for you.
He left pieces of himself everywhere he went and in everyone he touched. You likely have stories and memories of him that left a lasting imprint. He always spoke of how he felt he was meant to do something he called "beautiful," how he chased this beauty for many years. Last Christmas he said to one of his children, "You know, I always wanted to do something beautiful, but what could be more beautiful than taking care of your grandbabies?" He was the beauty he was chasing, and he saw it in his grandchildren – all of them - whom he loved completely. His children and his grandchildren are the beauty he created – his legacy – each inheriting parts of him: his intelligence, his wit, his kindness, his compassion, his critical thinking skills, his love of music and cinema (classics, with many critical scenes), his quest for knowledge, his character, his huge open heart, his ability to forgive, his search for meaning and truth, his sense of wonder, and even his road dog ways.
Barry Wayne went back to school in his early thirties and his brain was on fire. He quickly found his place in the Social Work Department, forging close friendships with his mentors and professors. He graduated in 1992 from Humboldt State, was elected Senior Man of the Year, and gave the commencement address on behalf of his peers. After college he went to work for the Yurok Tribe. It was the early days of the Tribal Government and he started as the Director of Social Services and later helped develop the Tribe's administrative and Self-Governance programs. He was instrumental in the Weitchpec Dump clean-up, he wrote many grants and speeches and was an invaluable asset to the Tribe. Barry, Aawok Troy and Aawok Howard were an incredible team. They spent countless hours on the road together creating tribal policy and other unmentionables.
Later in life he loved his time living off the grid along the Klamath with Terrence and Cynthia. Days were spent sitting by the river at the mouth of Cheenich Creek – they fished, they played music, they laughed. They shared a very special sibling bond.
He was always curious. He wanted to know what lies on the other side – with so many of his loved ones having travelled there. He wanted to understand the mystery. His children are comforted by this: Now you know, Dad. Now you know. We hope it is as beautiful as you imagined.
Barry is preceded in death by his beloved mother Julia Ann Starritt Trejo and his father Stanley Floyd McCovey, Sr. His Grandparents Ramona and Robert Starritt and Sadie and Charles McCovey. His brothers Stanley, Jr. and Farron, Sr. His nephews Joseph and Julio Henderson, and his niece Bessie McCovey. He was the great-grandson of Bessie and Pop Tripp. He is also preceded in death by numerous aunts, uncles, cousins and friends – too many to mention but who meant the world to him.
He is survived by his children Shaunna McCovey, Julia McCovey (Boyd), Barry McCovey, Jr. (Louisa) Caroline McCovey and Megan McCovey (Valentino), his wife and the mother of his children, Sharon McCovey, his grandchildren Darian, Logan, Kiaunna and Delmer Ferris, Albee and Remy McCovey, Ava, Ruby and Muriel Jackson, Valentino, Christian, Evelyn, Thomas and Vivienne Luna and Wilhelmina McCovey. His loving brother and sister Terrence McCovey, Sr. and Cynthia Henderson, and numerous nieces and nephews. His aunts Claudette Rogers, Sylvia Carroll, Carmen Moon and Bernice Roubidoux, and his uncles Barthel and Victor Starritt.
Pallbearers are Perry Sanderson, Brammell McCovey, Stanley McCovey III, Joseph McCovey, Harwood McCovey, Farron McCovey, Jr., Terrence McCovey, Jr., Logan Ferris, Dellavin McCovey, Tahn Blake, Mawahche Blake, and Gary Juan, Jr.
Honorary Pallbearers are Willard Carlson, Rocky Erickson, Troy Simon Fletcher, George Blake, Jacob Blake, Ronnie Sanderson, Clifford Hurley, Dale Kramer, JJulian and Jason Lang, Brian and David Tripp, Bobby Pete Erickson, Robert, Waymond, Harwood and Leslie Starritt, Anthony Rogers, Michael Sr., Michael Jr., and Ulysses McLaughlin, Chris Sr., and Chris Wilson, Jr., Robert Sr., Robert Jr., and Stuart McConnell, Tsewendaldin and Dwight Van Pelt, Gabriel, Robert, Curtis and Loren McCovey, Rick Ingram, Bill Delaney, Matt Douglas, Robert Hunsucker, Sr., Walt Lara, Sr., Frank Lara, Thomas Sr. and Lawrence O'Rourke, Valentino Luna, Notchko, Pliny Jr. and George McCovey, Dean Powell, Harvey Crews, Jr., Luke Walker, Rob Hill, Max and Merlin Morin, Amos and Nathan Pole, Randy Oqua, Larry Stanich, Gene, Hawk and Nim White, Micah Titus, Harold Campbell, Sr., Gordon, Marion, Charles McCovey, Sr., Ron and Lawrence Reed, The Spaniards, Jorge and Miguel, Alme Allen III, Boyd, Mike and Deacon Ferris, Ken Nakamura, Loren Sr., and Loren Offield, Jr., Mark Piehl, Shawn Logan, Jerry Corriea, Rocky Colegrove, John and Butch Rogers, Jay Ashley, Michael Gabriel, Lawrence Obie, Jake, Harold and Bill Tripp, Stanley Dale Ferris, Christopher H. Peters, Paul Kuska, Tom Gates, Arthur Jones, Lonnie Risling, Arden McCovey, Jim Osier, Tom Okazaki, and Edwin Gonzalez-Santin.
Services will be held on Wednesday, May 25th at 4 p.m. at Orleans Elementary School with burial immediately following at the Karuk Tribal Cemetery. He will be laid to rest next to his mother. There will be a reception after at the Karuk Community Center. The family would like to apologize to anyone who we may have forgotten. In honoring Barry's wishes there will be no viewing. Please bring your favorite dish and your most cherished memories.
###
The obituary above was submitted by Barry McCovey's family. The Lost Coast Outpost runs obituaries of Humboldt County residents at no charge. See guidelines here. Email news@lostcoastoutpost.com.