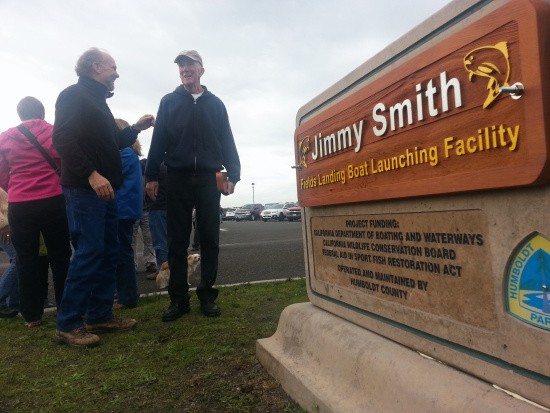 Former Humboldt County Supervisor Jimmy Smith, a fisherman, died last night at St. Joseph Hospital. His death last night, at St. Joseph Hospital, was announced at the beginning of today's meeting of the Board of Supervisors.
He served 12 years on the board, from 2000 to 2012, during which time he headed up any number of huge public projects — the cleanup of the South Jetty, the Salt River Restoration project, the Martin Slough Interceptor, and the Klamath River Settlement Agreement, to name just a few.
It's hard to imagine any or all of these projects getting done without his quiet, calm authority leading the way. He was, above all, a gentleman, someone whose strength of character impressed itself immediately on everyone who had the good fortune to meet him.
Before he was elected to the board he served on the Humboldt Bay Harbor, Recreation and Conservation District. He was a commercial fisherman. He was first diagnosed with cancer in 1994, and beat it many times.
He was a great man.
We'll have more on Smith's life and legacy soon.
###
UPDATE, 11:48 a.m.: From the County of Humboldt:
Former 1st District Supervisor Jimmy Smith, a native of Humboldt County whose kindness and dignity will leave a lasting impact on our community as great as his work, died last night at St. Joseph Hospital in Eureka. He was 67. The County of Humboldt will fly the U.S. flag at half-staff in Supervisor Smith's honor.

Born on July 11, 1948, Smith was known as a man of caring, grace, humility and perseverance. He had a distinguished career in public service and his accomplishments were of major significance to Humboldt County. Smith set the gold standard for inclusiveness and bridging differences to solve problems, and his leadership and diplomacy resonated throughout northern California.

Smith served as a Humboldt County supervisor from January 2001 to August 2012 and as a commissioner with the Humboldt Bay Harbor Recreation and Conservation District from 1995 to 2000. Also a commercial fisherman for more than 40 years and former wildlife biologist, Smith was dedicated during his career to the conservation of natural resources and the public's use and enjoyment of those resources. Smith championed many large projects and initiatives for the benefit of natural areas, working landscapes, and fish and wildlife. He performed significant work on Humboldt Bay, Salt River, Eel River, Trinity River, Klamath River and marine fisheries.

One of Smith's major accomplishments during his career was anchoring the diverse county, state, and federal team that achieved the clean-up, public acquisition, re-opening, enhanced protection, and ongoing effective management of the land located directly across the bay from Fields Landing, now known as the Mike Thompson Wildlife Area, South Spit Humboldt Bay.

Known for his unique ability to bring people together to build trust and goodwill, Smith was a primary visionary and co-founder of the seven-county North Coast Integrated Regional Water Management Plan (now the North Coast Resource Partnership) and the Five-Counties Salmonid Conservation Program.

In November 2014, the Board of Supervisors named the Fields Landing Boat Launching Facility in Smith's honor. He was instrumental during the prior 20 years in building partnerships and securing funding for improvement projects at the launching facility, which serves as the primary boating access to the southern portion of Humboldt Bay. Some of the improvements include a new boat ramp, improved lighting, a tsunami siren, increased parking and new floating docks. The facility is open to the public and benefits a variety of users including sport fishermen, clammers, crabbers, waterfowl hunters, canoeists, kayakers and birdwatchers.

Smith retired from his position as supervisor in August 2012 for health reasons. The Board held a lengthy item with comments from the public in appreciation of Smith's service prior to him leaving office.

Smith leaves behind Jacque, his wife of 40-plus years, and their son, Gary.

We will update with information on any memorial services that are open to the public.

###

Below is a list of some of Jimmy Smith's professional commitments and accomplishments:

Humboldt County Board of Supervisors, Board Member
Elected 2001 as 1st District Supervisor
Chair of the Board 2003
Re-Elected 2004 as 1st District Supervisor
Re-Elected 2008 as 1st District Supervisor
Chair of the Board 2009
Humboldt Bay Harbor, Recreation & Conservation District, Commissioner, Elected 1995 as 1st District Representative

BOARDS & COMMISSIONS

Eel/Russian Rivers Joint Powers Commission, Member
Five-County Conservation Plan & Salmon Restoration Efforts, Member- Foreign Trade Zone Governing Body, Alternate
Harbor District Revitalization Planning Team, Member- Humboldt County Budget Task Force
Klamath Fisheries Management Council, Alternate- Elections Advisory Committee
Juvenile Justice Coordinating Council, Member- Juvenile Justice Delinquency Prevention Commission, Liaison
Humboldt Transit Authority, Chair (Past) 05-06- Waste Management Authority, Alternate
County/Eureka Annexation Commission- Indian Gaming Commission
Klamath Management Zone Fisheries Coalition, Oregon and California Coast Ocean Recreational Representative – Current Chair- St. Joseph Planning Liaison
Trinity River Basin Fish & Wildlife Task Force, past Member- Klamath Technical Working Group, past Member
Trained with California Department of Fish & Game, U.S. Fish & Wildlife Services and U.S. Forest Service in fishery monitoring - escapement, composition, stream surveys- Worked for U.S. Fish & Wildlife Service, Humboldt Bay National Wildlife Refuge and Alaska Science Center; led Waterfowl Banding Team
Monitored Humboldt Bay Black Brant and Canada Goose Populations- Methamphetamine Task Force, Member
Northcoast Integrated Regional Water Management Plan
7-County Region
Chair/Vice Chair 2005 – 2011
State of California Marine Life Protection Acts Blue Ribbon Task Force Member

AWARDS

Highliner of 1993," the fishing industry's highest National Award- Pelnar-Commercial Fisherman in Restoration Award
Resolutions, from the California State Senate and the California State Assembly.- Eureka Chamber of Commerce 2006 Tom Cook Award
Elks Distinguished Citizen Award 2007