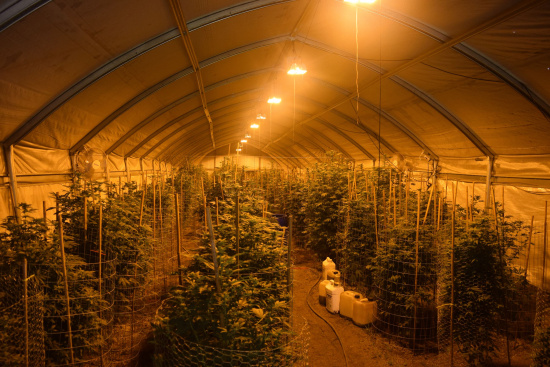 From the Humboldt County Sheriff's Office:
On Wednesday, May 25, 2016 at about 9:00 a.m., Humboldt County Deputy Sheriffs served a Humboldt County Superior Court search warrant at a residence on the 200 block of Golden Gate Drive in Carlotta. Upon serving the search warrant, deputies located three suspects on the property – 34 year old Anthony Thomas Rose, 51 year old Derrick Tyrone Bodiford, and 34 year old Dayshawn Luis Maxon. It was discovered all three suspects were convicted felons. Bodiford had an extraditable felony arrest warrant out of Alabama.

A search of the property resulted in the discovery of a large commercial marijuana cultivation operation located inside a greenhouse in the back yard. The greenhouse contained green growing marijuana plants in a budding stage of growth. These plants ranged between 4' – 5' tall.

Two indoor marijuana cultivation grows were located inside the main residence. These indoor grows contained green growing marijuana plants in a vegetative state of growth. These plants ranged between 6" – 1' tall. A total of 262 growing marijuana plants were located on the property and seized.

Deputies located indicia associated with the above listed suspects, documentation of sales, digital scales, packaging materials, large postage envelopes, $10,974 in U.S. currency, ammunition, and a stolen firearm.

Bodiford, Dayshawn, and Maxom were arrested and taken to the Humboldt County Correctional Facility. They were booked for cultivation of marijuana, possession of marijuana for sales, convicted felons in possession of a firearm, prohibited person in possession of ammunition, carrying a loaded firearm to commit a felony, conspiracy to commit a crime, and receiving stolen property. Each had a bail set at $50,000.

Anyone with information for the Sheriff's Office regarding this case or related criminal activity is encouraged to call the Sheriff's Office at 707-445-7251 or the Sheriff's Office Crime Tip line at 707-268-2539.