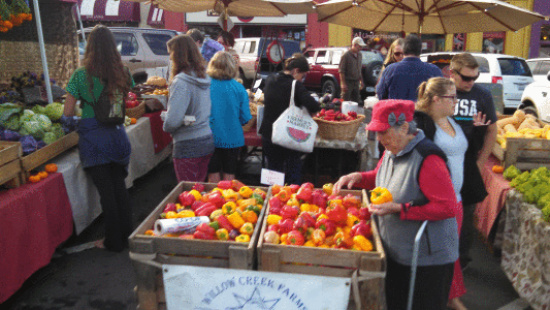 A woman refusing to restrain her dog at the Arcata Farmers' Market, landed her and her pooch behind bars this afternoon.
Arcata Police Sergeant Tim Marsolan told the Outpost that 57-year-old Ann Marie Carl-Smith was arrested and her dog was taken the county animal shelter, all because she refused to comply with the responding officer's request to keep her dog away from the food vendors.
"She was placed under arrest for delaying, obstructing and not obeying a lawful order by a police officer," Marsolan said. "She basically stood her ground and said 'I'm not doing anything, you'll have to arrest me.' So officers placed her in custody."
Marsolan said that aside from service dogs, pets are generally not allowed on the plaza during farmers markets due to health and safety codes mandated by the state.
"Very seldom will someone have a legitimate service dog, and if they do, they will check in with the farmer's market staff," Marsolan said. "The officer was trying to get compliance for her to hitch up the dog and leave."
Carl-Smith was booked at the Humboldt County Correctional Facility in Eureka.