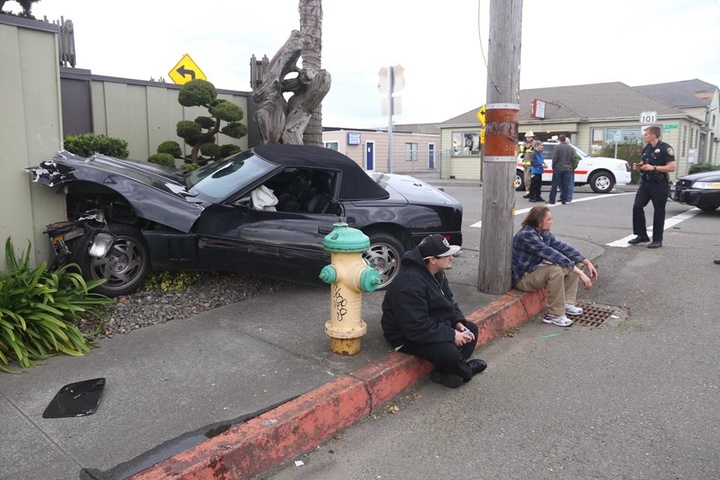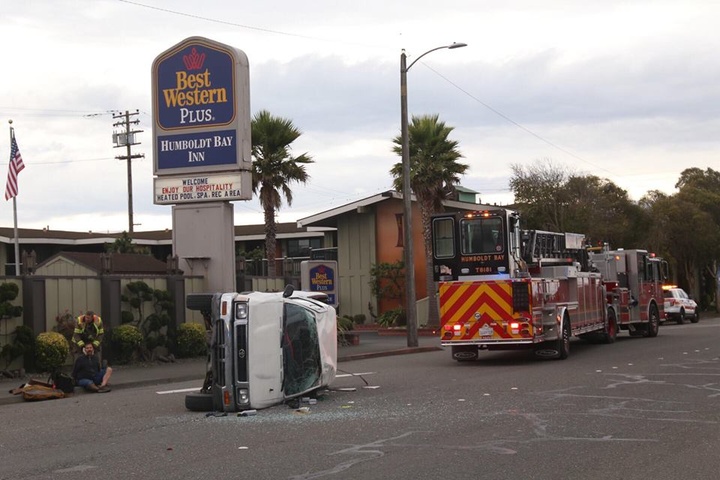 A collision near the intersection of West Fourth and Commercial streets in Eureka sent one vehicle careening into a nearby hotel and left the other on its side with the driver briefly trapped inside.

Shortly before 1 p.m. emergency personnel responded to the scene of the two-vehicle crash as a police dispatcher reported that an extrication would be required. However, the driver of the white Toyota Tacoma was soon able to extricate himself from cab of the truck. Humboldt Bay Fire personnel checked on the driver of the truck, who was conscious, and placed him in a neck brace. He was later taken away in an ambulance.
The other vehicle, a black 1990 Chevy Corvette, wound up crumpled against the nearby Best Western fence. The driver's side airbag had deployed and the driver appeared uninjured, according to the Outpost's Andrew Goff, on the scene. California Highway Patrol, Humboldt Bay Fire and the Eureka Police Department all responded to the scene.
Eureka police officers performed a field sobriety test on the driver of the Corvette and did not immediately arrest him. Traffic on Fourth Street was limited to one lane as emergency responders cleaned up the scene.