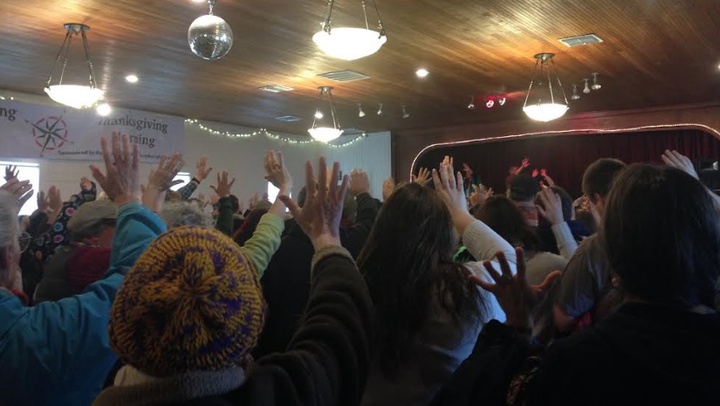 Trinidad Town Hall overflowed with community members eager to bless the commercial fishing fleet and all who go out on the ocean Thanksgiving morning. This beautiful tradition has been going on for 21 years now thanks to a committee of fishermen's wives and friends. In those 21 years, not one life has been lost at sea.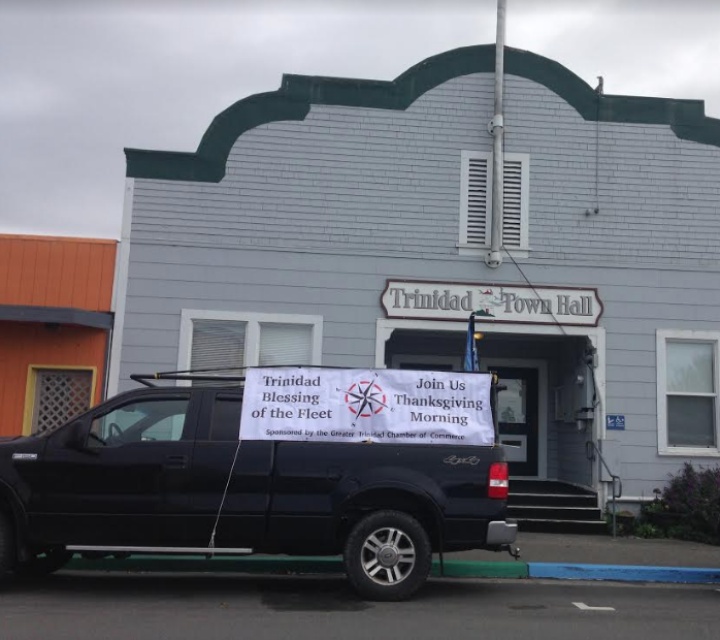 Usually held by the Trinidad Head Memorial Lighthouse, the event but was switched to the Town Hall due to weather complications. Live music by the Redwood Ramblers, and coffee and treats greeted the crowd as they packed into the building. Artwork of the fleet created by Trinidad School students decorated the stage. Every year the students draw pictures and write poems about a ship of choice. The committee picks one to be featured on the poster for the following years event.
Axel Lindgren III lead the group in a traditional Native blessing, facing to the four directions. Pastor Allison Berry, from the Church of the Joyful Healer then gave a non-denominational blessing as well. Finally, the room full of families and friends raised their hands in silent blessing.
As part of the tradition, the committee of women make creative, meaningful, and rather humorous talismans for each captain and crew. This year the talisman was a wooden mermaid and bars of soap, so the fishermen could be distinguished by smell while on the water.
Between the crab closure and El Niño event, last year was a rough one for commercial fishermen. Whether this year proves to be difficult or prosperous, one thing can be sure, the fishermen have the dedicated love and support of the community.