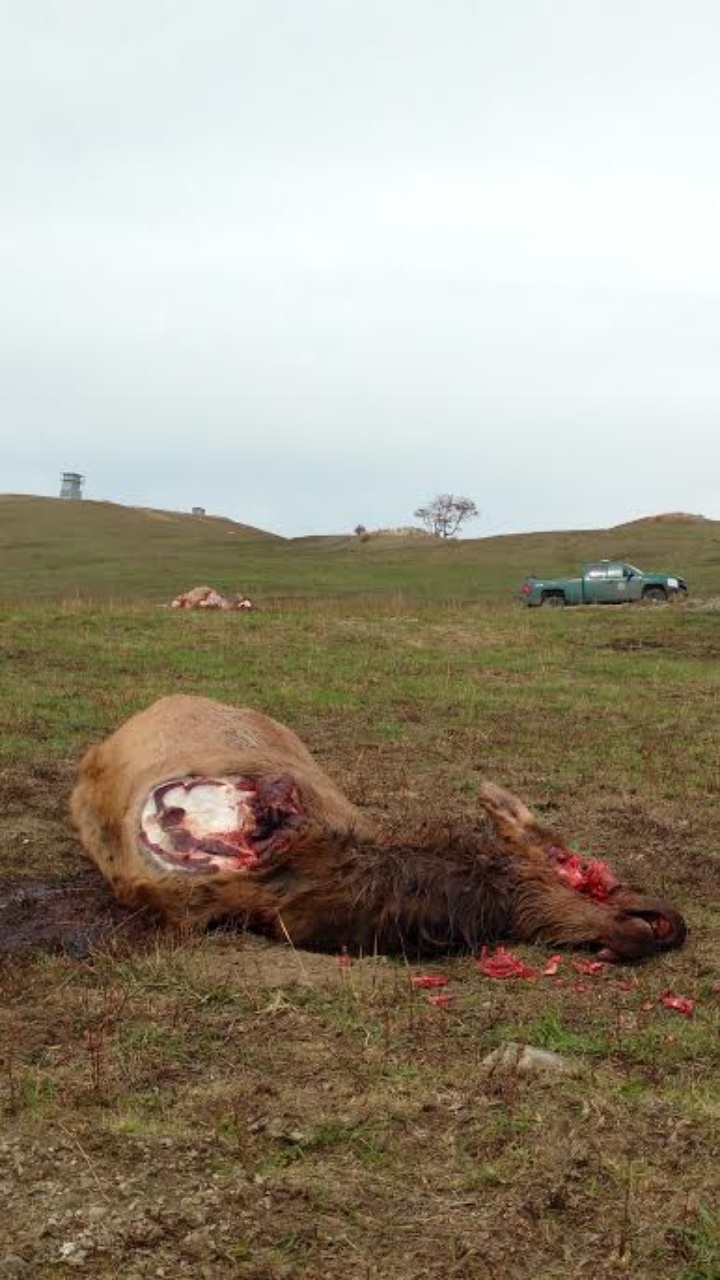 The California Department of Fish and Wildlife is investigating the poaching of two dismembered elk that were discovered at the southeast end of Redwood National Park on Sunday.

CDFW public information officer Andrew Hughan told the Outpost that the elk were located on Bald Hills Road, but was unable to give specific details as the investigation is still ongoing.
"[The scene] is pretty gruesome," Hughan said. "That's the worst part about poaching; they didn't take the meat, it looks like they just took the legs."
Hughan said he was unsure why a poacher would kill an elk for its legs, and added that even if the elk were killed legally, it's still illegal to dump an animal's carcass on the side of the road.
"This was not poaching for food, this was poaching for sport," Hughan said. "It's sick that someone would take the legs off an animal like that, it's a complete waste. Hopefully we can catch the person and find out why they did this."
According to the CDFW website, elk hunting for Northwest California ended on Sept. 29. Although the elks were killed outside of hunting season, and possibly within national park grounds, Hughan said the harshest penalties any poacher would face are a few thousand dollars in fines and having their hunting license revoked for life."
Hoopa resident and Yurok tribal member Alanna Nulph told the Outpost via email that she was extremely saddened when she happened upon the carcasses on Sunday around 2 p.m. Nulpha snapped a photo of the grisly scene and posted the story to Facebook, which drew hundreds of shares from outraged citizens.
"This photo was taken at the summit of Bald Hills Road named Schoolhouse Peak," Nulph said. "My father and I were taking a trip up through the mountains to look for tanoak mushrooms. When we got to the area we noticed that there was a Fish and Game officer investigating something just off the road … There are two elk carcasses in this picture, you can make out the one in the back, it was a little closer to the road. The first thing I noticed was that whoever did this was most likely in a hurry."
Nulph said she was disturbed to see poaching occur on ancestral Yurok land.
"They hunters downed the two cows, and then quartered the both of them, which is only taking the legs at the shoulder. They also must have been rushed because they only took one backstrap off of one of the elk — considered the 'prime rib' of the meat," Nulph said. "I was extremely saddened that someone would do this. It offended every notion of justice I have in my body to see something like this happen on ancestral Yurok lands."
Nulph said that she hopes her Facebook post will inspire someone to come forward with information about the case.
"I am obviously not alone in my feelings, as you can see from the Facebook comments," she said. "I hope the deaths of these elk aren't in vain, and that someone comes forward with information on the criminal. If it was a local person then I hope they see this and feel nothing but shame. I would like for the elk population to return to historical numbers so that they can actually be hunted and provide for our elderly and our children."