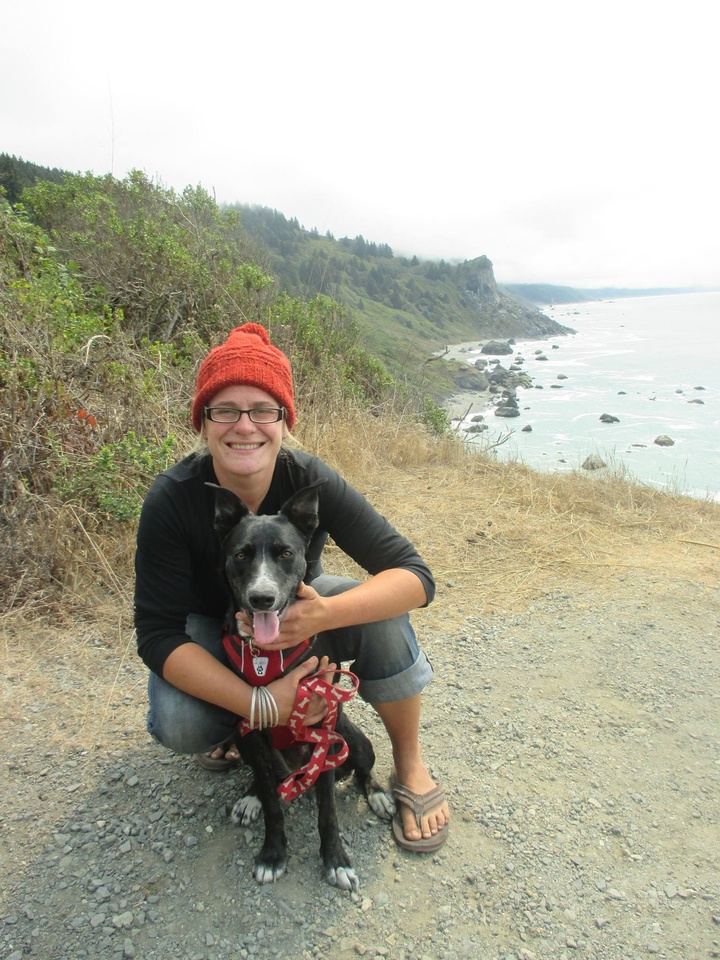 Alyssa "Auntie" Dianne Petska, 32, passed away on Saturday, September 24th at her home in McKinleyville.

She was born in Manitowoc, Wisc. on June 20th, 1984 to David and Constance Petska. Alyssa graduated from Roncallli High School and went on to study biology and agriculture in Wisconsin and California. She found a vocation in organic agriculture, which she approached with remarkably high ethical standards. Alyssa was employed at a local organic farm for the past few years in which she was able to do what she loved for a living. She especially enjoyed working the local farmer's markets.
Alyssa was, above all, a loving and kind person. She was devoted to her five sisters and developed strong bonds with each of her nine nieces and nephews. Alyssa was extremely generous and was known for giving elaborate, thoughtful gifts, often made by hand. She was deeply concerned with authenticity - making things instead of buying them, playing music or watching it live rather than listening to a recording. She was especially talented in woodworking, making everything from furniture, redwood burl art, and jewelry which she sold on Etsy, however she was so generous to family and friends often times items were given away for free. We will all remember her in her artwork that fills our homes.
Alyssa's family home was in Wisconsin, but she established a life of her own in Humboldt County, California in 2003. She was deeply connected to the local landscape of redwood forests, the Pacific coast, and mountains. Her friends formed a second family around her, and she became a mother figure to the children of her closest friends. She helped raise her best friend, Kristen Pekarske's, two boys, Samuel (10) and Oliver (7), being a steady, positive daily influence in their lives since birth until the day she left this earth. Her true love and generosity to those boys will never be forgotten as well as her place as more of a second mother than "Auntie."
Alyssa always put others before herself and was the most selfless person any of us knew. She would always rather give than receive, and it showed in her day to day life. She will always be remembered for her love, her laugh, her talent, and her good heartedness.
Alyssa had an abiding passion for nature. She was an avid camper, rock collector, horticulturalist, and beekeeper. At the end of her life, she made a strong association with the image of the tumbleweed, a plant that, when it reaches the end of its life, detaches from its roots and blows away, spreading its thousands of seeds across time and space.
Alyssa is survived by her grandmother Alice "Betty" Petska; her mother and father Constance and David; her sisters Dionne, Kristine, Elizabeth, Jennifer, and Rachel; her brothers-in-law Thomas Maedke, Eric Wergin, Andrew Balster, and David Dewane; and her numerous loving nieces and nephews, as well as her dogs, Acacia and Juniper.
Her wonderful spirit, joy, and talents will be celebrated during a gathering on Moonstone Beach on October 13th at 4:30 p.m.
Donations in Alyssa's memory can be made to Humboldt County Animal Shelter, please make checks to F.F.L.E.M.F. and mail or drop off at: 980 Lycoming Road, McKinleyville, CA 95519.
###

The obituary above was submitted by Alyssa Petska's loved ones. The Lost Coast Outpost runs obituaries of Humboldt County residents at no charge. See guidelines here. Email news@lostcoastoutpost.com.