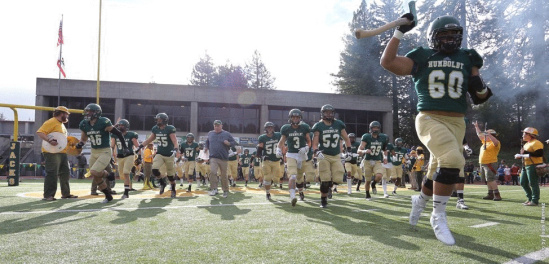 UPDATE, 3:10 p.m.:
HSU wins! The Jacks defeated Carson-Newman 52-45 today, during their big ESPN showcase.
The teams scored 97 total points, in what ended up being a classic shootout between two high-powered offenses.
This was the the first NCAA Division II football game of the season.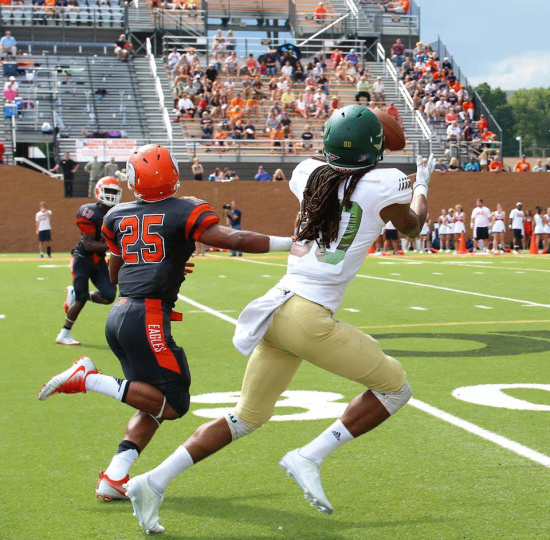 ###
UPDATE, 1:06 p.m.:
The Lumberjacks lead Carson-Newman University 31-28 at halftime.
Click here for stats from today's game.
UPDATE, 10:56 a.m.:
Kickoff has been pushed back to 11:15 a.m. Thunderclouds have caused brief weather delays. Stay tuned.
###
UPDATE, 10:45 a.m.:
After a brief weather delay, the Jacks are set to kick off in 10 minutes.
###
Cue up Hank Jr.! It's time for Lumberjacks football, goddamnit!
The Jacks open their season, and the entire NCAA Division II football season in Jefferson City, Tennessee today at 10:30 a.m. The Jacks will face off against Carson-Newman University, one of the most distinguished football programs in the country.
Click this link to watch the Jacks play live on ESPN3, right now! If you don't have a cable or satellite provider, you can listen to the local radio coverage here.
Go, Jacks!
Humboldt State Athletics Department:
The wait is almost over. Humboldt State football returns to action Thursday, Sept. 1 at 10:30 a.m. PT on national television against Carson-Newman.

Thursday's game will be the first meeting between the two programs, both of which advanced to the NCAA Division II playoffs a year ago. The Lumberjacks, coming off a historic 2015 campaign, have been picked to win the Great Northwest Athletic Conference and rank 13th in the National Football Coaches Association preseason poll. HSU returns a majority of its offensive starters, but the defense will feature a number of new players expected to make an impact.

"The defense is a work in progress and, when you add the fact that we have to play a veer-option football team week one, it's hard to really get a gauge as to where your defense is at," said Head Coach Rob Smith.


Smith expects senior Cameron Buell to lead the inexperienced group. Buell was the Green and Gold's top tackler last season and is the only defensive returner that has logged significant playing time over three seasons. Senior Daniel Castro, sophomore Connor Cox and redshirt freshman Julian Owens will also see their roles expanded in 2016.

"There are a number of players that you just haven't seen in games yet," said Smith. "So really you have to hold back any judgment on them until you do. Let's give these guys a chance; they are going to make mistakes early on. But I also think that they are a group that's going to get progressively better as the season moves on."

Unlike the defense, the offense projects to be one of the nation's top units. The Jacks return Harlon Hill Trophy runner-up and consensus All-American running back Ja'Quan Gardner who was the national leader in rushing yards per game (188.8) and rushing touchdowns (25) last season. Junior quarterback Robert Webber has started all 22 games of his collegiate career and will orchestrate the Green and Gold passing attack, which connected on 27 touchdowns in 2015. The skill positions are loaded and the offensive line anchored by All-American left tackle Alex Cappa remains intact.

Smith acknowledges that despite returning a team-high six starters on the offensive side, opposing defenses will likely put their focus squarely on Gardner.

"Ja'quan worked very hard in the off-season and is stronger this year," said Smith. "He has the benefit of an additional year experience. Last season's experience brought with it a great deal of success and personal recognition, and deservedly so, but he is also the first one to tell you that his accomplishments were the result of his teammates and his teammates doing things at a high level as well."

HSU opens against one of the nation's most decorated programs with five national championships under the leadership of legendary Head Coach Ken Sparks. The Eagles run a veer option attack unlike any the Jacks will face all season, and their offense is stacked with fast and experienced impact players. Carson-Newman went 9-3 overall last year before its spectacular run was ended against Valdosta State in the playoffs.

"It's a tremendous challenge," said Smith. "They are historically one of the best programs in all of Division II. They have won multiple national championships and their head coach, Ken Sparks, is a legend in our game. I have known about Carson-Newman and their program, although I have never played or had a team play them. I have known about them simply because of the quality of their program. We're traveling three time zones away to play a game that will be at 10:30 a.m. on our body clock, in the heat and humidity of the south, and I have looked ahead and the predicted temperature on Thursday is 91 degrees. We are going to be tested against a very good football team running an offense that we just don't see here in the west."