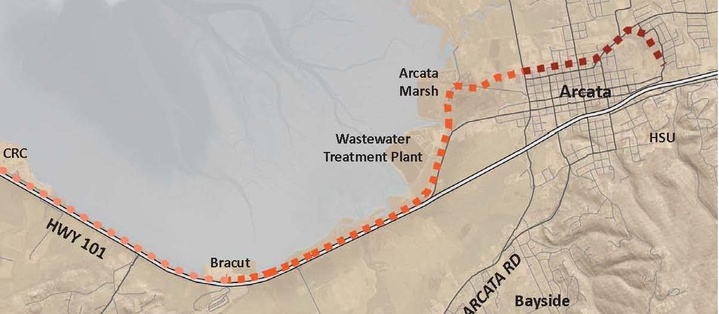 So this is really happening! Today the city of Arcata put out a request for construction bids on the so-called "Bay Trail North," which will run between the Arcata Marsh and Bracut — the first phase of the long-dreamed of pedestrian trail between Eureka and Arcata. They want to break ground on this thing in April.
The north section of the trail is Arcata's responsibility. County government is tasked with building the Bay Trail South, from Bracut to Eureka. There hasn't been a bunch of visible movement on that lately, though the county's website has a good (if somewhat dated) page devoted to the project. Caltrans is under pressure to get the trail built, since the California Coastal Commission made it a condition of the big road reconstruction project it wants to do on the safety corridor.
If you want some more background on the Humboldt Bay Trail, and how you will be able to walk, bike or rollerblade it someday soon (fingers crossed!), check out Rees Hughes' overview from last year.
(NOTE: Arcata City Hall, below, calls Bay Trail North the second phase of the Bay Trail, but it's counting a previous trail project that runs through the town itself. We're not counting that! This is the first phase, for layman's purposes.)
From the City of Arcata:
The City is soliciting bids from qualified contractors for the long-awaited Humboldt Bay Trail—North project. This is Arcata's half of the ADA, non-motorized trail that will eventually stretch along Highway 101 between Arcata and Eureka. This trail will be completely separated from busy traffic along this corridor. Construction is anticipated to begin around the end of April 2017.


REQUEST FOR BIDS


The City of Arcata is soliciting bids from qualified contractors for the long-awaited Humboldt Bay Trail North project that will build a non-motorized trail along the Highway 101 corridor from Samoa Boulevard to just north of Brainard Slough.

Construction of this second phase of the Humboldt Bay Trail will connect to the recently-built Phase I of this project from Larson Park to Samoa Boulevard in Arcata. Ultimately, the Humboldt Bay Trail will be the backbone of Humboldt County's envisioned regional trail system and will provide a safe, Class I, ADA-accessible trail between Humboldt County's two largest cities.

Funding for the Humboldt Bay Trails-North comes from the Active Transportation Program and from matching local funds. This infrastructure investment will help save lives, improve traffic flow on Highway 101, provide low-income communities with improved transportation choices, preserve rail infrastructure and protect sensitive coastal habitats. This project has been firmly established by the local community as the region's highest transportation priority.

Humboldt Bay Trail North bid documents are available online at the City of Arcata website, www.cityofarcata.org, or at Arcata City Hall. There will be a mandatory pre-bid meeting for contractors on Wednesday, September 14, 2016, at 9 a.m. The meeting will begin at the Arcata City Council Chamber at 736 F Street, Arcata, and will be followed by a project site walk-through.

For more information, please contact the Arcata Engineering Department at (707) 825-2173.