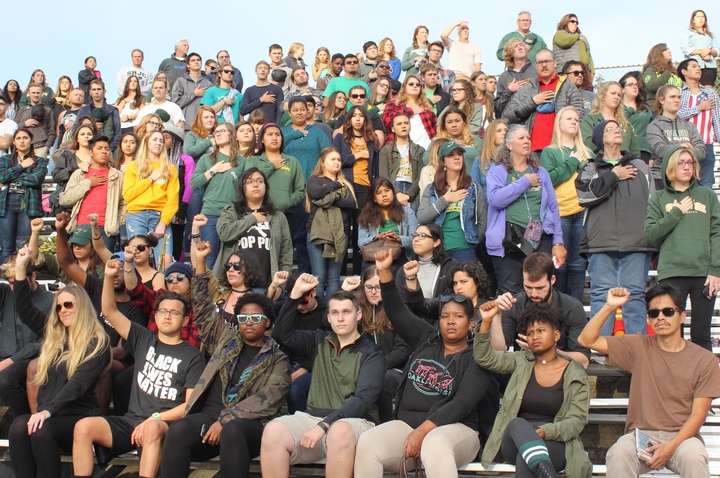 Additionally:
###
A group of about 30 Humboldt State students sat in protest for the singing of the national anthem during HSU football's home opener tonight at Redwood Bowl.
The group, which organized on Facebook under the name "Jacks With Kaepernick," were inspired by NFL quarterback Colin Kaepernick. The 49ers quarterback gained national attention for his decision to protest police brutality by sitting during the national anthem at NFL games this season.
"Come out and show solidarity with Colin Kaepernick and athletes around the nation by sitting down during the national anthem at HSU's first home football game of the season," the group wrote on Facebook. "Wear Black!"
HSU student Malcolm Chanaiwa said he organized the protest to start a conversation about race equality at HSU.
"What are we investing in when we salute the flag and sing the national anthem, and how are we supporting a country that does not treat its people of color very well?" Chanaiwa said. "I saw Kaepernick taking a stand and I figured we should be able to do that at HSU as well."
The critical race, gender and sexuality studies major said he was happy with the interest the group generated online and in the stands.
"I'm really happy with the turnout," Chanaiwa said. "So depending on how the reaction goes within the next couple of days, we might be able to do the same thing at the next game, and the next game, and the next game."