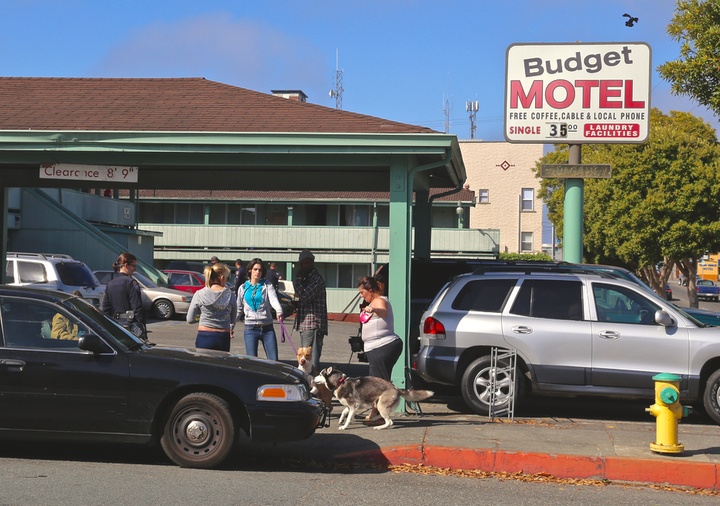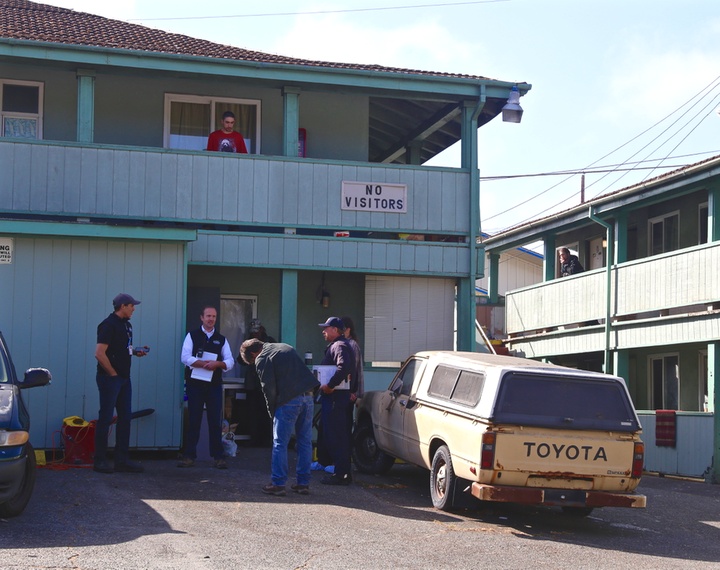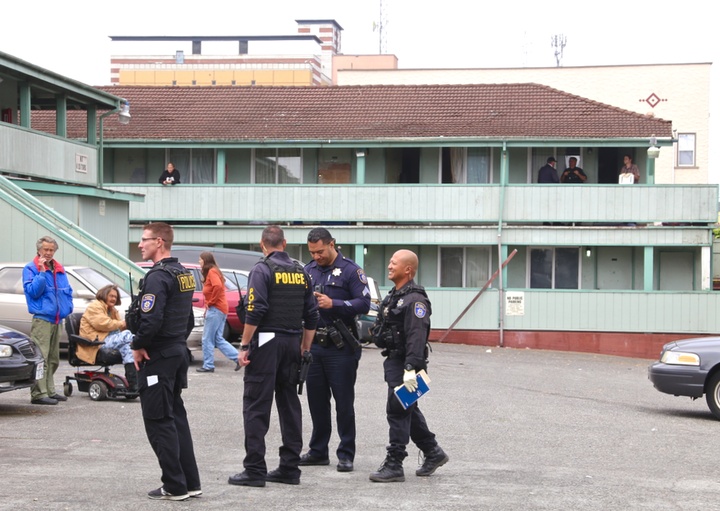 Residents of the Budget Motel in Eureka milled around the parking lot Tuesday morning after an inspection warrant was served by the City of Eureka. Crews from the city, Humboldt Bay Fire and the County of Humboldt Division of Environmental Health went room by room assessing possible fire and safety code violations. Due to the motel's history of being a crime hot spot, the Eureka Police Department was on scene for security purposes.
"We've got a lot of open cases that have been unresolved for code violations [on the property]," said Brian Gerving, City of Eureka Director of Public Works, who was onsite overseeing the inspections. "That combined with new complaints from residents and concerns regarding criminal activity brought about the need to fully document the violations so we can determine the best way to get them resolved."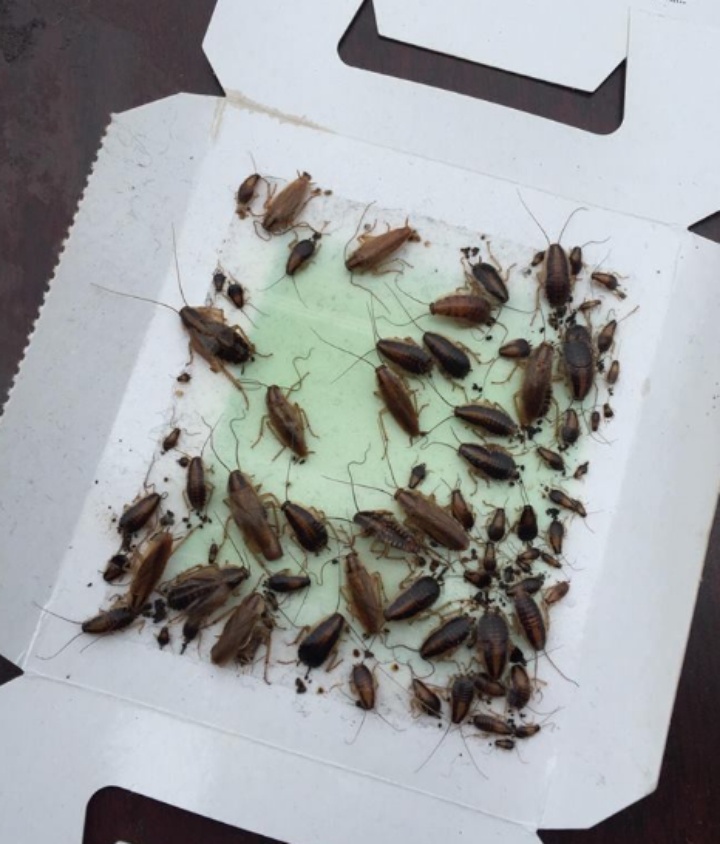 Gerving noted numerous potential building, health and safety concerns that crews had already spotted during their search, including fire damage, poor electrical work, mold, water damage and cockroaches. He suspected that crews would wrap up midday Tuesday.
Captain Steve Watson with the Eureka Police Department said that activity associated with the Budget Motel had generated around 200 calls for service within the last year. Since the City of Eureka passed an ordinance with the aim of reducing problems at budget motels a few years back, Watson said they'd seen a drop in crime at many establishments. Not so at the Budget Motel.
"The owners have not been responsive to the problems that are chronic at this location," Watson said.
Watson also noted that officers had arrested at least four people on various unrelated outstanding warrants.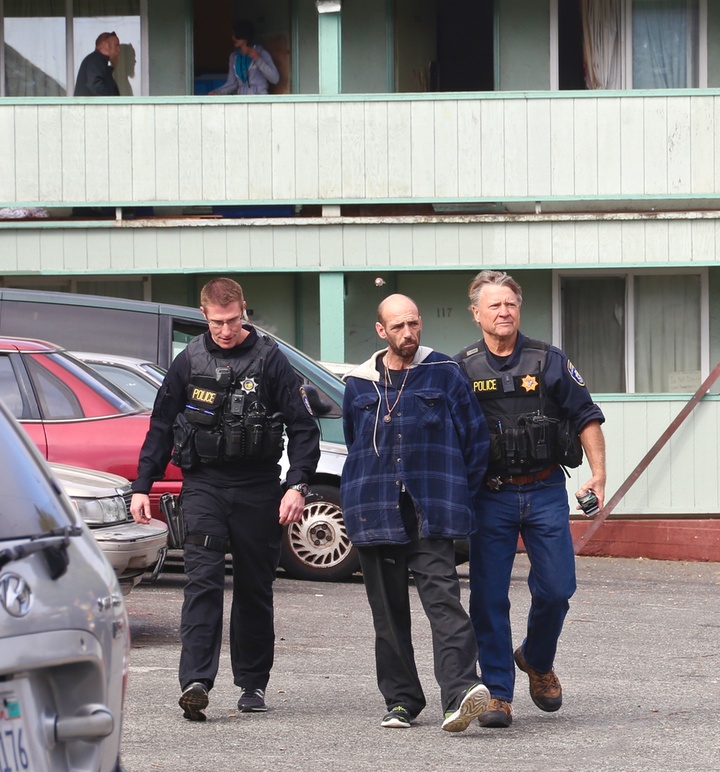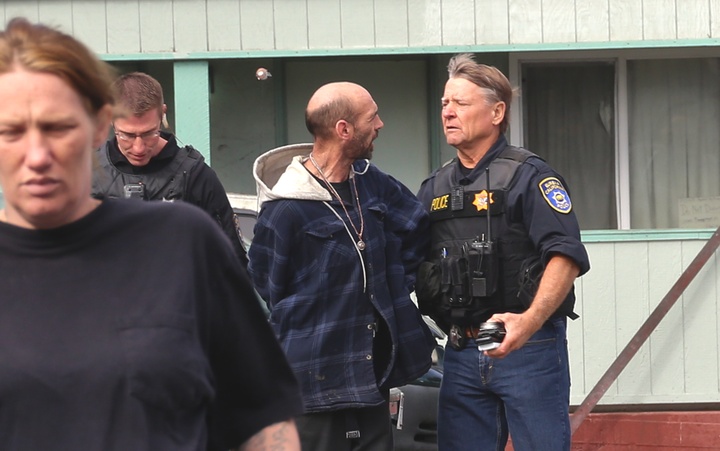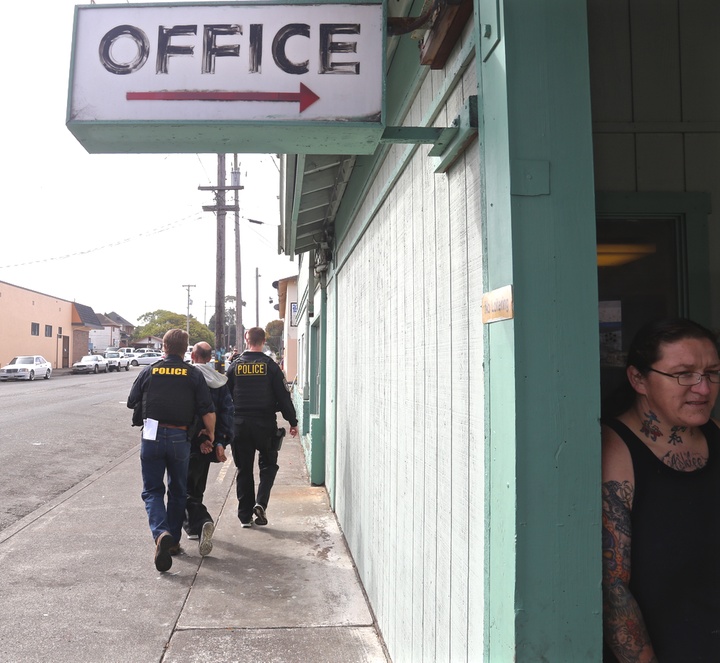 After starting as a maid before working as a desk clerk, Tiffany Taylor recently took the job as manager of the Budget Motel. She said that the majority of the motel's problems are caused by the people that visit the motel, not its residents. There are numerous signs posted around the property that read "No Visitors," a policy Taylor said she has a hard time enforcing.
While she referred to the days events as being "stressful" for her, Taylor understood the need for the inspections.
"They're just doing their jobs," Taylor said.
According to Humboldt County Assessor's Office records, The Budget Motel is owned by Ravindra and Amanda Kushwaha. Both Taylor and Watson noted that the owners do not live in the area.