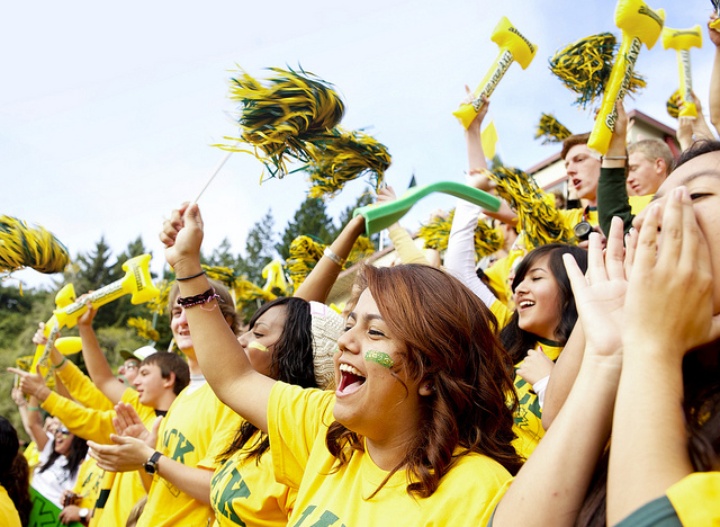 Humboldt State University has been ranked 12th in U.S. News and World Report's latest list of the top public universities in the west, placing it higher than two-thirds of the 37 schools in the category. That's up three spots from last year, when HSU placed 15th.
In the magazine's larger list of 141 public and private regional universities in the west, HSU tied for 52nd place, improving on last year's mark of 57th. Oh, and HSU's engineering program tied for 55th on the list of the 198 best undergraduate engineering programs.
Here's part of what U.S. News had to say:
With an enrollment of 8,293, Humboldt State is large enough to offer a lively campus and major research facilities, but small enough that students are not lost in a crowd. It's a tight-knit community where professors and staff are known for really getting to know students. …

Six rivers, mountains, forests and beaches provide an ideal environment for learning and living. Students picnic at the same beaches where they study marine life, and outdoor activities are practically limitless.

Humboldt State's hometown of Arcata, as well as nearby Eureka, feature plenty of coffee houses, restaurants and shopping. In a single day, a student could surf or snowboard, study for a couple of hours and then attend a concert. In fact, Arcata was named by Outside magazine as one of its top 15 college towns and National Geographic recently named it one of its 50 next great adventure towns. Humboldt State students started the Graduation Pledge of Social and Environmental Responsibility, which has been adopted by hundreds of universities worldwide.
Huzzah!
That's pretty darn good, especially considering how "U.S. News relies on crude and easily manipulated measures of money and prestige for its rankings" — or so says Washington Monthly magazine, anyway. That magazine ranked HSU even higher last month. Good job, Humboldt (your correspondent's alma mater, fwiw).
Here's the press release on the rankings:
Humboldt State University has been named the 12th top public school in the west by the U.S. News & World Report 2017 Best Colleges rankings.
The university was ranked the 52nd top regional university in the west (a tie), a broader category that includes private schools. HSU also tied for the 55th best engineering program in schools where doctorates are not offered.
U.S. News & World Report, which publishes the annual rankings, defines regional universities as those offering a broad scope of undergraduate degrees and some master's degree programs but few, if any, doctoral programs.

The report ranks schools based on a number of criteria, including graduation and retention rates, undergraduate academic reputation, faculty resources, student selectivity, financial resources, graduation rate performance, and alumni giving rate.

See more about Humboldt State's ranking.