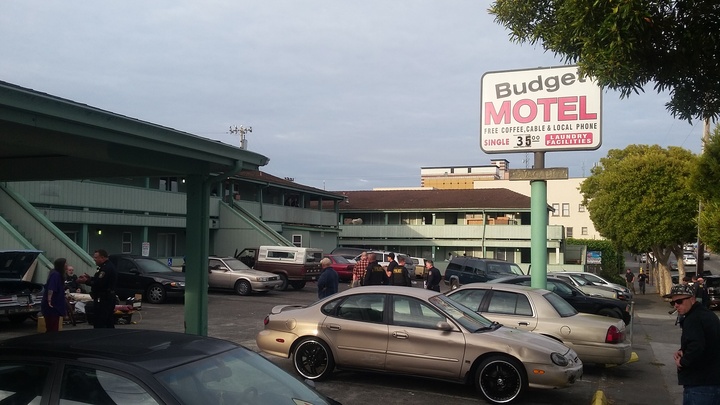 Everything is proceeding more or less peaceably at the Budget Motel, which the city of Eureka is emptying following yesterday's favorable court ruling.
At about 7:30 a.m., some residents of the motel were up and milling around between their rooms and their cars, loading up for the move.
One woman, a 72-year-old wheelchair-bound woman named Mary Minshall, said she would be spending the next couple of nights in another motel, after which her nephew would be driving up from San Francisco to pick her up. She's lived in Eureka for some 25 years, she said — the last six of the at the Budget — but she was eager to move on, to be closed to family.
Minshall said it was her understanding that city workers would arrive with checks for her this afternoon.
The police arrived in force at about 8:15 a.m., but have found themselves with very little to do. One woman was extremely upset that people were taking her picture, and threatened violence; the Eureka Police Department's Capt. Steve Watson shadowed her for a time and tried to calm her down.
There are several trucks from New Life Services on hand, carrying a large amount of plywood. People are still moving their stuff to their cars.
We'll update later.