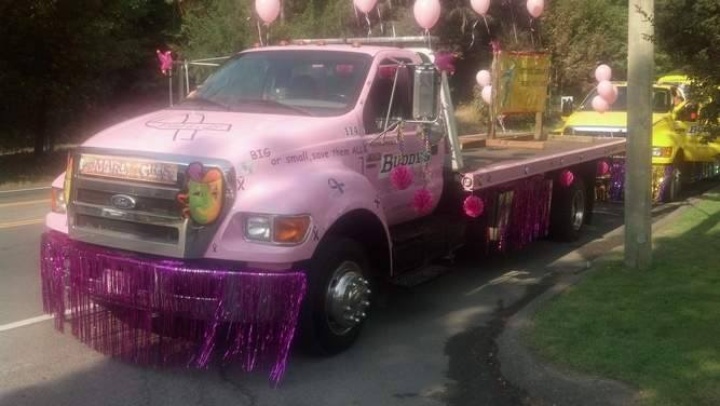 California Highway Patrol provides more information on the incident:
On April 13, 2017 at approximately 3:15 AM, a flat bed tow truck, owned by Buddy's Auto Center, was a completing a service call on Hwy 96 north of Hoopa in Humboldt County. The tow truck was carrying a Dodge pickup and pulling an enclosed trailer containing two snowmobiles. The driver of the tow truck stopped for a chainsaw that was in the roadway and was confronted by two subjects reported as carrying firearms. One of the subjects discharged a round from a handgun and demanded the occupants of the tow truck get out.

The suspects were described as wearing dark clothing and dark masks. The tow truck driver and passenger complied and were unharmed. The suspects got into the tow truck and fled the scene traveling southbound on Hwy 96 towards Hoopa.

The California Highway Patrol and the Humboldt County Sheriff's Department responded personnel to the scene. At approximately 8:30 AM, a US Forest Service crew reported having located the tow truck, which was on fire, on upper Mill Creek Rd. California Highway Patrol officers responded to the scene on Mill Creek Rd. The tow truck and Dodge pick-up were recovered. The tow truck sustained fire damage. The trailer and snowmobiles are still missing.

Anyone with information is requested to contact the California Highway Patrol.

Trailer Information: 2007 Haulmark 6x10 fully enclosed trailer, black with chrome wheel wells, California License plate 4KR8700
Snowmobile #1: 2011 Skidoo Snowmobile Summit Everest 800, black, License plate 24HE95
Snowmboile #2 : information pending
# # #
UPDATE, 11:38 a.m.: According to posts in the Facebook group Humboldt Thieves the truck was found after having been set on fire.
Original Post: Well, that's what we'd like to find out.
Early this morning a driver with Willow Creek-based Buddy's Towing was returning from a job in the Hoopa area when he was stopped by two men with guns who forced him out of the vehicle, according to the driver's girlfriend Stacy Schmidt. Oh, the vehicle in question just happens to be painted bright pink, an attempt to raise breast cancer awareness.
Schmidt tells the Outpost that the driver is OK but that the truck is still missing. The California Highway Patrol is currently investigating, so, if you see a bright pink tow truck you should probably give them a call at 822-5981.