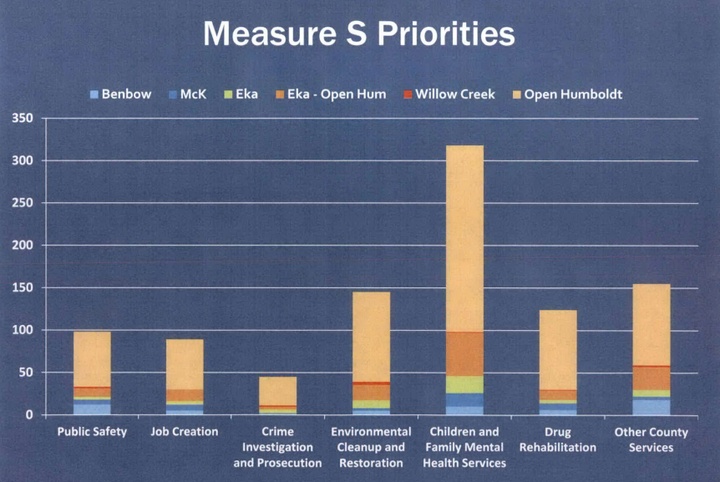 PREVIOUSLY:
How should the county spend revenue from Measure S, the voter-approved tax on marijuana cultivation? It depends on who — or maybe even when — you ask.
Last year, hoping to hone the Measure S sales pitch, county staff hired an outside agency to conduct a community survey, asking locals to identify and rank their priorities for the money. The top results was about saving the environment from destructive cultivators — or, as the survey phrased it, "Enforcing laws that require marijuana growers to protect natural areas and waterways."
But this year, with the tax now a reality, the county embarked on a hippie-bus-themed Budget Roadshow, holding a series of community meetings around the county and taking feedback via Open Humboldt, an interactive online budget tool. All told, 974 votes were cast.
The fundamental question was the same: How to spend Measure S money. But this time, as county staff notes in a report for Tuesday's meeting, "The broad category of Children and Family Mental Health Services received more than twice as many votes as any other category." (See the graph at the top of this post.)
The second-most-popular choice was "Other Services," a catch-all category that includes such services as low-income housing, road maintenance and recruiting mental health practitioners.
Environmental Cleanup and Restoration — the winner from last year's survey — came in third.
After ranking each of these broad categories the county asked people to drill down a bit further and weigh in on how the money should be spent within each category. Regarding the Public Safety category, for example, respondents again gravitated toward mental health services: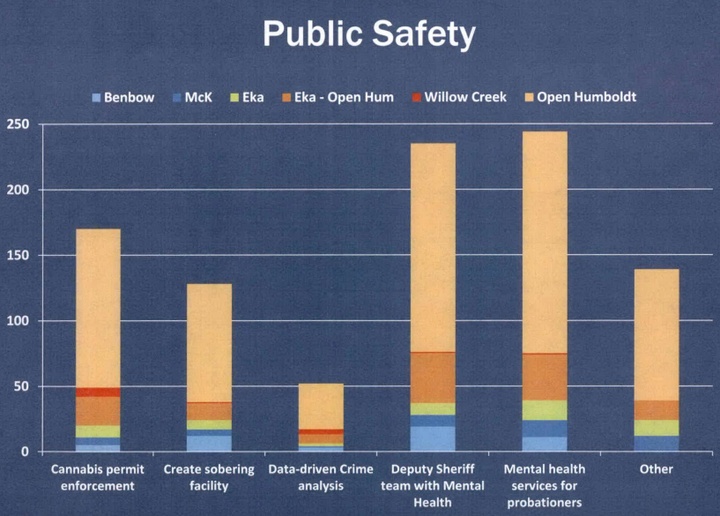 Other priorities given high marks by respondents include nurse recruitment, pre-trial diversion programs and detox/residential drug treatment services. The county estimates Measure S will generate $2.2 million in Fiscal Year 2017-18 with increasing amounts in future years as more growers come into compliance.
"In addition," the staff report notes, "a popular theme expressed across all services was a desire to 'return to source,' or ensure that the funds are expended proportionately in those regions of the county that are generating the majority of Measure S tax dollars." Eastern and Southern Humboldt are tired of being overlooked, in other words.
All this info and more is available in the staff report that can be downloaded through the link below. If you disagree with the priorities identified thus far, Tuesday's meeting is your chance to show up and say so. It'll start at 9 a.m. in supervisors' chambers at the county courthouse.
DOCUMENT: 2017 Community Budget Roadshow Results (8 mb)