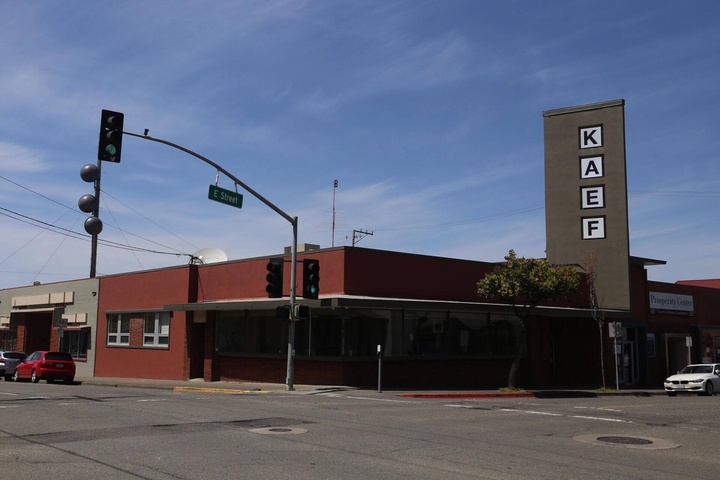 Four Eureka-based television stations — the ABC, Fox, CW and Univision affiliates — were provisionally sold to a large Maryland-based conglomerate this morning, as part of a $240 million deal that followed quickly on the heels of a decision from the Federal Communications Commission to relax monopoly rules on ownership of broadcast stations.
The four local stations are among 14 nationwide that the Bonten Media has agreed to sell to the Sinclair Broadcast Group, a conservative-leaning company that already owns 154 local broadcast television stations across the nation. If the sale is approved by regulators, Sinclair's broadcast signals would reach nearly 40 percent of the nation's population.
The deal was made possible by the FCC's decision, yesterday, to reinstate a so-called "UHF discount" to rules governing local TV ownership. Under current regulations, no single company can own broadcast stations that reach more than 39 percent of the population. The "UHF discount" — which was repealed by the FCC in September of last year — allowed media conglomerates to count only 50 percent of its potential viewership toward that limit if they were covered only by UHF signals (channels 14 and above).
On Wednesday, Media Matters for America called the pending action by the new, Trump-appointed FCC "a giveaway to pro-Trump television groups."
Perhaps more than any other collection of local TV affiliates, Sinclair has a reputation for leaning strongly to one side, politically speaking. In 2004, the company banned its stations from airing an episode of the program "Nightline" that presented the names and photographs of the 500 U.S. soldiers who had been killed, to date, in the Iraq war. Later that year — and just before the 2004 presidential election — the company announced it would preempt prime time programming on its stations to air a documentary called "Stolen Honor: John Kerry's Record of Betrayal," but dropped the plan following a plunge in its stock prices and the threat of a lawsuit.
Late last year, Politico reported that President Donald Trump's son-in-law and adviser Jared Kushner had told a roomful of business executives that the campaign had "struck a deal" with Sinclair to provide "straighter coverage" — clips of the candidate speaking, with no commentary. (Sinclair denied that any untoward deal had been made.)
If the Sinclair purchase does go through, expect the local affiliates' nightly local news broadcast — "North Coast News" — to alter somewhat. Sinclair itself produces news items and political commentary from its central office and distributes it out to its national affiliates, sometimes — as noted in a 2014 Washington Post story — on a "must-run" basis. Just a few days ago, the company hired former Trump aide and "surrogate" Boris Epshteyn to produce such segments as its "chief political analyst."
Recent news reports have suggested that Sinclair has also been in talks to buy another, larger chain — Tribune Media, which owns affiliates in several major markets including New York and Chicago — but it's not clear at the moment whether those talks are still active.
Apart from KEET, the local PBS affiliate, the only two broadcast television stations that won't be owned by Sinclair if the deal announced today goes forward are KIEM, the NBC affiliate that produces its own local nightly newscast, and KVIQ, the CBS affiliate. They're both owned by tiny groups — Pollack/Belz, Inc. in KIEM's case, and Frontier Radio Management in KVIQ's.
Press release on today's deal from Sinclair Broadcast Group, Inc. below:
Sinclair Broadcast Group, Inc. (Nasdaq: SBGI) (the "Company" or "Sinclair") announced that it has entered into a definitive agreement to purchase the stock of Bonten Media Group Holdings, Inc. ("Bonten") and Cunningham Broadcasting Corporation has entered into a definitive agreement to purchase the membership interest of Esteem Broadcasting ("Esteem") for an aggregate purchase price of $240.0 million.

Bonten owns 14 television stations in 8 markets which reach approximately 1% of the U.S. TV households and provides services to 4 stations pursuant to joint sales agreements with Esteem Broadcasting. Completion of the transaction is subject to the satisfaction of customary closing conditions, including approval by the Federal Communications Commission ("FCC") and antitrust clearance, as applicable. The Company anticipates that the transaction will close and fund with cash on hand in the third quarter of 2017, subject to the satisfaction of the closing conditions.

The Bonten and Esteem stations covered by the transaction are:

| Station | Affil. | Market | DMA(1) |
| --- | --- | --- | --- |
| WCYB | NBC | Tri-Cities, TN-VA | 98 |
| WEMT | FOX | Tri-Cities, TN-VA | 98 |
| WCTI | ABC | Greenville-New Bern-Washington, NC | 100 |
| WYDO | FOX | Greenville-New Bern-Washington, NC | 100 |
| KCVU | FOX | Chico-Reading, CA [sic. — Ed.] | 132 |
| KRCR | ABC | Chico-Reading, CA | 132 |
| KRVU-LD | MNT | Chico-Reading, CA | 132 |
| KUCO-LP | UNI | Chico-Reading, CA | 132 |
| KECI | NBC | Missoula, MT | 164 |
| KCFW(2) | NBC | Missoula, MT | 164 |
| KTXS | ABC | Abilene-Sweetwater, TX | 165 |
| KTES-LD | METV | Abilene-Sweetwater, TX | 165 |
| KTVM | NBC | Butte-Bozeman, MT | 185 |
| KAEF | ABC | Eureka, CA | 195 |
| KBVU | FOX | Eureka, CA | 195 |
| KECA-LD | CW | Eureka, CA | 195 |
| KEUV-LP | UNI | Eureka, CA | 195 |
| KTXE-LD | ABC | San Angelo, TX | 196 |

(1) Represents television designated market areas ("DMAs") according to the Nielsen Company. The numbers in the column represent the ranking in terms of size of the DMA out of the 210 generally recognized DMAs in the United States.

"We look forward to welcoming the Bonten employees into the Sinclair family and are pleased to be growing our regional presence in several states where we already operate," commented Chris Ripley, President and CEO of Sinclair. "We believe our economies of scale help us bring improvements to small market stations, including investments in news, other quality local programming, and multicast opportunities with our emerging networks of Comet, Charge! And TBD."


Including the Bonten station acquisitions, all previously announced acquisitions, and pro forma for expected synergies, the Company's 2015 and 2016 media revenues would have been $2.236 billion and $2.620 billion, respectively. The $240.0 million purchase price represents a 6.7x multiple and is expected to be on average approximately $25 million accretive to our free cash flow on an annualized basis.