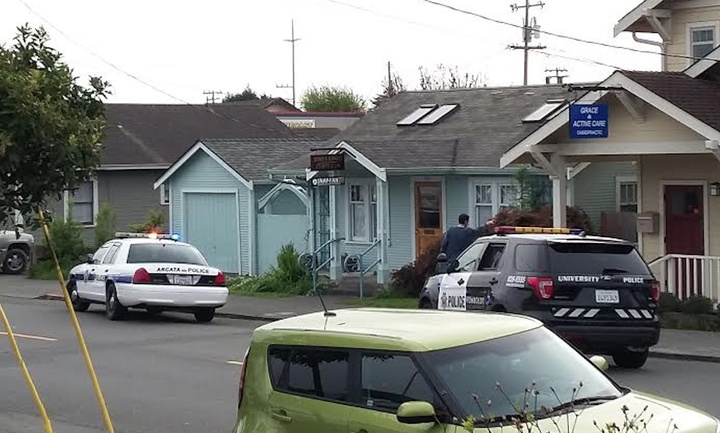 Arcata Police Department press release:
On 4/03/2017 at about 1716 hours, officers from the Arcata Police Department were dispatched to the area of the Arcata Plaza on the report that a male subject had been assaulted with a hammer.

Witnesses described the suspect as a white male adult, wearing a bandana over his face and running eastbound in the 700 block of 9th Street. While responding to the scene, Officers observed a large group of people chasing the suspect into the 600 block of F Street where he jumped over a fence and into a private residential property.

Responding officers set up a perimeter and the Arcata Police Department's K9 team responded to assist.

With the aid of K9 "Baron", officers were able to locate the suspect hiding under an occupied residence. After refusing numerous commands to come out from under the residence, the K9 was deployed and the assault suspect was quickly taken into custody.

The suspect was identified as Eureka resident, Nicholas Inskip Kistler (age 33). Kistler is currently on court ordered probation.
After being treated at Mad River Community Hospital for minor injuries related to the dog bite. Kistler was transported to the Humboldt County Correctional Facility where he was booked and lodged for PC 664/187 - Attempted Murder and PC 245(a)(1)- Assault with a Deadly Weapon.

The victim in the assault was transferred to an out of the area medical facility for additional treatment.