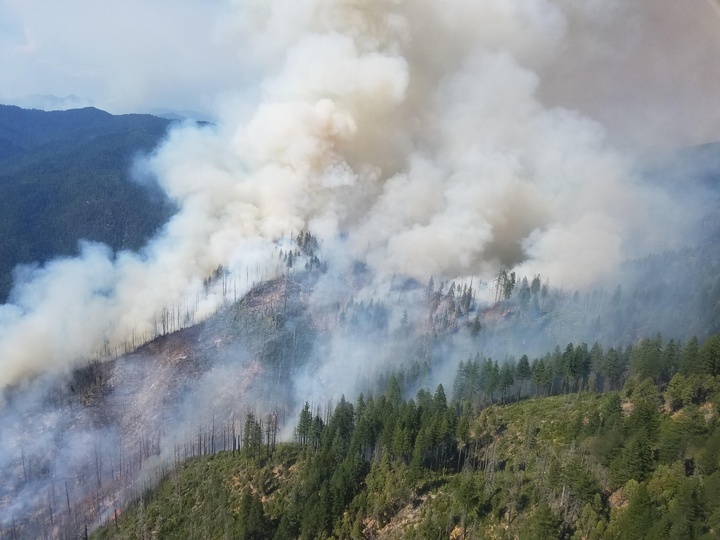 From Six Rivers National Forest:
The Orleans Complex is comprised of 8 lightning-caused fires. Most of the fire activity is occurring on the northern section of the Ukonom Fire with predominately larger fuels being consumed. The fire's growth has been caused by burning material rolling down steep slopes and causing short runs uphill into heavier fuels. The current acreage of the Orleans Complex is approximately 1,365 acres. The forest's top priority on the East Zone of the Orleans Complex is the Ukonom Fire burning near Ukonom Mountain. This fire is estimated at approximately 1,200 acres as of Tuesday morning. Fire resources continue to improve and strengthen containment lines and have set up protection for Ukonom Mountain Lookout.
Suppression and confinement of the Ukonom Fire, and monitoring of the Burney and Franks Fires in the East Zone is being managed by Northern California Incident Management Team 1 under Type II Incident Commander Curtis Coots. Fires in the West Zone are managed by Type III IC James Courtright from Six Rivers National Forest. These fires include the Chimney, Dillon, Forks, Little and Elk (Elk fire is 100% contained at 0.1 acres). A combination of suppression and confinement strategies are being used for the incident. The remaining fires are currently 0% contained.
Assigned to this Complex are:

Total Personnel: 665
Crews: 15
Engines: 22
Dozers: 14
Water Tenders: 10
Helicopters: 9/li>

Cooperators on the incident include the Karuk and Yurok Tribes, Klamath National Forest, Bureau of Indian Affairs and Bureau of Land Management

There will be a public meeting tonight at 6 p.m. located at the Karuk Tribe's Department of Natural Resources office in Orleans to provide the local community with updated fire information.

Smoke conditions are continuously being monitored. A daily air quality report is posted on the Orleans Complex InciWeb page. Several other large fires in Northern California are contributing to smoke. Weather conditions will cause smoke to concentrate in the valley floors of the Klamath River drainage and could impact local communities. Conditions are expected to be warmer and drier today.

The first priority for all fires that are part of the Orleans Complex is to provide for firefighter and public safety, along with protecting cultural sites and natural resources.

The Six Rivers National Forest remains under fire restrictions. Go to www.fs.usda.gov/srnf to learn more about the restrictons. For up to date fire information go to https://inciweb.nwcg.gov/incident/5430/.