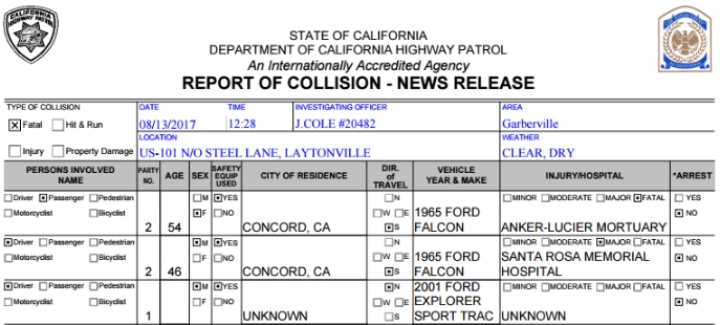 California Highway Patrol press release:

On 08-13-2017, at approximately 12:28 P.M., a 1965 Ford Falcon was traveling southbound on US-101, north of Steel Lane at an unknown speed. A 2001 Ford Explorer Sport Trac was traveling northbound on US-101, north of Steel Lane, approaching the Ford Falcon. For reasons still under investigation, the Ford Explorer Sport Trac crossed over the solid double yellow lines, directly in the path of the Ford Falcon. The front of the Ford Falcon collided with the right side of the Ford Explorer Sport Trac. As a result of the collision, the passenger of the Ford Falcon succumbed to her injuries at the scene. The driver of the Ford Falcon sustained major injuries and was transported to Howard Memorial Hospital in Willits, then flown via air ambulance to Santa Rosa Memorial Hospital. The driver of the Ford Explorer Sport Trac fled the scene on foot prior to CHP arrival.

The driver of the Ford Explorer Sport Trac is described as a hispanic male in his 30's, stocky build, 215 lbs, 5'10" tall, with short black hair, brown eyes, wearing a dark colored t-shirt and camouflage shorts. He was last seen walking northbound along US-101 immediately after the collision. Anyone with any information as to the driver's identity or whereabouts is encouraged to call the CHP at (707) 268-2000 (24 hours a day-CHP dispatch ) or (707) 923-2155 (CHP Garberville office-business hours).

Personnel from Laytonville Fire Department, Mendocino County Sheriff's Office, Department of Transportation and Cal Fire assisted at the collision scene. This collision remains under investigation by the Garberville CHP.