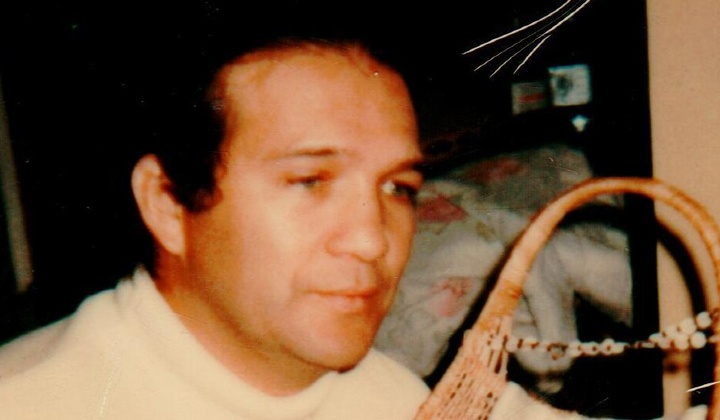 Lonnie, 74 years of age and a resident of Hoopa, crossed over to the other side on August 11, 2017 at St. Joseph Hospital in Eureka from complications due to long-time paralyses from an automobile accident when he was 16 years of age. He was surrounded by his loving wife and family.

Lionel was born April 13, 1943 in Arcata to Alfred N. Colegrove Sr. and Mabel V. Colegrove. He was the youngest of six siblings. His siblings in order of birth are Christopher "JB" Colegrove, Alfreda Colegrove Pratt, Alfred N. "Riggie" Colegrove Jr., Bryan "Stoney" Colegrove Sr. and Gary Colegrove.
Lonnie was married to Ilene Colegrove and they were near celebrating their 50th wedding anniversary on August 18. They were a big influence in numerous young family members' lives. Lonnie was a Ceremonial Dance Leader of the Me Dil Din Village and worked diligently to bring back the ceremonial brush dance to that village in the 1970s. Ilene worked right beside Lonnie and was for many years the head cook for the dance camp. Lonnie taught his nieces and nephews to sing brush dance songs, to work hard and together because it made their prayers stronger. His enduring attribute was making people feel loved and special.
Lonnie taught hundreds of young men and boys to play sticks – the sport that he said, "helps to keep the world in balance." Additionally, he coached the baseball teams Bad News Bears and Red Machine, and worked as a volunteer for the Hoopa Valley Tribe's Johnson O'Malley Program for several years.
Lonnie and Ilene resided in Hoopa. He was a Hoopa tribal member and for many years he studied the Hoopa language. He also provided Hoopa names for a number of babies in our community. Lonnie attended elementary and high school in Hoopa, California, and was an outstanding athlete at boxing, baseball, and football.
He is survived by his wife, Ilene Colegrove, brother Gary Colegrove (Kathy), sister-in-law Vonice Colegrove, numerous nieces, nephews, cousins and longtime friends.
He was predeceased by great-grandmother Theresa Capoeman, great-grandfather Joseph Capoeman, parents Alfred N. "Top Gunner" Colegrove Sr and Mabel Colegrove, brothers Christopher Colegrove, Alfred "Riggie" Colegrove Jr., Bryan W. Colegrove Sr., sister Alfreda Colegrove Pratt, sister-in-law Marilyn Colegrove, Nephews Richard V. Dean, Omar N. Dean IV, Nieces Julianna Ferris, Stephanie Ferris, Kathy K. Colegrove, Baby Girl Billy and Baby Girl Angel Ferris.
Pallbearers are nephews Bryan Sr., Nolan Ceasar Sr., Alphonso, Nolan "Ohwee", Rocky Riggs, Jake, Jack, Perry, Alfred "Rosco", Lonny Boyd, Billy, Anthony, Brandon, and Josh Colegrove, Larry Tracy, Delavin McCovey, James and Lance McCovey, Gary Dempewolfe Jr, Jeff and Alex Hodge, Christian Maloney, Spike and Richard Guyer, Gunner and Ben Ray Jr, Buck Risling, Dan and Jack Worthen, Stoney McCoy, Sey-Gep Best, Grizzly Tyke Robbins, Orian and Louis Cosce, Omar Jr, Lonnie, Al Kenny, Sonny Jim Dean, Bradly Hostler, David Billy Jr, Dale Ferris, Acapeto Perez, Tsewenaldin, Kekyua, and Kay-Cam Van Pelt, Robert Jr and Stuart McConnell, Gary Colegrove Jr, Steve Valentine, Brian Stephens and Wally Morton
Honorary pallbearers are Everett "Tweet" Colegrove, Muss Colegrove, Stanley Capoeman, Hank & Elrod Masten, Doug Jackson, Pordie, Jake & Cawtep Blake, Rick Hall, Dave Drake, Carl "Simouch" Colegrove, Wolf Colegrove, Henry Boyd McCullough, Smidge Colegrove, Robert Colegrove, Kevin Colegrove, Glenn Moore, Hilton Hostler, Carlo Miguelena, Virgil Pole Sr, Clifford Houston, Mike Ferris, Deacon Ferris, Loren, Kenny, and Jack Norton Jr, Delmer Colegrove, Luke Orcutt, Kevin Orcutt, Carl Colegrove, Auggie Young, Mel Youckton, Gene "Sitting Bull" Capoeman Colegrove, Bucky Jackson, Doug Jackson, Dennis Jackson, Arthur Jones, Floyd "Cowboy" Billings, George Nixon, Phillip "Beanie" Vigil, Vernon "Sonny' Pratt, Cheetos Battisto, Joseph James, Javiar Kinney, Doug, Sylvester, and Freddie Brown, Clyde Moon, Rowdy Robbins, Alex Pratt, Gary Dempewolfe Sr, Bob McConnell, Gary Jordan, Warrior Sanchez, Bruz Aubrey, Leonard Super, Brian and David Tripp, Paul Kuska, Alme Allen, and Raymond Mattz.
There will be a wake 7 p.m. on Monday and Funeral Services 11 a.m. on Tuesday at the Hoopa Tribal Neighborhood Facilities Building. Wake officiant is George Pordie Blake, and Funeral Service Officiant is Boyd Ferris. Burial will be at the Colegrove Family Cemetery. Reception will follow at the Hoopa Wildland Fire Suppression Building.
The family would like to thank the doctors, nurses, and staff at Saint Joseph Hospital, Mad River Hospital and the Eureka Health & Wellness Center for their care of Lionel.
The obituary above was submitted by Lionel Colegrove's family. The Lost Coast Outpost runs obituaries of Humboldt County residents at no charge. See guidelines here.