I won't say walking into A Taste of Bim's was like stepping onto a Caribbean island, because it was downtown Eureka, and there was a fire in Orleans so the sky was unusually smut-colored, but it was a nice effort on the part of the management. The big, airy room has beachy hues and cheery Caribbean prints and brightly colored outdoor seating.
Two tables were occupied by couples I know, who both swore that A Taste of Bim's is at least often pretty good. The "often" is something I hear regularly about this place — inconsistency seems to be a failing, although maybe my friends are all just jerks.
I've heard a lot about Bim's since it opened, not least because they serve a dish that I used to serve at my food cart, Queen Doubles, on the Plaza in Arcata. I have a particular interest in Caribbean food because before I moved back home to Humboldt I lived in a Caribbean neighborhood in New York and ate a lot of it, more out of poverty and convenience than anything else. It's a strange cuisine, very rich and stew-oriented, red with palm oil, and imbued with bright, hot and sweet flavors, not all of which are comfortable to the American palette. It can be extraordinary.
Caribbean food uses spices that are familiar but surprising in a savory dish, like nutmeg, cinnamon, ginger, cloves and allspice; there's flavors that are surprising, like sweet-sour magenta-hued hibiscus blossom and vaguely unpleasant asafoetida, a both delicious and repulsive spice that smells like garlic and sulfur. A Taste of Bim's does an admirably authentic job, not shying away from some dishes that could be a gamble.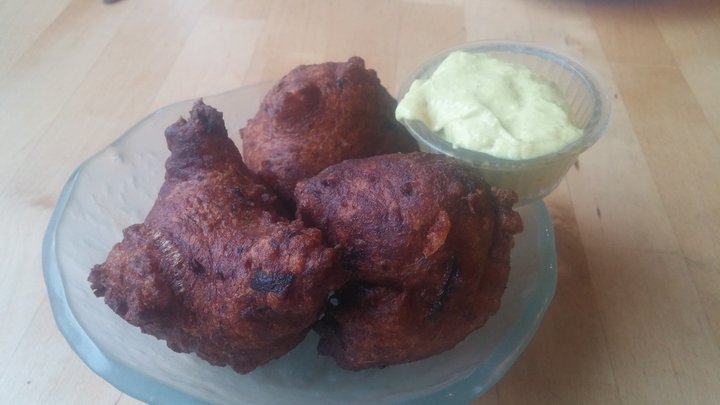 For instance: The cod fritters, for $6. Rather than whole fried pieces of cod, they're more similar to Portuguese cod preparations — dried cod is rehydrated and mashed with flour, herbs and spices to create a dense, turmeric-hued doughnut hole with the springy texture rehydrated cod gives and the rich depth of flavor a sincerity of spicing gives, in a nicely crisped deep-fried ball served with a cooling mayonnaise-based curry sauce.
Everything is served pretty elementally at A Taste of Bim. There's no garnish or superfluous decoration. It's a blue-collar cuisine. Less expensive proteins like goat and salted cod are simmered for hours to make absolutely gorgeous glossy dark stews, heavily spiced to keep the flavor vivid.
The long cooking goes for the vegetables as well — the "saute vegetables" that came alongside the truly fantastic goat (which is only served on weekends, for $18.25) were the opposite of the preciously treated, lightly cooked vegetables typically served in California. Bim's takes classic rudimentary vegetables like carrots, onions and cabbage, and cooks them down to a sweet caramelized glop that pairs so well with the brown rice and salty rich heat of the goat it's enough to make you, well, enjoy eating goat. We got the Green Banana Salad for $5.50, so we could say we had a salad.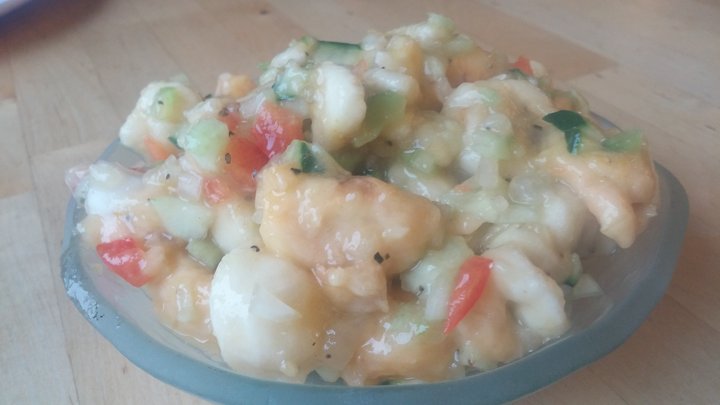 The meals here are not light. They're more the "eat and go work all day in the fields" kind of thing rather than "eat and go watch G.o.T. on the couch" sort of plan we actually put into motion. Green banana salad, a sweet and savory mix of ripe bananas, was chopped up with green and red peppers, onions, cucumber, black pepper and what I am convinced was asafoetida, even though the friendly but harried waiter hadn't heard of it.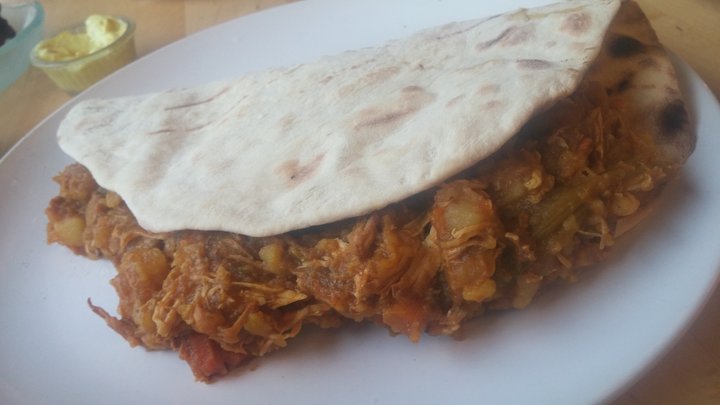 We also got a chicken roti, which is a dish that made me weep for Ali's Trinidad Roti Shop back in Brooklyn, where you could get a buss-up-shut (also on Bim's menu), some doubles or a roti with hot sauce so hot you howled. The roti filling at Bim's was fantastic — a stew of shredded chicken and vegetables, oily and sweet and traditional — but the roti skin was too thick. She rolls them out by hand in the back and the place looked understaffed, so I understand, but normally roti have a bread that's only slightly thicker than a flour tortilla, not like pita bread. At $10.75, I hoped for better execution, but I can't fault her on that filling. About perfect, and a truly generous portion. I could hear the music of islands with every bite. Not literally — in fact the music of the islands would have been a great soundtrack — but the food was still good with only the cries of seagulls and the stumbling shadows of Old Town.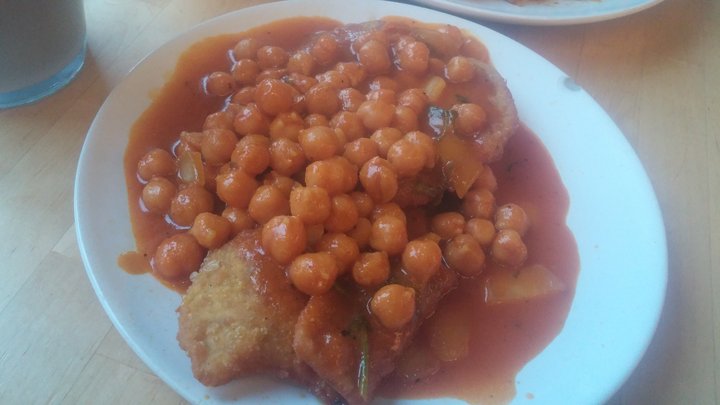 The Doubles were a weak point. I'm a tough judge, having sold them myself, but still. They seemed expensive at $7, and although basic doubles were well-executed, albeit unenthusiastically — the two barra, or fry breads, were there, paddling in a sea of red-sauced chickpeas — but they lacked the choice of toppings that make doubles worth all the calories. Where were the fruited chutneys? The grated cucumbers? The cilantro-vinegar sauce? The selection of fruit-based, tear-inducing hot sauces? In short, all the things that make a basically heavy and unexciting dish into a roller coaster ride of flavor?
This crushing blow was made bearable by the memory of that mind-blowing goat, and also by the dessert. Pone, a sort of nutmeg yucca-based hot sweet with the texture of bread pudding, did not disappoint, with all the strangely Christmas-in-summer flavors the Caribbean has to offer. It was like a gingerbread-meets-banana bread wodge of delight. Topped with the traditional Jamaican Grape-Nut ice cream (yes, Grape-Nuts, and yes, its really good if you have a real sweet-tooth) along with a buttery coconut sauce, it was a satisfying ending to a fundamentally Caribbean meal, well-executed by someone who really knows her stuff.
The place is clean and big, the service was overworked but friendly, the dishes were solid, and the prices were acceptable. We are lucky to have (seemingly randomly, unless I've missed the big Caribbean community in Eureka) an authentic and tasty place to get to know a cuisine most of us aren't that familiar with. So make sure you're really hungry, bone up on your steel drums and go pretend you're in a town with white sandy beaches.