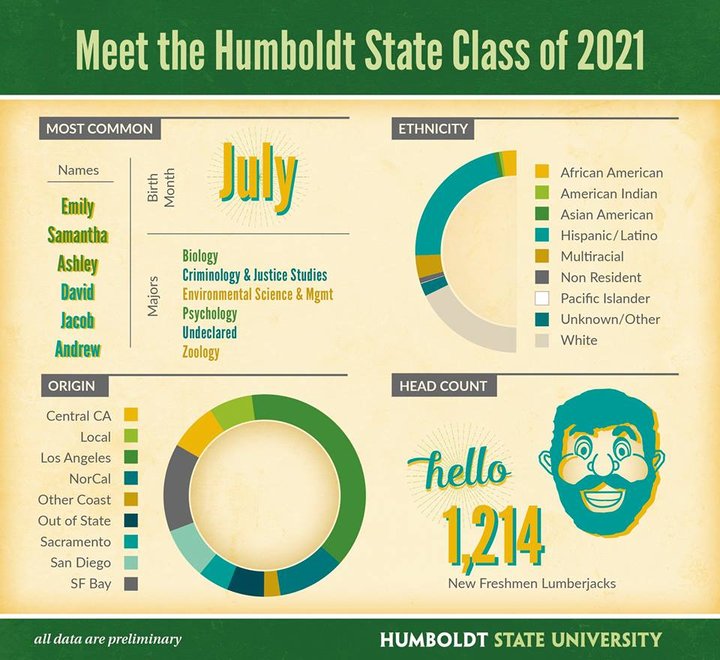 Infographic by HSU.
Swarms of cars driving the wrong way down Arcata's one-way streets in August … it can mean only one thing. Fall semester has begun at Humboldt State University.
A new academic year is underway at HSU, and with it comes a whole new flood of out-of-towners that Humboldt can proudly shake its fists at. Wrong way, you dang freshmen!
Once again, the fine folks at HSU's Marketing & Communications department have shared some fun stats about this year's incoming freshmen class.
For starters, they are largely from Los Angeles. No surprise there. Angelenos make up almost half of HSU's 1,214 incoming freshmen.
The most common ethnicities of our new Lumberjacks — by far — are Hispanic/Latino and white, with multicultural, African American and "unknown/other" students making up the remaining majority of students.
Another fun fact: The most common names of this year's freshmen class are Emily, Samantha, Ashley, David, Jacob and Andrew. If you're an incoming student looking for some new friends, try yelling one of these names out in your dormitory hallway. Odds are, someone will respond.
There are lots of other interesting facts about the would-be class of 2021 in the above infographic provided by HSU. Check it out!
Welcome to Humboldt, you lovably annoying freshmen! Please mind our traffic signs.