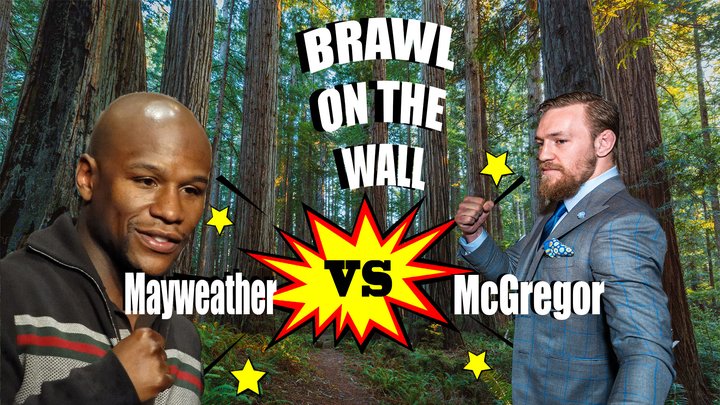 The long-awaited battle between boxing and mixed-martial arts is nigh.

Boxing's undefeated five-division world champ, Floyd Mayweather Jr., and UFC's loudmouth Lightweight Champion Conor McGregor will throw down tomorrow in an unprecedented cross-sport superfight.
While you probably don't have tickets to one of the most anticipated fights in sports history — taking place tomorrow night at Las Vegas's T-Mobile Arena — watching it on TV is the next best thing.
Ordering the fight yourself will cost you a pretty penny. Standard definition pay-per-view is priced at $89.95, while HD will set you back nearly 100 bucks. Thankfully for us regular Joes, some of our local venues are airing the fight at little to no cost.
Blue Lake Casino will be showing the fight for free tomorrow night in its Wave Lounge bar area. Seating is first come, first serve. Even if seats don't fill up, which they might, you may want to get a good seat early, or run the risk of sitting behind the lounge's pesky support beam.
Bear River Casino is also showing the fight. There will be a $10 cover charge to watch the fight in the casino's Tish-Non Ballroom. Doors open at 5 p.m. and seating is limited.
The pay-per-view event is scheduled to start at 6 p.m., opening with several boxing bouts which the LA Times covers extensively here. Pending how long these fights last, the Mayweather-McGregor Fight should begin around 9 p.m.
While LoCO didn't call every single bar in Humboldt County, we did our best, and no one else seems to be showing the fight. But you may still want to call your favorite local sports bars that didn't make our list. Here are all the venues that we know fa sho will not be showing the fight:
Cher-Ae Heights Casino: NO
Lucky Bear Casino: NO
Elk Valley Casino: NO
Lucky 7 Casino: NO
Sidelines: NO
Arcata Theatre Lounge: NO
Six Rivers Brewery: NO
In an unpopular opinion that is sure to sway sportsbook odds everywhere, LoCO predicts that everyone who watches this fight will have a good time.
As an added bonus to get you pumped for this once-in-a-lifetime event, a highlight video of McGregor doing what he does best — talking shit — has been embedded below.