A claimed diagnosis of cancer wasn't enough to get suspected arsonist Kattie Rae Yocum out of jail today.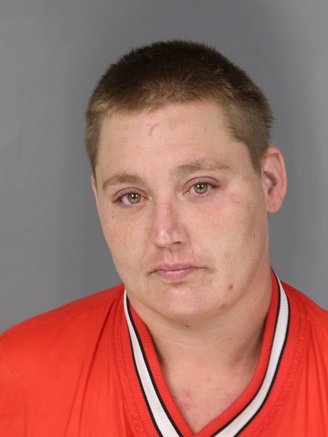 Judge Dale Reinholtsen refused Yocum's request to be released on her own recognizance, citing "the nature of the offense." Yocum, 30, is suspected of starting a fire that destroyed the former Blue Heron Motel office Monday afternoon. She allegedly is one of two people seen running away after the structure on Broadway caught fire. Yocum was arrested at the scene.

Today Deputy Public Defender Casey Russo, after speaking with Yocum, told Reinholtsen she has lived on Rohnerville Road in Fortuna for about three years. Also, Russo said, Yocum "has cancer and has a medical appointment next week that she's been waiting for for months."
Deputy District Attorney Roger Rees opposed the release, saying his concern is public safety. And Yocum has several failures to appear on her record, "including as recently as May and June."
The prosecution has filed two petitions to revoke her probation.
Reinholtsen noted that if Yocum has a medical condition that requires immediate attention, jail personnel "would accommodate her and take her to her appointment."
Authorities said it appeared someone had been living in the Blue Heron office, which was crammed with debris. Yocum is suspected of setting the blaze after having a disagreement with the property owner, slumlord Floyd Squires. The city of Eureka condemned the property in February 2015.
If convicted of the charge of setting fire to an uninhabited building, Yocum could be sentenced to prison for up to six years.
###
PREVIOUSLY: