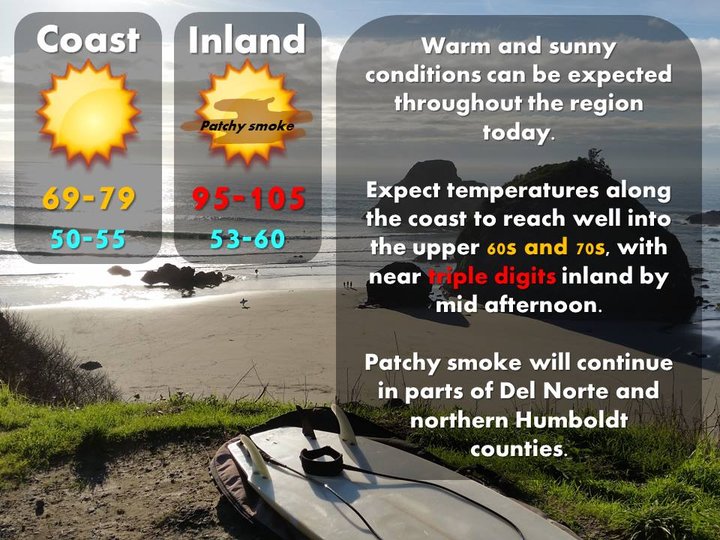 Your prayers for early fall weather swirling into town and relieving you of this unbearable summer heat have not been answered.
The sun is will continue to wilt Humboldt's flower for at least the next work week, and the National Weather Service says it may get EVEN HOTTER after that.
A heat warning has been issued for pretty much every part of Humboldt County, except the costal areas surrounding Humboldt and Arcata Bay.
While Eureka enjoyed a beautiful 70-degree weekend, many inland areas roasted.
Heres a list of especially hot local temperatures recorded by Eureka's NWS office today:
Willow Creek - 106
Hoopa - 102
Somes Bar - 99
Big Bar - 110
Hayfork - 104
Bridgeville - 105
Garberville - 103
Honeydew - 103
Benbow - 106
Today's message from the local NWS office:
Another round of above normal temperatures is expected today, even for the coast! Temperatures in the mid 60s to mid 70s are likely for the coast, with interior locations topping out in the 95-110F range. If Woodley Island reaches 70 degrees, it'll be the first time that has happened since November 7, 2016…a streak of 287 days!

Looking ahead this week, seasonably warm coastal temperatures will continue for the coast. Across the interior, similar values as today are expected through the work week, before possibly increasing next weekend.