UPDATE, 3:23 p.m.: Calfire is optimistic…
Saw Incident - hit it hard and holding. pic.twitter.com/mcQAIztTj7

— CAL FIRE HUU (@CALFIRE_HUU) August 3, 2017
###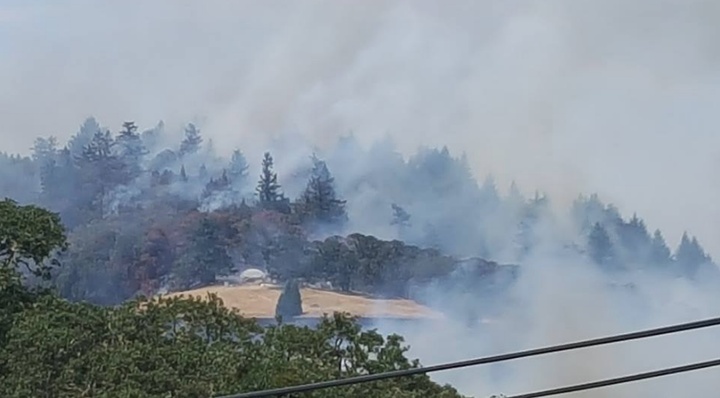 UPDATE, 2:45 p.m.:
SAW incident update: forward progress has been stopped at approximately 85 acres

— CAL FIRE HUU (@CALFIRE_HUU) August 3, 2017
###
UPDATE, 2:20 p.m.: Fire hasn't stayed small for long, looks like:
SAW Fire update is 80 acres

— CAL FIRE HUU (@CALFIRE_HUU) August 3, 2017
Evacuation center available at Healy Senior Center, 456 Briceland Rd, Redway. #SawFire

— Humboldt Co OES (@HumCoOES) August 3, 2017
###
There's a still-smallish wildfire burning just up Alderpoint Road from Garberville this afternoon has led to road closures and evacuations. Kym has more on the fire; updates from County government can be found below.

###
From Humboldt County Public Works:
Alderpoint Road (county road F6B165) is closed at Wallan Road (county road 6B166) because of a fire in the area.
The Office of Emergency Services Facebook page reports:
Wildfire off Alderpoint Rd. approximately 1 mile east of Garberville. Sheriff Honsal has ordered evacuations of the immediate vicinity. Residents in the surrounding area should be prepared to evacuate if the fire grows.

Upper Sawmill Rd and Lower Saw Mill Road are also being evacuated at this time.