As a child, Humboldt County local Xack Fischer lived a life most kids dream of, growing up on a river house with his own personal moon bounce — "Puff the Jump-In Dragon."

But it wasn't until last Sunday, on his 25th birthday, that Fischer lived out his own childhood dream — floating his beloved bounce house on the Eel River.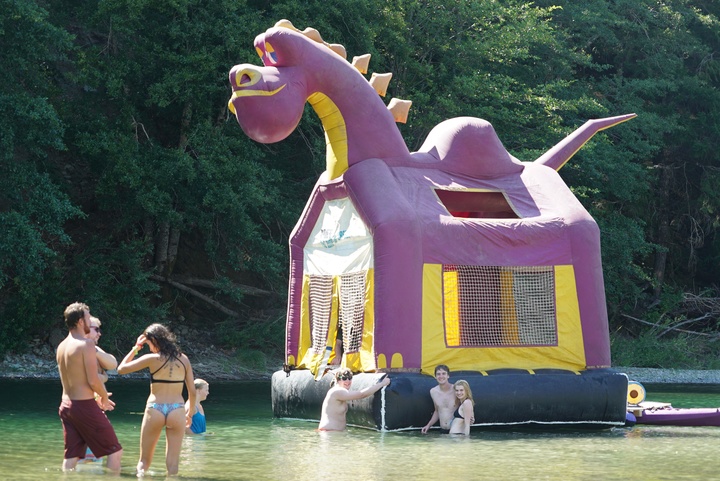 "For pretty much my entire childhood, my mom was renting out bounce houses for local events like Reggae on the River and lots of kids birthday parties, so Puff has always been a part of my life," Fischer said. "Our home is right next to the river, so it was always a fantasy to try and make the bounce house float on the river, but the manufacturer assured us that it wouldn't work, so we never tried."
After spending his teenage years in Piercy, operating his mother's bounce-house business and graduating from South Fork High in 2010, Fisher decided to take his shot in the big city.
"I basically moved to Seattle on a whim," Fischer said. "I didn't know anybody up here, and I didn't really have any idea what I would be doing once I got up here."
He worked odd jobs around town for several years, eventually finding his place after meeting his future best friend Peregrine Church through a common interest — magic.
"After I moved to Seattle I met Peregrine through magic; we are both magicians," he said. "Shortly after, we began working together to make the world a more interesting place."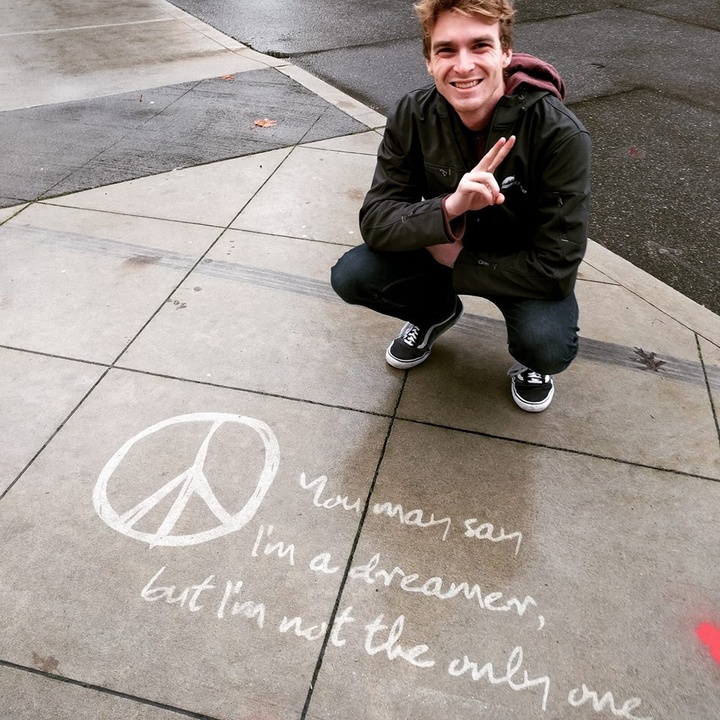 The two started to find success when they began creating art around Seattle using stencils and a waterproof coating. The idea being that invisible works of art would lay dormant until a rainy day. The artworks, now known as "Rainworks" became an internet sensation in 2015 and led to the formation of their waterproof spray company, also named Rainworks.
"About 3 years ago my best friend came up with the idea for Rainworks, and together, with help from the internet, we've turned Rainworks into our full-time jobs," Fischer said. "Our Rainwork videos have been seen by millions of people around the world, and have kickstarted a global movement of other people creating their own Rainworks."
Rainworks Map.
Building upon their success, Fischer and Church continue to brainstorm new ways to "make the world a more interesting place."
In May, Church gave a Ted Talk at the University of Washington about "The Value of Novelty," preaching that new and unusual ideas can boost morale, build community and extend life.
And on Sunday, the two teamed up once again to bring Fischer's childhood vision to life.
In the years since he moved to Seattle, Fischer's family stopped renting Puff out, and the bouncy dragon sat unused and unwanted.

"The family stopped renting the dragon out and started trying to sell it," Fischer said. "They never successfully found a buyer, and so we brought up the idea of trying to float Puff as a final voyage."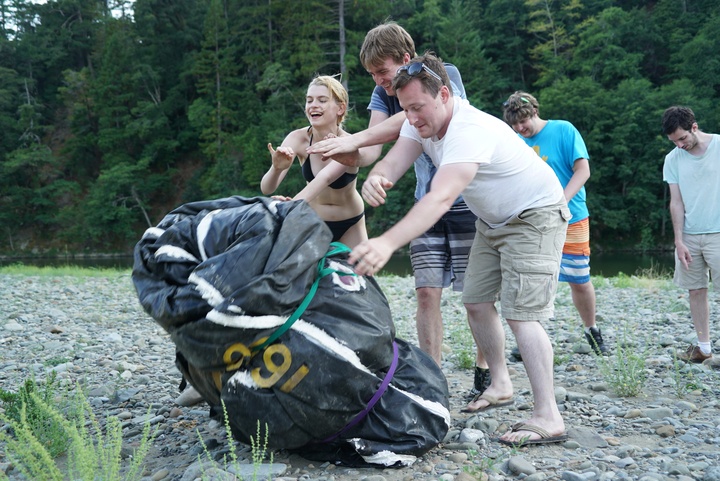 The gang unravels Puff for his final voyage.
But transforming Puff into an aquatic bounce house wouldn't be easy, as the party jumper requires constant electricity to power the blower that inflates it.
"We consulted professional electricians, and actually ended up changing the plug on the blower, because the original plug didn't have a ground — so we rewired a proper plug and sealed up the cord so it was waterproof," Fischer said. "We had it sent on a breaker, so if it did get wet, the breaker would shut off immediately and stop sending power. That said, we were definitely still nervous. Lots of electrocution jokes were made, but fortunately it went off without a hitch!"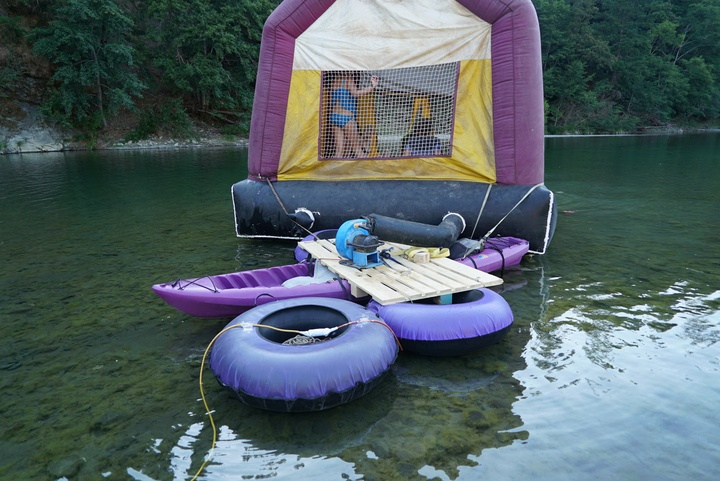 With friends and family in attendance, Fischer's dream became a reality. The moment was recorded and shared on the internet in hopes of inspiring others to make the world a more interesting place.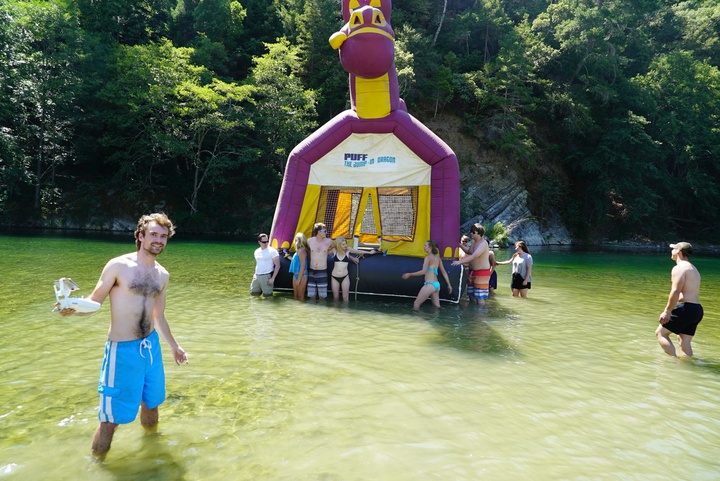 "We like to do things that make people smile and make the world a more interesting place," Fischer said. "We like to make people believe in magic, and to show people that anything is possible. To me, as a child, floating a bounce house on a river seemed like a crazy dream that was impossible, and so I think it is inspiring to make it happen in real life — plus it was just so much fun! It shows people that any idea, no matter how 'out there,' can be achieved if you really want it to."