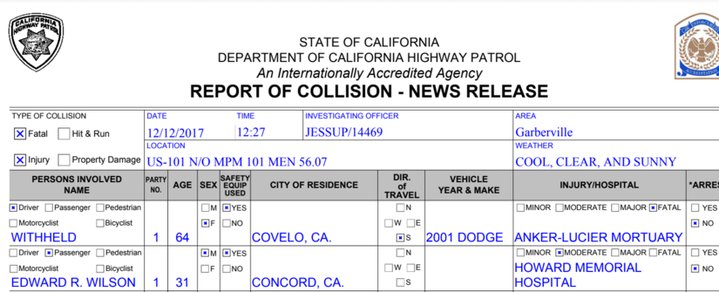 From the California Highway Patrol:
On12/12/2017, at approximately 1227 hours, a 2001 Dodge pick-up was being driven southbound on US-101 at approximately 65 mph, and at the south end of a straight stretch of roadway, prior to a left curve. The Dodge pick-up failed to negotiate the curve as the southbound lanes curved to the left. The Dodge pick-up crossed the solid white edge line and rumble strip, as well as the asphalt shoulder. The Dodge pick-up then descended the foliage covered hillside and the left front of the pick-up collided with a large tree. The vehicle came to rest off the roadway. The passenger in the pick-up self-extricated. The driver of the Dodge pick-up was trapped in the badly damaged cab of the vehicle. The driver was found to be deceased.

The driver's information is "Withheld" pending notification of next of kin. The passenger, Edward Wilson of Concord, was transported from the scene by ambulance to Howard Memorial Hospital for treatment of his injuries.

The cause of this collision remains under investigation.

The California Highway Patrol was assisted at the scene by the Little Lake Fire Protection District, Veri-Health Ambulance, and the Mendocino County Sheriff's Office/Coroner.