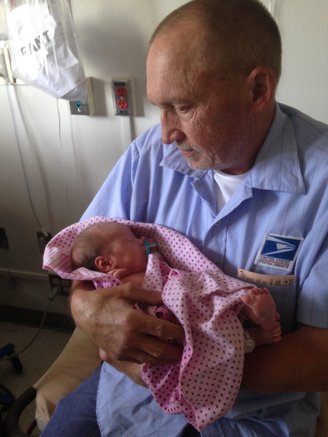 Douglas Verne Belts was born in Eureka, California on May 13, 1952 to Pauline and Darrel Belts and left this earth on December 1, 2017. He grew up in Eureka and attended local schools, graduating from Eureka High School in 1970.

Doug worked for many years for Larry Thomas Distributers, eventually becoming sole owner of that business. After selling Larry Thomas Distributers, he worked at the Times-Standard, and briefly for Palco, before becoming a letter carrier for the U.S. Post Office in Arcata.
Doug was well liked by the people on his routes, making many friends among them. He even made such an impression on the students at one of the preschools on his route in McKinleyville that they made him a book of drawings and get-well wishes during one of his hospital stays. His co-workers at the Arcata Post Office loved him very much and many of them visited him several times during his illness at home, in the hospital and at hospice. Many also sent flowers and cards, well wishes and prayers.
Doug was a die-hard Raiders fan, never missing a game; an avid golfer, and an excellent billiards player.
Doug is preceded in death by his parents, Darrel and Pauline Belts and he is survived by his sister, Judith Carol Belts of Corvalis, Oregon, and her children.
He has left behind his wife of 34 years, Sheila, who worked tirelessly to care for him during his battle with cancer; his children, Kelli and her husband Kyle Sample, Sarah Patterson and her fiancé, Kevin Knauff, and Kevin Patterson and his partner Pearl Okazaki. He will also be greatly missed by his grandchildren: Parker Duncan, Takeshi Patterson, Kian Knauff, Bailey and Alexis Sample and their unborn sister, Emilia Gail Sample.
Doug's death has surely left a hole in our hearts and the hearts of many who knew and loved him.
There will be a memorial service for Douglas on Sunday, December 17th, 2017 at 3 p.m. at the Chapel in the Redwoods, located on the Hospice of Humboldt Campus at 3327 Timber Fall Court, Eureka.
In lieu of flowers, please consider donations to Hospice of Humboldt, for their services were invaluable to our family.
###
The obituary above was submitted by Doug Belts' family. The Lost Coast Outpost runs obituaries of Humboldt County residents at no charge. See guidelines here.