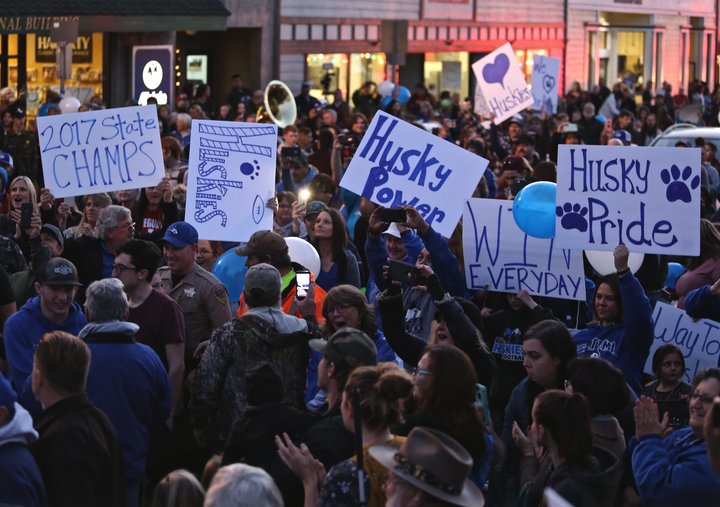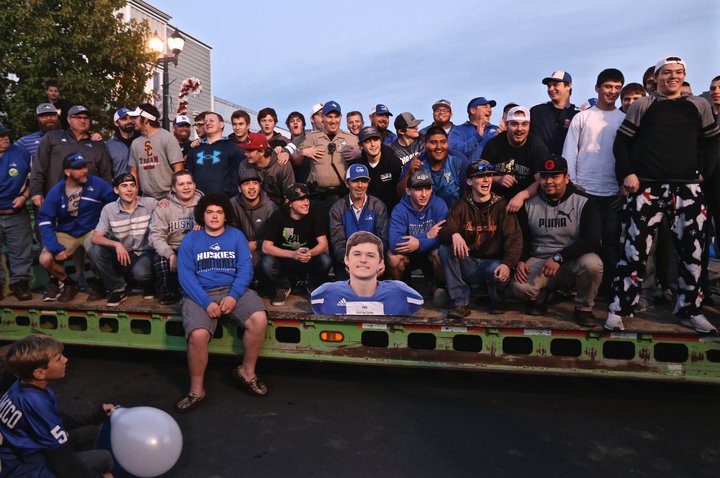 Perched on the back of a flatbed truck surrounded by his players, Fortuna High School football coach Mike Benbow looked out at the sea of blue that flooded Main Street Monday evening and thanked his community for their loyalty during his team's championship season. As a grateful town gazed up at him, he made a bold declaration about the 2017 Huskies' place in history.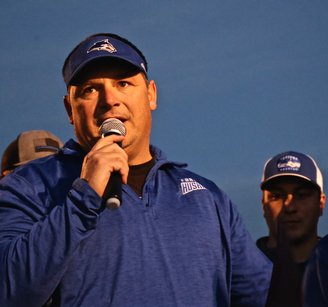 "I'm going to say this, you are looking at the greatest Fortuna football team that has ever played the game…" Benbow said, pausing for cheers before looking ahead to next season's grind to come. "… so far, because in less than a month we're going to do it again!"
Near 500 supporters, waving blue and white pom poms, congratulatory signs and player-shaped cardboard cutouts, braved the winter chill and shut down Main Street to welcome home their young heroes, and for good reason. The last couple of days had been memorable. On Saturday in Anaheim the Huskies defeated Katella High School 54-33 to capture the CIF State Division 5-A title. On Sunday, not wanting to pass up an obvious celebration location, the team unwound at Disneyland.
You know. Champion stuff.
"The greatest thing about this is that we got to stay together," Benbow said.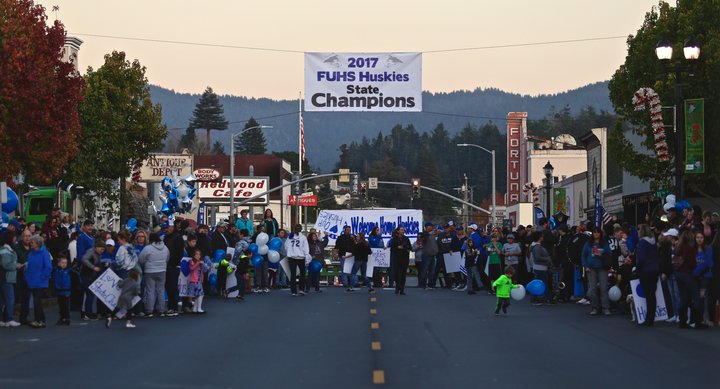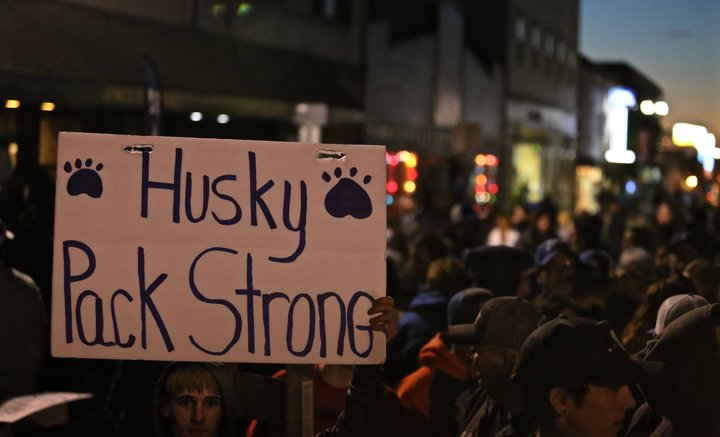 While the Huskies' year was momentous, it was not without hardship. Senior Bailey Foley suffered a stroke during the team's season opener in August. He remains in a Bay Area hospital.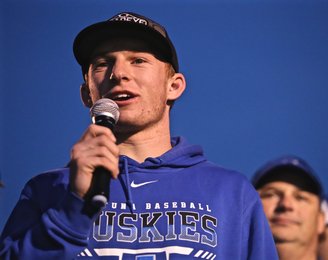 Team captain JB Lewis spoke about how Foley's tragic injury brought the team together and inspired their hard work this season.
"We decided to keep playing and dedicated it to him," Lewis said before alluding to the visit the team paid to Foley in Oakland on their trip down to Anaheim for the championship game. While there, they delivered medals won after previous playoff games to Foley.
"It was amazing getting to put the medals around his neck," Lewis said.
While Husky juniors are already gearing up for next season, the seniors have played their last game in the blue and white. But with the entire town as his witness Fortuna High School principal and assistant football coach Clint Duey called upon his players to take the lessons learned during their extraordinary season and continue down life's path.
"Don't let this be the most amazing thing that you do in your life," Duey said. "Go on and be good husbands, good parents and good community members."
As the speeches concluded, the 2017 Huskies gathered for one final huddle, raised their fists to the sky and yelled toward the heavens…
"BAILEY!"
# # #