From the Humboldt County Sheriff's Office: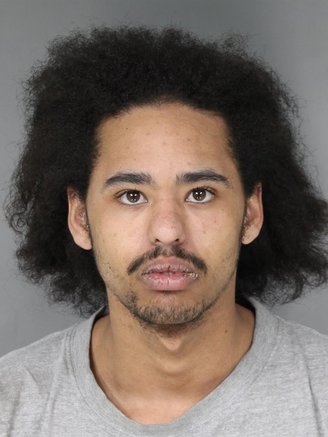 A Rio Dell man is in custody after leading sheriff's deputies on a high speed pursuit.

Around 3:15 p.m. on Dec. 24, 2017, a Humboldt County sheriff's deputy was patrolling the Eel River Valley near Loleta when he attempted to make a traffic stop on a motorcyclist on Brenard Rd. The driver, later identified as 20-year-old Tavin Dee Evans of Rio Dell, failed to stop the motorcycle, attempting to flee from the deputy. The deputy pursued Evans onto Highway 101, where the pursuit continued at a high rate of speed.

As Evans approached the Fortuna area, officers with the Fortuna Police Department were called to assist. Evans exited the highway at the Kenmar Rd. off ramp and Fortuna Police officers took over the pursuit. Deputies then received a report that Evans turned down an off-road hiking path behind the Fortuna River Lodge. Sheriff's deputies positioned themselves at the trail exit near Highway 36 and Sandy Prairie Rd. Deputies then spotted Evans driving the motorcycle along the Eel River river bar. A deputy responded to the river bar to contact Evans. Upon seeing the deputy, Evans drove his motorcycle off of an embankment and continued to flee on foot. The sheriff's deputy pursued and took Evans into custody.

Evans was on probation for vehicle theft and for carrying a concealed firearm. During a search of Evans, deputies found methamphetamine and drug paraphernalia. He was booked into the Humboldt County Correctional Facility on the following charges: felony evading a peace officer, obstructing or resisting a peace officer, possession of a controlled substance, violation of probation and driving a motorcycle without a motorcycle endorsement.