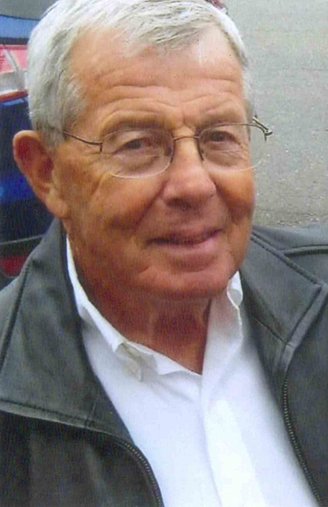 Charles was born in Ferndale on August 24th, 1935 to Charles and Mayme Lakin. He passed away in Fortuna on November 28, 2017. He is survived by his wife, Carole, and his children, Jack (Stephanie) Lakin, Patty Lindley and Brenda (Don) Cloney, and his sister Joann Monahan. He was preceded in death by his sister Alice Hogan. Charles was the proud grandfather of Oriana (Matt) Tomlin, Ryan Lakin, Jeff (Theresa) Noga, Brian (Natalie) Noga, Shannon Cloney and Kaley Cloney; and great-grandfather to Reve, Brayden and Brody Tomlin, Justin and Katie Noga, and Ava, Jackson and Audrey Noga. He is also survived by many loving relatives and friends.

Charles spent most of his life in Ferndale. He was born and raised there, attended Ferndale Schools, was the community's educational leader for 29 years and lived across the street from the high school for the last 51 years. When asked what he is most proud, his "Ferndale Heritage" was always at the top of the list.
Charles served in the United State Army from 1954 to 1956 and was stationed at the Presidio in San Francisco. With his return to Humboldt County he married Carole Lindley, who he often referred to as his "childhood sweetheart." He worked for the next eight years in the local lumber industry. In 1960, after returning home from a short vacation, he was notified the mill where he worked had gone bankrupt owing him back wages that he would never collect. Charles vowed that would never happen again. Seeking a career change he decided to attend college and pursue his teaching credentials. However, there were two significant challenges — he wasn't a high school graduate and he had a family of three kids to support. But there was never any challenge too great or too difficult for Charles.
Looking for assistance he sought out his high school teacher and coach, Franny Givins, who was then the Humboldt State University basketball coach. With the support and influence of Coach Givins, Charles was enrolled at Humboldt and would go on to graduate with a teaching credentials and a masters degree in school administration. This connection with Givins had a significant impact on his career as an educator. Charles was always there to lend a hand, provide words of encouragement and share a belief in every students' potential for becoming a successful productive young adult. As an educator he said "I think it's our obligation to help others."
During these four years of college Charles couldn't just focus on his full load of classes each semester, he also had to provide for his family. With his skills as a certified lumber grader he was able to work full time at local mills. Each Sunday night he put his kids to bed and they would give him a kiss saying "see you next weekend," as his daytime hours during the week were spent at HSU and eight hours each week night grading lumber.
But all the studying and hours of work paid off, leading to a transition from grading lumber to grading papers. In 1964 he was employed by the Upper Mattole School District and began his first teaching job. Mattole was one of the last "One Room" school houses in Humboldt County and he taught all grades, kindergarten through 8th, drove the bus, cleaned the buildings and grounds and also served as the principal.
In 1966 Charles and his family moved back to Ferndale. This was the start of his 29 years supporting the community's schools and its students. His initial position was as an 8th grade teacher and vice principal for the elementary school. In 1978 he was hired as the Superintendent/Principal for the high school, where he remained through the 1994-1995 school year, when he retired as the Superintendent of the Ferndale Unified School District. Charles was extremely proud of his 17 years as the principal at Ferndale High School (the second longest tenure is nine years) and having been selected as the first superintendent for the newly unified district in 1994-95. It was a true success story; Charles returning as the principal to the high school where he dropped out. His loyalty to Ferndale and the "Wildcats" has been undeniable.
After his "retirement" Charles served in long term interim superintendent positions at the Klamath Trinity Joint Unified School District, South Bay School District, Pacific Union School District and the Fortuna Union Elementary School District. Like those before them, the students and staffs at these schools soon embraced him with both respect and affection.
Charles was also a prominent figure in local high school athletics. He coached 8th grade basketball for 12 years, high school track for seven and football for 15. While he enjoyed the competitive aspect of coaching, Charles put a high value on the role of athletics and extracurricular activities in education. He believed "as a coach you have an opportunity to build relationships through athletics and play a part in the development of our students' lives."
When he left coaching in 1985 Charles remained involved with athletics through his active participation in both the Humboldt Del-Norte League (HDNL) and the North Coast Section (NCS) CIF. After serving on the HDNL Board of Managers for several years and the League President for five years, Charles was selected to be the Commissioner of the HDNL. He served in this capacity for 20 years, providing leadership and guidance for the local high school athletic programs and was also an important representative for this area to the North Coast Section. Charles was on the NCS Board of Managers for several years and as a member of the NCS Executive Committee provided a strong voice for the Section's smaller rural schools. In recognition of his many years of dedicated and committed service to high school athletics, he received both the CIF Distinguished Service Award and the NCS Phil Hempler Award.
Additionally Charles had been an active participant in several local educator and community groups:
California Teachers Association
Association of California School Administrators
HDN Administrators Association
Ferndale Rotary Club
Ferndale Volunteer Fire Department
Humboldt County Juvenile Justice Commission
Lytel Foundation Board of Directors
Salvation Army Extension Committee
American Legion Post #599
Following an interview in 2005 and recognizing his deep love of family and his influence in and around the area, a Times-Standard article described Charles life as "something on par with George Bailey in Frank Capra's classic, It's a Wonderful Life."
The family would like to extend a special thanks to his in-home care providers and the staffs of Brookdale Fortuna, Hospice of Humboldt and the Eureka VA Outpatient Clinic for the exceptional care and comfort they provided Charles these past months.
A memorial service will be held at Goble's Fortuna mortuary, on Saturday, December 9th, at 2 p.m. A reception will follow at the Veterans Building in Ferndale. In lieu of flowers please consider donations to the Ferndale High School Athletic Department. Arrangements are under the care of Goble's Fortuna Mortuary. Please sign the guestbook at www.times-standard.com under obituaries.
###
The obituary above was submitted by Charles Lakin's family. The Lost Coast Outpost runs obituaries of Humboldt County residents at no charge. See guidelines here.