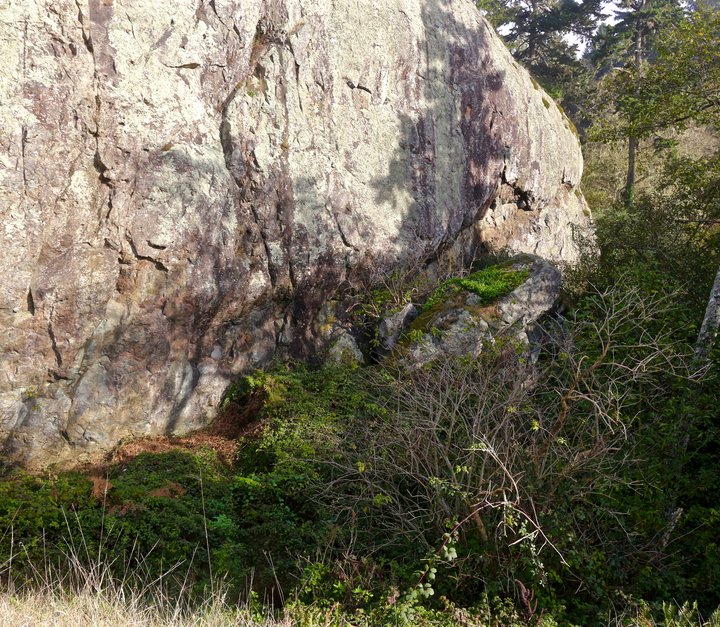 UPDATE, 4 p.m.: Arcata Police Chief Tom Chapman said 22-year-old Erin Henry's death appears to have been caused by a fall from Elephant Rock, and there's reason to believe she committed suicide.
Officials have done a preliminary examination of her body, and the injuries are consistent with a fall, Chapman said. He also said there were at least three witnesses who saw Henry alone near the location where her body was ultimately found.
During the investigation into Henry's disappearance, officers learned that she'd been having suicidal thoughts. "Evidence uncovered in the investigation early on pointed to this being the likely outcome," Chapman said.
Henry's family has been informed of all the above, Chapman said.
At the bottom of this post we've added a video showing the location where Henry's body was recovered.
# # #
UPDATE, 12:40 p.m.: HSU Statement on the Loss of Student Erin Henry
# # #
UPDATE, 12:05 p.m.: Press release from Arcata Police Department:
On the morning of 12/8/2017, the Arcata Police Department was contacted by the California Department of Transportation (CalTrans) and informed a maintenance worker had located a knee scooter along HWY 101 south of Westhaven.

Officers responded to the location and conducted a search of the area. During the search, 22-year-old Erin Henry, reported missing to the APD on 11/30/2017, was discovered deceased a short distance east of HWY 101.


With the assistance of the Humboldt County Sheriff/Coroner, Ms. Henry's body was recovered.

The preliminary investigation revealed no sign of foul play.

The APD would like to thank the Humboldt County Sheriff's Office, CalTrans, Humboldt State University, HSU Theater Department, the U.S. Coast Guard, Humboldt Transit Authority, Crescent City Police Department, AT&T, the Humboldt County District Attorney's Office, California State Parks and the numerous volunteers that assisted with search efforts.
###
Original Post:
The Arcata Police Department this morning was called to respond to the base of Elephant Rock, on the east side of Hwy. 101 just south of the Westhaven Drive exit, where officers found a woman's body.
Arcata Police Chief Tom Chapman said he could not yet identify the body, though he said it showed no initial signs of being a suspicious death.
The Humboldt County Sheriff-Coroner's Office was called to assist APD with a death investigation around 9:13 a.m., according to Public Information Specialist Samantha Karges, who confirmed that the body was female.
We'll update this post as soon as more information becomes available.