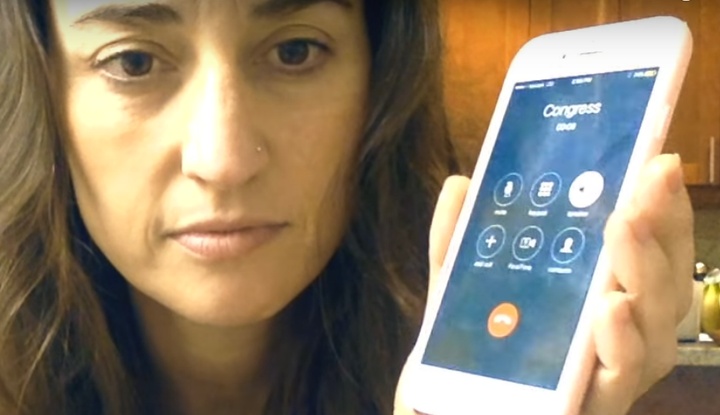 In these rockiest of political times, as it feels like we are on the cusp of a Second American Civil War, who can we turn to for guidance? How about the most famous singer/songwriter to ever emerge from behind the Redwood Curtain? Sure, why not?
Musical megastar and Eureka native Sara Bareilles — who, just like you and me, feels unnerved about all the political "gah" in the atmosphere — is encouraging her fans/Americans to participate in this wacky democracy thing by calling up Congress and sharing a concern or two. To set the example, Bareilles tweeted out a video of her very first time congressional call:
Scared to call Congress? Me too! Let's do it together. Watch me call for the first time here: https://t.co/HZhqAxEjMf

— Sara Bareilles (@SaraBareilles) February 1, 2017
"I'm nervous. I feel like I don't know what to say," Bareilles notes in the clip as she prepares to dial. "But I feel like its important to use my voice as a voter through the channels that are afforded to me."
Specifically, this day, Bareilles wanted to voice her opposition to President Donald Trump's nominations of Jeff Sessions and Betsy DeVos for Attorney General and Secretary of Education, respectively.
In her video, after navigating a phone tree, some classical hold music and a U.S. Capitol operator, Bareilles ends up in the voicemail inbox of California Senator Kamala Harris.
"I'm sorry but that mailbox is full," an automated voice proclaims.
"Shit," Bareilles says.
Bareilles ends the video saying she feels "pretty good" about her call while declaring her intent to call Kamala back later. Whether she followed through on that promise is unclear, but guess what … the senator got the message, anyway. Behold:
Sorry we missed your call, @SaraBareilles — rest assured, I'm opposing both Betsy DeVos and Jeff Sessions. Keep calling. Stay engaged! https://t.co/NWc9sskzLm

— Kamala Harris (@KamalaHarris) February 1, 2017